New York State
New York lawmakers eye Abortion Access Fund, telehealth abortions in wake of Roe v. Wade upheaval
The pro-choice policies are among several measures New York officials are championing after Monday's report that the Supreme Court plans to eliminate federally protected abortions.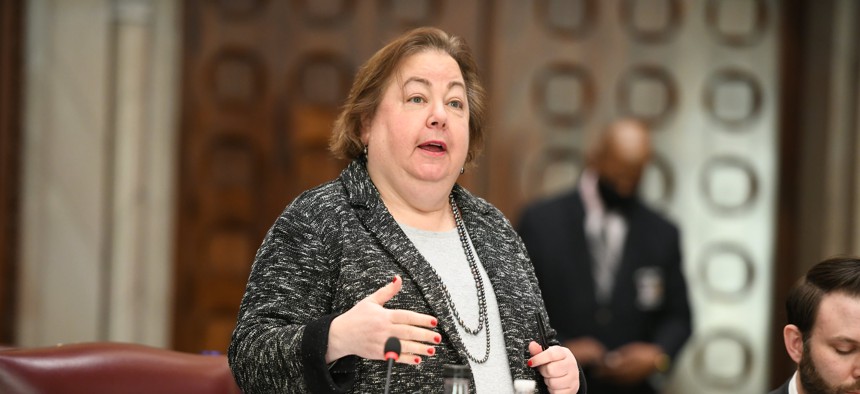 New York's political leaders doubled down on commitments Tuesday to uphold the state's abortion rights laws in the wake of a report revealing the Supreme Court's plans to overturn Roe v. Wade – and renewed calls for legislation that would enhance abortion access.
Per New York's 2019 Reproductive Health Act, passed by the Legislature and signed by former Gov. Andrew Cuomo, Roe v. Wade was formally codified and established a woman's legal right to abortion past 24 weeks of pregnancy or when the woman's health or life are at risk. "Let me be clear: We're not playing defense, we're playing offense. So my message to women all across this country is that New York, the state of New York, will always be there for anyone who needs reproductive health care, including an abortion," Hochul said during a press conference on Tuesday.
State lawmakers are expected to protest the forthcoming SCOTUS decision, written by Justice Samuel Alito and unveiled via Politico on Monday night, alongside advocates in Foley Square Tuesday. Legislators also pushed for passage of new bills that would enhance abortion access in New York and implement safeguards for women who travel here from other states to have the procedure, along with providers, in the wake of the report. 
New York has one of the most progressive records of any state when it comes to abortion rights. Three years before Roe v. Wade made abortion a constitutional right in 1973, New York decriminalized the procedure, and in the years that followed, became a destination for women from other states who traveled here for abortion access. If the Supreme Court decision is finalized, putting abortion rights in the hands of individual states, New York is expected to see a new influx of patients. In the wake of new abortion restrictions established by other states in recent years, the portion of abortions performed in New York on of out-of-state patients more than doubled by 2019 from 2012, Gothamist reported Tuesday, citing data from the Centers for Disease Control and Prevention.
On Tuesday, Hochul reiterated a previously announced directive instructing the state Department of Health to issue "regulations to ensure that telemedicine abortion is available here." In September, following the passage of anti-abortion laws in Texas, Hochul asked the agency to develop formal guidance for providers and patients on telehealth abortions. Patients who opt to use telemedicine abortion services can consult with a health care provider via phone or video conference and have abortion pills mailed to them directly. Currently, 19 states have effectively banned telehealth abortions by requiring the prescribing provider to be physically present when the medication is administered, according to the Guttmacher Institute, a pro-choice research organization.
Among the pending bills to enhance abortion rights in New York is legislation that would establish an abortion access fund under New York tax law and allow taxpayers to make contributions to the fund via personal income tax returns. State Sen. Alessandra Biaggi and Assembly Member Karines Reyes introduced the bills in January last year, but they have not made their way out of committees. Currently, a nonprofit by the same name – the New York Abortion Access Fund – helps pay for abortions for women who need financial assistance. "Speaking of Democrats using their power, there are 15 days of legislative session left this year in New York. The Abortion Access Fund bill better be up for a vote," Biaggi tweeted Tuesday. 
A second package of bills, sponsored by Assembly Member Charles Lavine and Sen. Liz Krueger, would prohibit law enforcement from assisting "any individual or out-of-state agency or department" seeking civil litigation or criminal prosecution against abortion providers in New York. The bills would also prevent the governor, courts and county clerks from issuing subpoenas and extradition orders to abortion providers on behalf of out-of-state court proceedings.