Shootings spike in New York City each summer. What are officials doing to stop it?
More police, summer jobs and a new task force are part of Mayor Eric Adams' plan.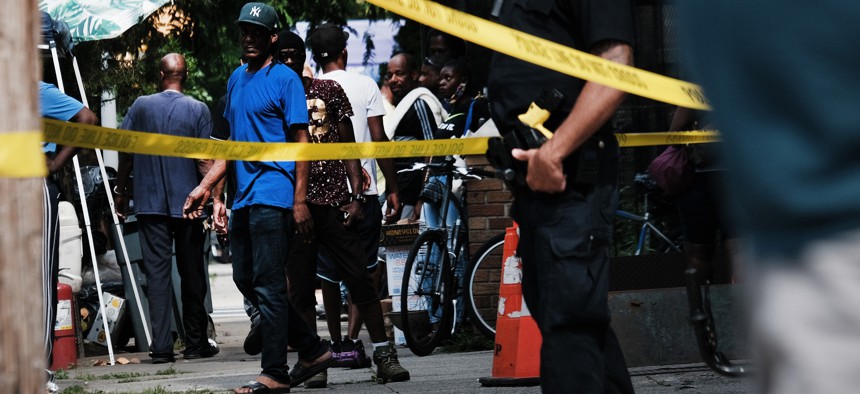 New York City Mayor Eric Adams this week appointed a violence intervention specialist to head up his gun violence task force, in part an effort to curb an expected spike in gun violence during the summer months. Nationwide, cities typically see an increase in shootings between May and September. 
New York's new "gun violence czar," Andre T. Mitchell, is the founder of the Brooklyn-based violence intervention program Man Up! Mitchell on Thursday said he hopes to expand on the city's crisis management program – a coalition of organizations that offer intervention and prevention services, including responding to shootings and visiting gun violence victims in hospitals to mitigate retaliatory conflicts. They also provide a range of job-placement services, counseling, extracurricular programs for young people and mediate gang conflicts.
New York City saw a particularly steep increase in summer gun violence in 2020 at the start of the pandemic and amid police brutality protests in the wake of George Floyd's murder. Since then, there has been a bit of a reprieve in shootings. For the week ending May 29, shootings are down 10% compared to last year, but they are up 61% from the same time in 2020.
Adams, along with the New York City Police Department, have also raised alarms in recent months about teenagers and children who have been shot or accused in shootings. "This is what we're dealing with over and over. Kids killing kids, illegal guns as easy to buy as candy and comic books. They are everywhere," Adams said last month while announcing 15-year-old Matthew Godwin had been arrested and charged with the shooting death of 11-year-old Kyhara Tay in the Bronx on May 16. Police said she was hit by Godwin's bullet as he was chasing someone on a motorized scooter. More than 40 children and teens have been shot this year, according to The New York Times, a tally consistent with last year's number, but a sharp increase from pre-pandemic years. In 2018 and 2019, fewer than 65 children under 18 were shot.
These are some of the programs city officials have promised to prevent an uptick in gun violence this summer:
"Summer 40" program
The NYPD in April announced it would reorganize deployments to have more cops on duty at night and in 40 precincts with high crime rates. 
As part of the program, each borough has at least one inspector working specifically on gun violence prevention. There are two in the Bronx. 
Officers working night shifts will also start three hours earlier, and the department will bolster its traffic enforcement program in hopes of recovering more guns during traffic stops. 
Jobs for young people
The city increased the number of available spots in its summer jobs program for people ages 14-24 by 25,000, compared to last year. Among the spots, 90,000 will be part of the city's "Summer Youth Employment Program" administered by the Department of Youth and Community Development. The program has been in place for more than 60 years.
The mayor's office, in announcing the new investment in the program, said it "lowers participants' chances of being arrested that summer by 17 percent and by 23 percent for felony arrests. Other research has found that SYEP youth are significantly less likely to be incarcerated in New York State more than five years after their participation in the program."
Certain spots are reserved for youth who are residents of New York City Housing Authority complexes, are homeless, in foster care or have experienced gender-based violence.
The mayor is also advocating for more involvement from the business community to provide young people with job opportunities.
"We're pushing to tell corporate America we want a 100% paid internship program throughout the school year. Leading into our foster care children to give them the support they need, so they don't age out at 21. Give them mentors until they're 26. All of these things are going to help us deal with this issue in a real way," Adams said Thursday.
The city will also continue its "Saturday Night Lights" program that began last year and provides access to free youth sports programming on Saturday nights.
A new gun violence prevention task force
Mitchell will head up the city's "Gun Violence Prevention Task Force," an initiative Adams announced in January. The task force is co-chaired by Deputy Mayor for Strategic Initiatives Sheena Wright and includes representatives from each city agency. Adams has also tasked each agency with appointing an "anti-gun violence liasion" who will be the point person for the task force, which is expected to meet weekly to develop recommendations and programming to curb gun violence.