New York State
Putting the state's COVID-19 response under a microscope
An independent review by consultants plans to analyze key points of failure – like the state's nursing home policies.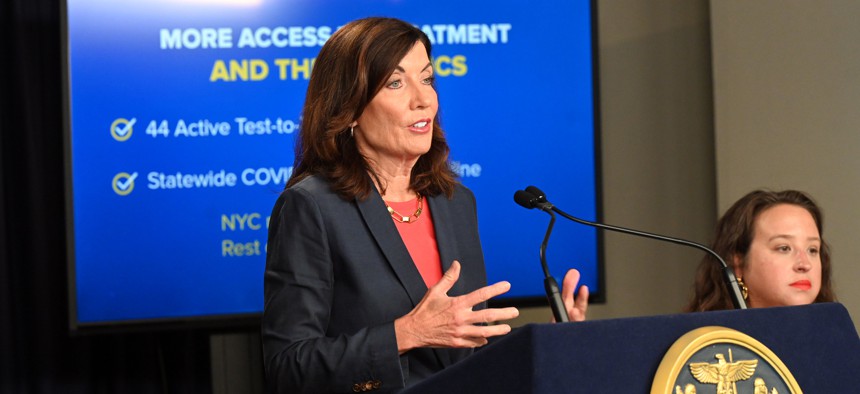 Gov. Kathy Hochul announced a plan last week to prepare for potential seasonal spikes in COVID-19 cases later this year. Hochul said the state will work with experts to identify key areas of vulnerability and ways to make sure students can attend school safely in the fall. Additionally, she released a request for proposals for an independent review to assess the state's COVID-19 response, identifying areas of weakness to serve as a template for future emergency responses.
"My team is working around the clock to bolster our preparedness against future pandemic surges and other related public health emergencies both in the short term and the long term. We've made real progress in our fight against COVID-19, and we remain vigilant in making sure that New York state emerges stronger than ever before," Hochul said.
The review of the state's COVID-19 response will identify areas of "strengths, best practices and deficiencies" along with recommendations for the state's executive decision-making in future emergencies. As part of a greater investigation into the larger failures of the state's COVID-19 response, the team that does the review will collect data on COVID-19 outbreaks in nursing homes and long-term care facilities. The group will also assess the impact of then-Gov. Andrew Cuomo's administration, which made attempts to obscure over 4,000 COVID-19 deaths – many of them out-of-facility deaths – according to a January 2021 report released by state Attorney General Letitia James.
State lawmakers were critical of the state's early response to the pandemic and some have criticized Hochul's delayed response in conducting the review, notably Assembly Member Ron Kim who remains critical of the state's handling of outbreaks in nursing homes.
However, Kim remained supportive of the review stating: "I'm encouraged to see the Governor taking the first step towards getting closer to the truth for our grieving families," he said in a statement.
From past after-action reviews drafted in response to natural disasters such as the remnants of Hurricane Ida last fall to Hurricane Sandy in May 2013 and Hurricane Maria in August 2018, these reports rely on the feedback of independent experts to serve as a guide for future emergencies.
In this case, consultants will submit proposals to the Executive Chamber, which will then ensure that the firm has not had any previous cooperation with state agencies and authorities, stressing the independent nature of the review.
Among the major areas of focus, the review will include investigating policies on the management of hospitals and in-patient facilities, the transfer of most vulnerable individuals into congregate settings – including homeless shelters, group homes, nursing homes, jails and prisons – the efficacy of the shutdown and reopening of educational institutions. It will also examine factors for determining essential goods, businesses and workers, and the protection and programs needed by these individuals. The review will analyze the performance of the state and its federal local counterparts, "including relationships with mayors, county leaders and other elected officials," along with the "effective education and communication with the public, including the sharing of data and other information."
Jackie Bray, the commissioner for the state Division of Homeland Security and Emergency Services, which will oversee the review, emphasized the need to keep the report as "independent as humanly possible" by relying on consultants to "make recommendations on what type of methods and what type of structure they want this to report."