New York State
In a battle of the data, Eric Adams digs in on claims about bail failures, despite pushback
Adams on Wednesday debuted a trove of statistics he said support his push to tighten bail laws. As Assembly Speaker Carl Heastie noted, the numbers lacked context.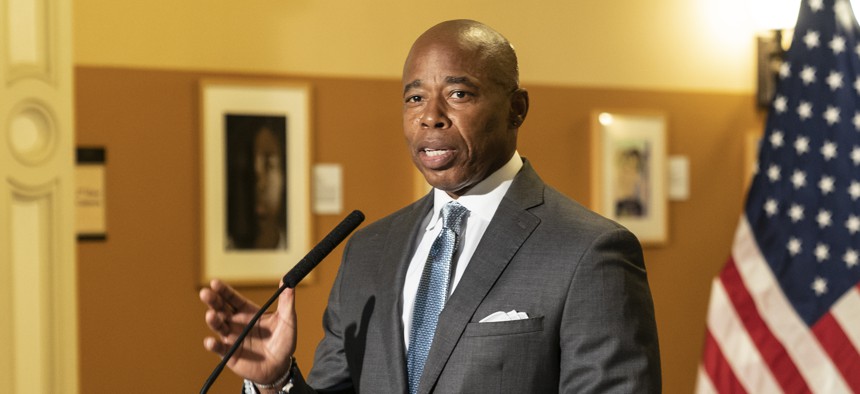 New York City Mayor Eric Adams doubled down on his claims that changes to state bail laws are driving an increase in crime and recidivism on Wednesday, following weeks of back-and-forth with state lawmakers over the issue. 
At a press conference alongside New York City Police Department brass, including Commissioner Keechant Sewell, Adams laid out a trove of statistics and examples of repeat offenders in an effort to bolster his claims. 
"Our criminal justice system is insane. It's dangerous, it's harmful and it's destroying the fabric of our city," Adams said, while debuting statistics based on arrests in 2022. 
Adams highlighted arrests for burglary and grand larceny charges, two crimes that have increased significantly this year and are generally not bail-eligible. He said 25% of people arrested for burglary committed another felony within 60 days, compared to 7.7% of people arrested for burglary who went on to commit another crime in 2017. The 60-day recidivism rate for grand larceny was 16.8%, compared to 6.5% in 2017, according to the mayor. And between 2020 and 2021, of all New Yorkers arrested and charged with a gun crime, 25% were rearrested on at least one occasion, Adams said.
Adams did not acknowledge that the stats could be inflated due to rising crime during the pandemic and an increase in gun arrests this year, though he did note that arrests have increased 24% in the first seven months of 2022, compared to the same time frame last year, and gun arrests are at a 27-year high. In addition, it's unclear why his office chose to compare recidivism this year to 2017, when serious crime rates decreased 5% from 2016. 
NYPD Chief Michael LiPetri also highlighted repeat offenders in making the administration's case for bail changes on Wednesday. 
"In New York City, we've identified 716 individuals who are responsible for approximately 30% of the shooting incidents since 2021," he said. "Each one of those individuals, 54%, almost 385 today, have an open felony." LiPetri did not say how many were released on their own recognizance or simply paid their bail.
LiPetri also made examples of people arrested for lower-level crimes that are not bail eligible, such as commercial burglary. "Recidivist No. 6 has an extensive long arrest history going back two decades to 2002. He has 71 career arrests. He's a commercial burglar who targets commercial locations," LiPetri said. 
Last week, Adams made a plea to state lawmakers to return to Albany for a special session to remedy the issues he sees with the bail laws, which, under reforms that took effect in 2020, require almost all defendants accused of nonviolent crimes to be released without bail following their arrest. During the budget process, the Legislature, along with Gov. Kathy Hochul, agreed to make some modifications to the bail laws amid criticism from Adams and widespread concerns among New Yorkers about rising crime rates by allowing judges to apply new standards to bail considerations, including the severity of the crime, whether a gun was involved or if the defendant violated an order of protection.
Adams wants the Legislature to take the changes a step further by allowing judges to apply a dangerousness metric when assessing a defendant's bail eligibility.
"This is a big mistake," Adams said Wednesday, referring to the lack of a dangerousness metric. "As a result of this insane, broken system, our recidivism rates have skyrocketed."
Assembly Speaker Heastie promptly denied Adams' request for a special session in a statement that said lawmakers "don't think it is necessary."
Hochul appeared to be open to some form of a review when asked about Adams' comments on Wednesday, including a refresher course for judges, she said during an unrelated press conference. But Heastie called the mayor out for falsely claiming the speaker's office had access to the data unveiled Wednesday and that the speaker "raised his concerns."
I'm scratching my head regarding the mayor's recollection of conversations we've had. To date, we've received no data from the mayor or his team. My most recent exchange with him was about my dismay that he claims to have data that vastly differs from what DCJS and OCA report. 1/ https://t.co/rnG7UUoTE0

— Carl E. Heastie (@CarlHeastie) August 3, 2022
"I'm scratching my head regarding the mayor's recollection of conversations we've had. To date, we've received no data from the mayor or his team," Heastie tweeted. "My most recent exchange with him was about my dismay that he claims to have data that vastly differs from what (the Department of Criminal Justice Statistics) and (Office of Court Administration) report."
The agencies last week released a report showing that recidivism actually decreased statewide in 2021 compared to 2020, when the bail changes went into effect. The data also shows that the rearrest rate for violent felonies was relatively low last year, at 2.4%
Advocates pointed to the report on Wednesday, accusing Adams of spreading "misinformation." 
"It's unclear on what the Mayor is basing his claims because NYPD has not publicly released the underlying data," Jullian Harris-Calvin, program director at the Vera Institute of Justice, said in a statement following a press conference held just before the mayor's. "The data we do have, released by the Office of Court Administration, show that bail reform is working to reduce wealth-based incarceration and to protect public safety. Bail reform allowed thousands of people to return home to their families, communities, and jobs during the pendency of their cases; and more than 95 percent of them are not rearrested on violent felony offenses."
Adams contested on Wednesday any studies that contradict his own.
"The studies that claim to show that the rate of arrest for violent felonies has not changed since the reforms were passed, I have one word for you. Wrong. You are wrong," he said.