Heard Around Town
Eric Adams said those complaining about budget cuts should "pray." Religious leaders said that's not enough.
Dozens of faith leaders and organizations sent the mayor an open letter calling on him to add more to the Education budget.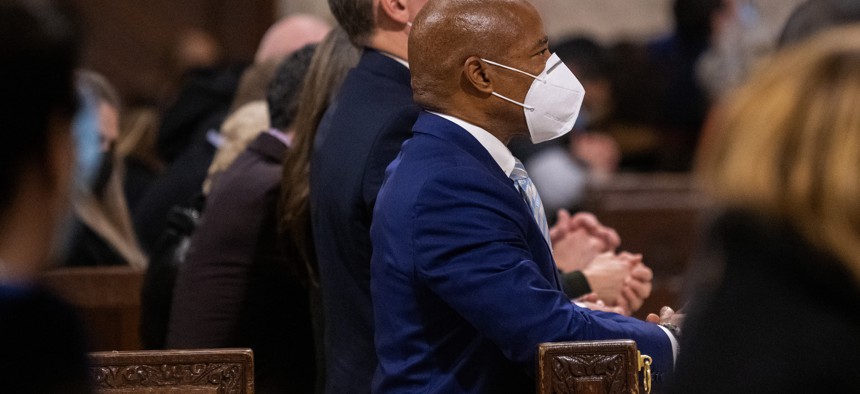 For weeks now, New York City Mayor Eric Adams has had a response for the parents and activists who have confronted him about the city's school budget cuts: to pray for students and his administration.
Today, dozens of religious leaders and faith-based organizations have a message of their own for the mayor: prayer alone is not enough. 
As tensions over budget reductions to New York City schools have simmered, a diverse group of over 30 faith-based and religious groups and 80 individuals have joined the chorus of New Yorkers urging Adams to work with the City Council to restore at least $469 million in funding to the nation's largest school district. Their open letter, shared exclusively with City & State before it is sent out, points to the mayor's assertions that he is someone who is "guided by his faith" as one of the reasons he must act and signatories – which include groups such as Congregation Beit Simchat Torah; the Episcopal Church in Brooklyn, Queens, Nassau and Suffolk; First Corinthian Baptist Church and Masjid Al-Ikhlas – decried the mayor's words that parents and activists must pray, saying the mayor has used spiritual rhetoric to avoid his responsibilities to the city. 
"You have recently told students, parents, and educators time and time again to 'pray' for the restoration of cuts, obscuring the power you have to act and stop the pain to our schools … While many of our traditions do value prayer, a more holistic understanding of prayer does not shirk the responsibilities we owe to our communities, especially as people in positions of power," the letter says. The letter goes on to cite ways that Buddhism, Christianity, Hinduism, Islam, Judaism, and Sikhism's texts and teachings demand action from followers in addition to prayer – especially in matters of education.
Throughout the first eight months of his tenure, Adams has often invoked his religious beliefs and made strides to connect with faith-based communities. He has deep ties to the city's Black churches, regularly meets with religious leaders, and shortly after taking office, he created a new body to serve as a conduit between city government, faith-based communities and nonprofit organizations. 
Many of the faith-based leaders and groups involved in the letter are fairly progressive, and not a core part of the mayor's political base. For example, the NYC-DSA Religion and Socialism Working Group is a signatory. However, some who signed on are based in neighborhoods that have largely supported Adams, including Senior Pastor Michael Walrond of First Corinthian Baptist Church in Harlem, and Rev. Dr. Bruce Rivera of Christ Church UCC in the South Bronx.
Rev. Dr. Liz Theoharis, co-chair of the Poor People's Campaign and director of the Kairos Center for Religions, Rights and Social Justice at Union Theological Seminary, told City & State that the cuts contradict the signatories' religious and moral values as well as the ones the mayor has purported to follow. 
"What's so clear in faith traditions across the city and across the world is lifting from the bottom so that everybody can rise," Theoharis said. "It's messages of privileging and centering – especially kids, especially communities that have been marginalized."
The letter is one of many prompting the mayor to take action. For months now, parents and educators have decried what they say will gut student programming and cause further learning disruptions, while Adams has argued that the cuts to school funding reflect declining enrollment and that they were necessary to avoid an impending budget cliff. It's been a tumultuous and complex battle – and now with the first day of school a mere week away, it remains unknown whether Adams will be swayed to use unspent stimulus dollars to restore the funding to schools.