New York State
New York City declares state of emergency over monkeypox – what it means
The declaration is largely intended to send a message to the federal government to release additional vaccines more quickly, officials said.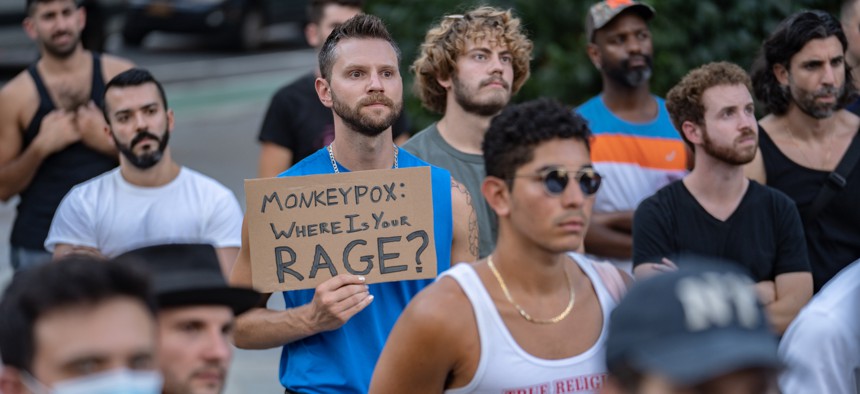 New York City Mayor Eric Adams announced Monday that the city was in a state of emergency as a result of rising numbers of monkeypox cases. The declaration followed a similar one made by Gov. Kathy Hochul last week.
When officials declared COVID-19 a state of emergency during the early days of the outbreak, it allowed them to implement immediate initiatives, including lockdowns, mask mandates and subway closures. As of Friday, 1,289 New York City residents were infected with monkeypox, but such extreme measures are not on the table currently for monkeypox, according to state Sen, Brad Hoylman. He was among a group of elected officials representing Manhattan, including Congress Member Jerry Nadler and Council Member Erik Bottcher, who called on the city last week to declare a state of emergency due to the outbreak. 
The declaration is, in part, an attempt to push the federal government to release additional doses of the vaccine, Jynneos, more quickly. Access to the shot has been limited by the federal Food and Drug Administration largely due to a lengthy approval process of the lab in Denmark where the vaccine is manufactured. 
"I think it makes a very important statement to the federal government that they need to act more quickly, including in authorizing perhaps the Defense Procurement Act to get more vaccines produced," Hoylman said. "At the moment a small (Danish) company is basically responsible for a federal response to the pandemic, and that just can't stand."
As of Thursday, when Hochul declared monkeypox an imminent public health threat, the state had obtained 60,000 doses of Jynneos, which requires a two-dose regimen. Currently, there are no vaccination appointments available in New York City, and local health officials have opted not to stockpile additional doses for a second shot.
"There's kind of a panic that people can't get the vaccine. People are petrified. Everybody wants the damn vaccine," said Allen Roskoff, president of the LGBTQ political group the Jim Owles Liberal Democratic Club. 
Justin Sanchez, president of the Stonewall Democratic Club, said that there has been some progress in increasing availability of vaccines, but access to the shots continues to be "one of the biggest concerns," he said. "We need to see more to help avoid making this an even bigger thing than it already is."
City officials said the state of emergency could allow them to take measures such as authorizing testing for certain providers more quickly without state and federal approval. For example, Quest Diagnostics was recently cleared by the state to administer testing – something that may have happened earlier had the city been under a state of emergency, Hoylman said.
Treatment for the virus – which can cause painful and disfiguring sores – is also facing delays, Hoylman explained. Currently, the wait time to obtain the antiviral medication, Tecovirimat, known as TPoxx, is days long because only certain providers are authorized to administer it, and the approval process for doing so is burdensome. 
"Currently, if you have monkeypox and want the antiviral, you have to go to your doctor and then he or she needs to contact a participating institution in order to get it," Hoylman said.
Correction: This story has been corrected to reflect the right title for state Sen. Brad Hoylman.
Powered By
NEXT STORY: As New York City seeks contractors to aid asylum seekers, advocates decry continued mismanagement at shelters