New York City
NYPD, other uniformed agency overtime spending is on the rise
Combined overtime spending at four New York City agencies hit a record high of $1.8 billion, according to a new report from the state comptroller.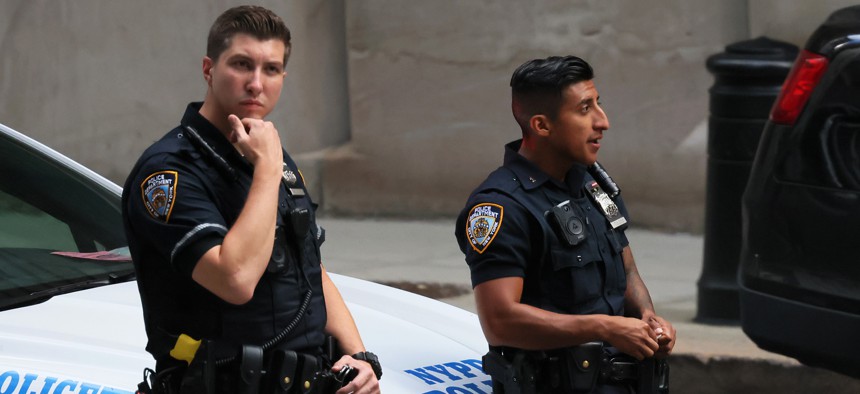 Getting stuff done apparently requires some long days on the job. A new report from state Comptroller Thomas DiNapoli found that overall overtime spending at New York City's uniformed agencies – including the police department – reached a record high in fiscal year 2022.
The findings in DiNapoli's report aligned with an estimate from the city's Independent Budget Office earlier this year that the NYPD would blow past its allotted overtime budget in fiscal year 2022, spending more than $750 million total on overtime. The Citizens Budget Commission also estimated spending would reach nearly $750 million. The report released by DiNapoli on Wednesday said that NYPD overtime spending in fact reached $762 million in fiscal year 2022, making it the second highest overtime year on record. Overall police spending in the last fiscal year's expense budget was about $5.88 billion.
Despite reaching a near-record high, unplanned overtime costs at the police department are not exactly a surprise. Overtime spending at the NYPD consistently exceeds its annual allotment. "These are ongoing challenges of managing overtime at the uniformed agencies that in many ways have been exacerbated by the pandemic," said Ana Champeny, vice president for research at the Citizens Budget Commission, who also noted that the police department's overtime costs could be exacerbated by the level of crime in the city. NYPD crime statistics show a sharp increase in overall index crime for the calendar year 2022 so far, and shooting incidents slightly down from 2021, but notably higher than previous years this decade. 
New York City Mayor Eric Adams, whose term in office began halfway through fiscal year 2022, pledged on the campaign trail to cut by half NYPD overtime spending. The fiscal year 2022 budget allotted $607 million for NYPD overtime, while the 2023 budget allotted $453 million. These figures are routinely exceeded, however. The comptroller's report noted that the increase in police overtime was primarily due to "large event detail" and police presences at activities and events that have begun to return to prepandemic levels. It also noted that NYPD overtime could be in part attributed to "increased crime reduction deployments."
The trend of higher unplanned overtime costs continued at other uniformed agencies including the Department of Sanitation, Department of Correction and Fire Department. Each of those agencies also recorded an increase in overtime spending over the previous fiscal year. Overall overtime spending across the city – including nonuniformed agencies – totaled $2.2 billion, but the uniformed agencies account for the lion's share of that total, at $1.8 billion in combined costs. That $1.8 billion total for the four uniformed agencies is the highest on record, DiNapoli's report said.
Staffing shortages have also contributed to overtime. At the Department of Correction, overtime spending ran up to $259 million, the highest amount in five years. The report mentioned that staffing challenges – including widespread sick time and absences that have caused other problems at the department – continue, despite the department reporting improved absence rates since a peak in August 2021. At the Fire Department, smaller class sizes during the pandemic and abnormally high absence rates all contributed to the rise in overtime costs. 
Representatives for City Hall did not immediately respond to a request for comment.
Overall, DiNapoli's report did not highlight these unplanned overtime costs among his top concerns about the city's financial future, referring to potentially higher overtime costs in future years as a "relatively large but manageable" risk, and noting that savings from staffing vacancies could help address those unplanned costs. Still, the report projected that overtime spending at higher than planned levels will continue in future years.
Higher than expected tax revenue, pension returns and lower staffing levels all contributed to what DiNapoli called an improved fiscal position this year, but the report warns that declining revenue and federal funding necessitates caution. "The combination of factors that helped NYC's budget in FY22 is unlikely to occur at the same level again and some factors (revenue, pensions) have already begun to decline, requiring continued caution and planning," DiNapoli tweeted on Wednesday.