New York State
Andrea Stewart-Cousins has presided over some monumental legislation
Let's just say the majority leader has been busy since 2019. Here are some of her greatest hits.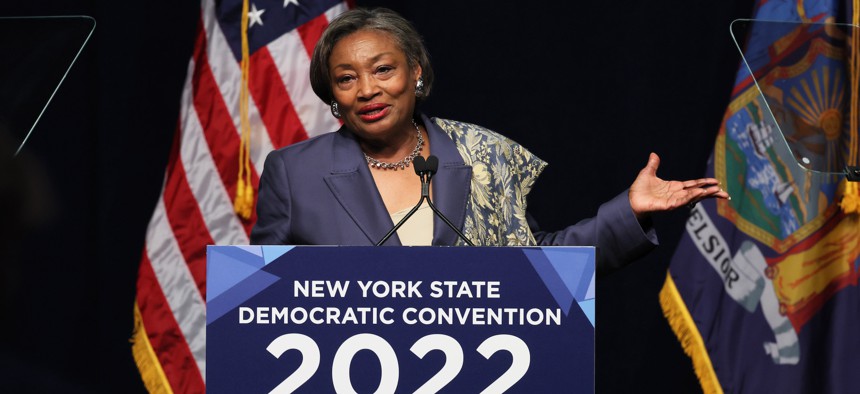 Since 2019, state Senate Majority Leader Andrea Stewart-Cousins has led lawmakers in passing legislation to address pressing issues plaguing state systems and institutions. 
From reproductive rights to tenant protections, here's a roundup of the monumental legislation that has passed under the leadership of Stewart-Cousins:
Protecting tenants
The collection of rules and regulations in the Housing Stability and Tenant Protection Act of 2019 protected and established the rights of tenants. It gave tenants the rights to apartment walk-throughs and rent receipts and protection from wrongful evictions, and it established a grace period for late rent charges. It also formalized eviction court proceedings with requirements for landlords to submit rent demands and serve court papers and eviction warrants.
Improving the state election system
To address the state's flawed electoral system and make voting more accessible, a comprehensive legislative package in 2019 established early voting, consolidated primaries, allowed voting by mail and removed the advance voter registration requirement across the state. The laws also implemented a $5,000 campaign contribution limit for LLCs. Since its passing, the Board of Elections is required to transfer registration when New York voters move and local education boards are now required to promote student voter registration. 
Limiting circumstances for reincarceration 
The Less Is More Act of 2021 aimed to facilitate the positive reintegration into society for people who are on parole and other types of community supervision by the Department of Corrections and Community Supervision. The law limited the use of incarceration as punishment for technical parole violations and capped the length of reincarceration for these violations to 30 days. It also shortened the time frame for court hearings and allowed appeals for non-technical violations. 
Establishing alternatives to solitary confinement
The Humane Alternatives to Long-Term Solitary Confinement Act (HALT), passed in 2021, prohibited solitary confinement beyond 15 days and banned its use for people with mental and physical disabilities who are in state prisons and county jails. The law also created alternatives to solitary confinement, including residential rehabilitation units that provide therapy, treatment and rehabilitation programming for inmates. It implemented due process by requiring disciplinary hearings and access to counsel for detainees before a detainee's placement into solitary confinement.
Tackling bail reform 
The 2019 bail reform laws, which have since been rolled back and revisited twice, eliminated cash bail for most misdemeanor and nonviolent felonies. Before the bail reform law was implemented, the use of cash bail disproportionately affected those with low income and communities of color. The law provided additional options to ensure defendants would attend court dates, including text alerts or supervision by a pretrial services agency.  
Restoring the right to obtain a license
The Driver's License Access and Privacy (Green Light) Act restored the right to obtain a license regardless of immigration status. Under the law, those without a driver's license or learner's permit were allowed to submit additional proof of identity to apply for a non-federal license. Applicants with no social security number were also given the ability to sign an affidavit as proof.
Protecting reproductive health
Stewart-Cousins has prioritized reproductive rights since 2007. In wake of the leaked draft opinion of the Supreme Court in Dobbs v. Jackson, she led the passage of a six-bill legislative package to protect the rights of patients and health care providers. The legislation established legal protections for abortion service providers against misconduct charges and allows enrollment into the state's address confidentiality program.