New York City
The biggest questions addressed at the City Council hearing on asylum-seekers
As New York City prepares a tent shelter in the Bronx, officials from Eric Adams administration testified about the location, transportation, and services provided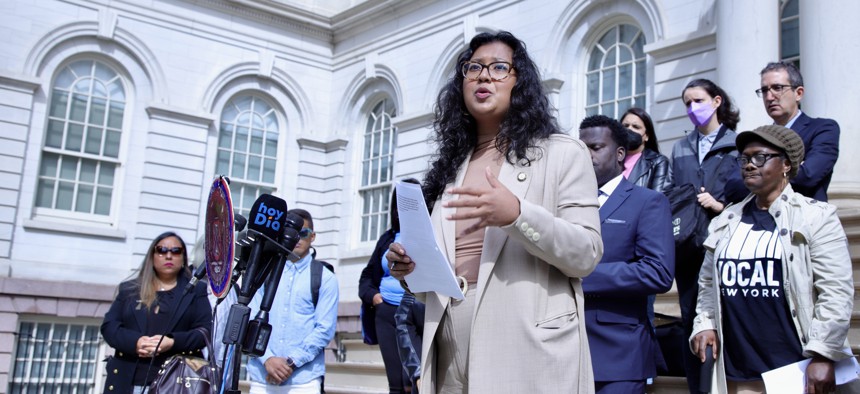 The New York City Council Immigration Committee volleyed questions Friday afternoon at city officials about the Orchard Beach tent center intended to temporarily house asylum-seekers, pressing for greater clarity on operations and whether they expect the tent, and any future facilities, will meet the standards of the city's right-to-shelter law.
The 1,000-bed tent facility – which the city describes as the first of what's likely to be a string of "Humanitarian Emergency Response and Relief Centers"– has stoked concerns over the past week among migrant advocates and elected officials. Orchard Beach is deep within Pelham Bay Park in the Bronx, and the far-flung coastal parking lot is prone to flooding and difficult to access on public transportation. And though the city has said their goal is to ensure nobody stays there longer than 96 hours, many have questioned whether the sweeping white tents and rows of cots within would violate the city's legal obligations to shelter any individual who requests it.
During the Friday hearing, Mayor's Office of Immigrant Affairs Commissioner Manuel Castro and Emergency Management Commissioner Zachary Iscol voiced the city's commitment to ensuring asylum-seekers are welcomed compassionately and are provided all the services they need. Still, they repeatedly underscored the unprecedented severity of this crisis, stressing that in such situations the city needs to take non-traditional paths.
"This is an emergency and there's a lot of things that we would normally do if this was a normal process and we had time, but this is an unprecedented humanitarian crisis that we are dealing with," Iscol said.
Here are some of the biggest questions that city officials addressed – and dodged – during the meeting. 
Does the city believe that the right-to-shelter applies to the Orchard Beach shelter and similar future locations?
While Council members asked the city's representatives several times whether or not the Orchard Beach site meets the city's right-to-shelter standards, they avoided directly answering the question each time. Instead, Iscol said that the centers are not homeless shelters, describing them as humanitarian emergency centers rolled out during an unprecedented crisis, and as such don't fall under the same rules. 
Several council members, including Immigration Committee Chair Shahana Hanif, pushed back on the city's suggestion that asylum-seekers don't qualify given the extent of the crisis impacting the city.
"We should be doing everything we can to provide asylum seekers decent conditions that meet bare minimum standards. The right to shelter is a right that applies to everyone in New York City," Hanif said. "No amount of legal gymnastics can justify what's happening."
Earlier in the week, homeless advocates told City & State they did not expect the tents to meet the standards, but that the Adams administration had assured them that asylum-seekers could still seek shelter through the city's normal homeless intake process as an alternative. 
When will the Orchard Beach shelter open and what will services look like? 
Iscol said the site could begin operating next week. The purpose behind the centers is to temporarily house asylum-seekers for 24 to 96 hours while providing medical care, other important services and helping them determine their next step. According to the city, about 22% of the 15,000 asylum seekers who have arrived in the city have had a destination other than New York in mind. Officials will help these individuals get where they need to go while they stay in the emergency center.
What about families seeking asylum? 
Alongside last week's Orchard Beach announcement, the city revealed it planned to open a second emergency center to house families, although the location of where that would be established had yet to be decided. While city officials said this hasn't changed, they did comment on one of the biggest concerns that's been voiced by advocates over the last week: whether families with minor children would be housed in congregate settings. 
Iscol said these families will be given private dwellings but stopped short of committing altogether that this would never occur when pressed by Hanif.
"I can tell you that we do not want to place families in congregate settings," Iscol said. "This is an unprecedented humanitarian crisis and I can't tell you what's going to happen in two weeks or three weeks or four weeks, but I can tell you that this administration is 100% committed to not housing children in congregate sites.
Why was Orchard Beach selected as the location? 
Acknowledging that "there is no perfect location," Iscol said his team considered over 60 different locations across the city before landing on the Orchard Beach parking lot. He said that center is only the first of "probably many others" the city will need to establish in the coming months in order to accommodate the influx of asylum-seekers, however the intent isn't to keep it operating for a long period of time.
"We are looking for places that are over 150,000 square feet - that's essentially the size of three football fields," Iscol said. "If there are places in your district that come to mind we would love your help in identifying them." 
Bronx Borough President Vanessa Gibson and several other local officials have expressed concerns about the Orchard Beach location. When questioned whether the city consulted with the area's political representation and local community organizations before choosing the site, Iscol said officials didn't alert them of their plans until the same day as the announcement. 
"We will make sure we do that in the future," he said.
Will public transportation be provided and can people leave if they want? 
City officials said that they are working with the state to create transportation options, including bus service from 5:40 a.m. to 12:40 a.m.  As of now, they said they believe that system will be operating in time for next week. 
No asylum-seekers will be forced to stay at the center either if they don't wish to. They'll be allowed to transfer to the city's regular shelter system or go elsewhere when they wish, according to city officials.
What are the basics of the situation the city is facing?
Thousands of people have arrived in New York City over the past six months, swelling the shelter system's head count from 45,000 in April to over 59,000 this week. These asylum-seekers are coming primarily from Venezuela, displaced because of violence and economic instability, and can legally reside in the U.S. while awaiting a more permanent residency status. Many families and single adults have even arrived aboard buses sent by Texas and a handful of other southern states without any coordination with New York City – a political ploy that's been taking place in a similar vein within other Democratic-run places like Washington D.C. and Sacramento. According to Castro, there are currently about four to nine buses arriving at the Port Authority Bus Terminal every day, on top of the people who are continuing to arrive on flights and other methods.