Policy
Hochul lifts mask mandate on transit
The governor announced that masks are still encouraged, but no longer required on MTA trains and buses.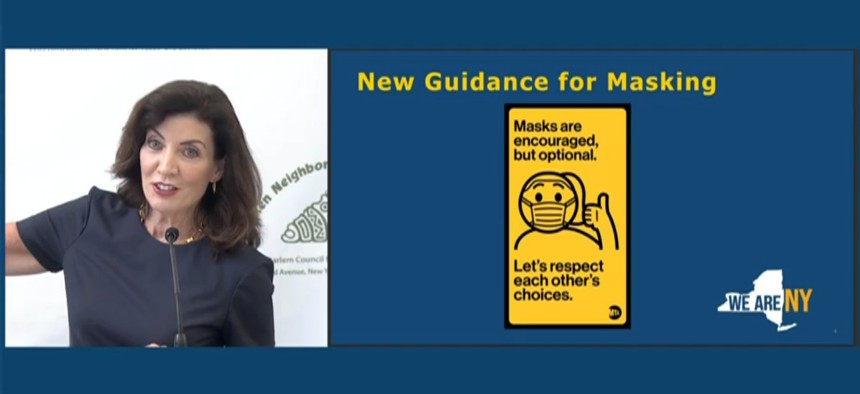 After more than two years of required masking on public transit across the New York City metro area, it's mask no more on New York City trains and buses. 
Beginning immediately, masks will be optional – but still encouraged – on the subway, buses and commuter rail lines of the Metropolitan Transportation Authority, Hochul announced at a Wednesday press conference. 
Hochul said she and the state Department of Health decided to lift the mandate based on data showing a stabilization of both the case rate and hospitalization rate. "I want to thank everyone, the New Yorkers, who sacrificed, stepped up, and they've done a great job," Hochul said at a press briefing Wednesday. "I still expect to see many people on the trains and on the subways (wearing masks)."
The decision on masks coincided with federal approval of a new COVID-19 booster shot designed to more directly target the dominant subvariants currently infecting people in the country. "I think everyone should get this booster immediately, and it starts taking effect and we have a higher level of protection," Hochul said shortly before receiving her own booster on camera. The shots became widely available to people 12 and older on Wednesday.
Anecdotally, mask compliance on the subways and buses has declined significantly in recent months, and enforcement has been minimal if at all. "A lot of people wanted this," Hochul admitted about the immediate lifting of the mandate on Wednesday. She said commuters are welcome to mask at their "personal discretion" before pointing out New Yorkers have been going about work, school and shopping without masks. "It makes sense to not worry about it on the way (to those places)," Hochul added.
Masking remains a requirement at health care and adult care facilities across the state even with the immediate lifting of the public transit mandate.