Curbside composting program billed as nation's biggest gets underway
New York City launched the collection program for waste like food scraps and yard debris in Queens. The city's sanitation department is relying on a range of tactics to get buy-in from residents.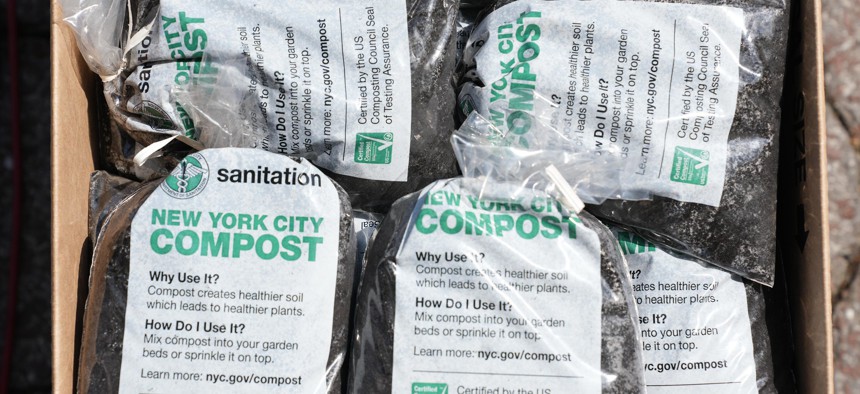 New York City rolled out what it says is the nation's largest weekly curbside compost collection program in Queens on Monday. 
To boost the effort's chance of success, the city's sanitation department launched a massive public outreach blitz featuring TV appearances, mailers, a local media ad campaign and about 90 people knocking on doors to directly engage with residents across the borough.
It has also deployed Scrappy the Compost Bin and Buddy the Rat. The characters are part of a wide-ranging social media marketing plan that is running across a number of platforms, including Twitter, Instagram and TikTok.
"We have conducted extensive outreach to ensure every resident of the borough of Queens knows about this program and how to participate,'' said Vincent Gragnani, press secretary for the sanitation department. "We know it can take time for people to change their behaviors with trash and recycling, so we have designed this program to be easy – we will pick up from every residence, no signup required." 
Social media was an essential component of the rollout. "We believe in meeting New Yorkers where they are," Gragnani said.
The sanitation department said it learned from smaller scale pilot programs undertaken by the city in the past. By sending free brown bins to buildings with 10 or more units, officials hope for greater buy in from building managers.
Residents of buildings with fewer units were able to order the bins at no charge or use their own sealed containers, as long as they contain a decal identifying the contents as composting.
The voluntary program accepts yard waste, food scraps and paper goods that contain remnants of food, like pizza boxes and takeout containers. Such items make up about a third of the city's waste stream.Municipal curbside composting isn't a new idea: some communities in the Pacific Northwest have been doing it for years. But in other parts of the country, the concept has yet to widely catch on.
Environmentalists have been pushing for curbside composting, which has the potential to divert a sizable amount of garbage from landfills. 
New York produces about 8 million pounds of organic waste per day, said Jessica Tisch, commissioner of the city's department of sanitation. 
"That organic material goes into black trash bags, where it's commingled with all the other household trash,'' Tisch said at a news conference announcing the composting program in August. "It then gets landfilled, where the material decomposes and produces harmful methane gas for years to come."
Tisch also noted that when discarded food and other organic waste sits in bags curbside, it can become an "all-you-can-eat buffet for rats."
With the composting program, instead of being sent to the landfill, organic material will be turned into soil, or processed through an anaerobic digester to produce renewable energy.
Queens is home to 2.2 million people and 41% of all street trees in New York City. The eastern portion of the borough produces significant leaf and yard waste. 
The sanitation department analyzed composting programs in other cities and found that getting people in the habit of composting leaf and yard waste was crucial to a program's success, Gragnani said.
This story was originally published in Route Fifty, which is affiliated with City & State under its owner GovExec.