New York City
Just 40% of New Yorkers have gotten a COVID-19 booster
As COVID-19 cases climb again, the New York City Department of Health is stressing that updated bivalent boosters offer the "single greatest protection."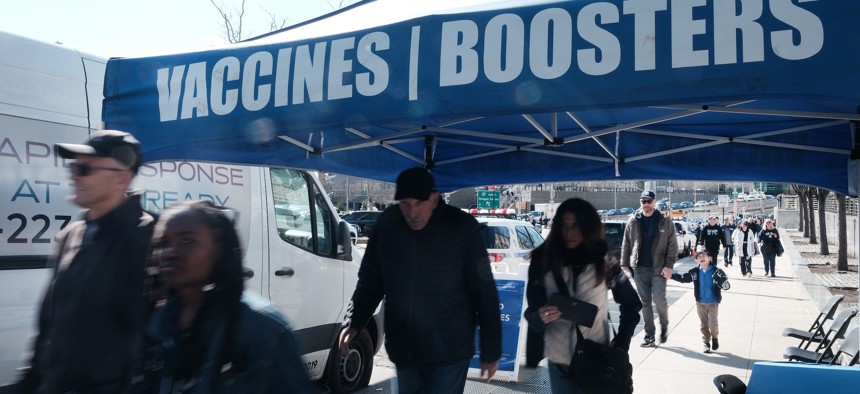 COVID-19 booster shots are widely available, but you wouldn't know it by looking at vaccination data from New York City and state. Just 40% of eligible New Yorkers in the city and roughly 41% of the population statewide have received any additional booster shot.
New York has among the highest vaccination rates in the country, with 93% of the total population receiving at least one primary vaccine dose, and 79% of the population completing the primary vaccine series, according to state data. But uptake of boosters, which the U.S. Centers for Disease Control and Protection recommend for most people to be up-to-date on vaccination, is roughly half that.
The lagging booster rates aren't anything new, but they come amid an uptick in cases in some New York City neighborhoods, colder months approaching, and, on the brighter side, an updated bivalent COVID-19 shot that is recommended for its protection against the Omicron variants. As of Wednesday afternoon, a total of 476,221 COVID-19 bivalent immunizations had been administered in New York City, according to the health department.
"We will do everything we can in the weeks ahead to remind New Yorkers that the updated bivalent boosters are the single greatest protection available to them in addition to the use of face coverings in crowded indoor settings and staying home when they are sick," New York City Department of Health spokesperson Patrick Gallahue wrote in an email on Thursday. Gallahue said that the city is running advertising campaigns to encourage boosters, and is offering pop-up vaccination sites, mobile units and at-home vaccination for eligible New Yorkers. COVID-19 vaccine appointments in general can be made through the NYC Vaccine Finder, by calling 877-VAX-4NYC, or at local pharmacies or health providers.
Booster uptake has stagnated too. Five months ago roughly 38% in New York City had received a booster dose, compared to 41% today. Some public health experts have suggested bringing back the city's Key to NYC program with a booster requirement, while Manhattan Borough President Mark Levine has suggested bringing back cash incentives to encourage vaccination.