New York City
Plans for a Randall's Island tent city draw familiar criticism
As the city struggles to host thousands of incoming asylum-seekers, a pivot to build a tent city on Randall's Island still poses concerns about extreme weather and accessibility, some lawmakers and advocates said.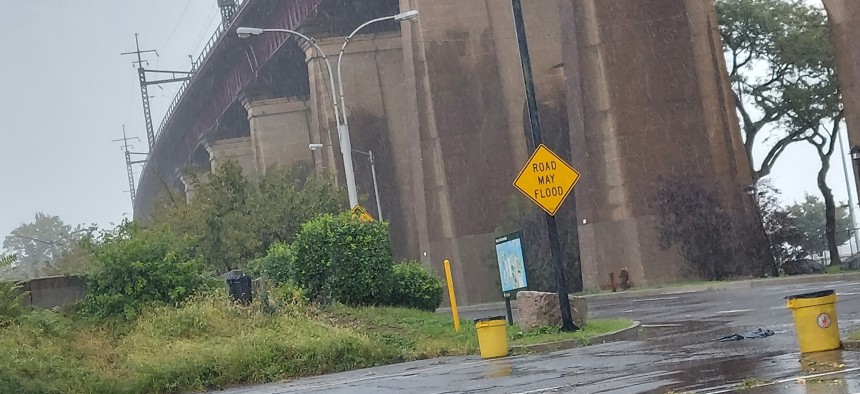 On Monday night, Mayor Eric Adams' administration announced that it will pivot a planned tent city to house migrants from Orchard Beach to Randall's Island, citing a lower risk of flooding at the latter location. But that risk is not zero. 
Photos taken on Tuesday of the parking lot around Icahn Stadium, where the emergency shelter is set to be placed, show some rain water pooling, as well as a sign posted near the lot warning that roads may flood.
"If the roads flood – and we're seeing some flooding inside of the parking lot – I just don't see how it's going to be feasible," New York City Council Member Diana Ayala, who represents Randall's Island and shared the photos from the site on Tuesday, told City & State. 
Housing advocates and immigrant advocacy groups also raised concerns about the Randall's Island site on Tuesday. "Many of the concerns we and others have expressed about the initial Orchard Beach location also apply to Randall's Island," a joint statement from the Legal Aid Society and the Coalition for the Homeless read. "The city must look to other solutions instead of tent cities, where our clients will be isolated, vulnerable to extreme weather, and far from public transportation and other critical services."
Despite seeing pooling water on Tuesday and signs warning of flood risk, Ayala said that she hadn't recently heard about flooding being a major issue in the area, and Assembly Member Eddie Gibbs, who also represents Randall's Island, said the same thing. (Several people, however, referenced the chaotic evacuation of Governors Ball on the island in 2019 during heavy rain and thunder.) 
The parking lots near Icahn Stadium on Randall's Island are in a Zone 3 hurricane evacuation zone designation, compared to the planned site for Orchard Beach, which had a higher-risk Zone 1 designation. Parts of the coast around Randall's Island are labeled as a Zone 1 designation. A spokesperson for City Hall noted that they expect fewer issues with ponding on the Randall's Island site and said they will be using 3-foot grades, but didn't elaborate more on what specifically that means for construction of tent facilities. City Hall also said that it is working on setting up additional transportation availability to and from Randall's Island, which is mainly accessible on public transit by the M35 bus.
"This new location is less prone to flooding, is closer to public transportation, and will provide temporary respite to 500 asylum seekers," the Monday night statement from City Hall announcing the pivot to Randall's Island said. Spokespeople for City Hall later clarified that there would be space to expand capacity beyond 500 people, as the original planned site on Orchard Beach was set to allow for 1,000 people. On Tuesday, Gov. Kathy Hochul's office announced that they are activating the National Guard to help run the center on Randall's Island.
At an unrelated press conference on Tuesday, Adams said that while the administration was confident about its ability to mitigate concerns about flooding at Orchard Beach, Randall's Island was presented as a better alternative because of its "higher peak." "(It's a) constant pivot and shift to find a right solution to this humanitarian crisis that was created by human hands," Adams said. "We made the decision to move to Randall's Island. And that's what we did."
Gibbs told City & State on Tuesday that he was supportive of the plan to host the tents on Randall's Island. "Where else?" Gibbs said, adding that it's important for the city to supply coats, blankets and ensure proper heating in the tent facilities as colder weather approaches. "I really do hope it works," Gibbs said. "It gives these folks an opportunity just to start."
Randall's Island, which lies in between northern Manhattan, the South Bronx and western Queens, is more centrally located than Orchard Beach, located deep within a city park in the East Bronx. Because it's not as far-flung and has some (though limited) transit accessibility, Ayala said that Randall's Island is a comparatively better site for the tent facility – which is intended for voluntary use for the influx of migrants in New York City, for no more than 96 hours – than Orchard Beach would have been. But she said that brick-and-mortar alternatives would still be preferable to tents, especially as winter approaches. In addition to using vacant hotel space – a solution housing advocates have pushed for not just for migrants but other unhoused New Yorkers – Ayala raised the possibility of utilizing the Javits Center in Midtown Manhattan as emergency shelter space, while state Sen. Jessica Ramos raised the idea of using vacant commercial office space.
Placing a shelter has been a difficult logistical situation, but it's also been a political challenge. City Hall has criticized politicians for being quick to criticize the placement of emergency relief centers rather than cooperating. "The far right is doing the wrong thing. The far left is doing nothing," Adams said at an unrelated press conference Monday, possibly referring to Rep. Alexandria Ocasio-Cortez, who said she was looking for a "better solution" than the Orchard Beach tents in her district. "I don't believe the silence that I'm hearing. These are people in need of services. And I am not hearing from the two ends of the spectrum. … (the administration) should not be doing it on our own." 
Adams, who likes to present himself as a solutions-focused centrist, was correct that he's also received criticism from New York's far right. Rep. Nicole Malliotakis and other Staten Island Republicans released a statement Tuesday calling on Adams to scrap plans to dock a cruise ship in the borough to house asylum-seekers, arguing that the city should not be required to shelter immigrants. The city's right to shelter doesn't require American citizenship, and Adams has been careful to say that everyone is welcome in the city – even while publicly lamenting the cost, and the lack of coordination from state and federal governments.
New York City Public Advocate Jumaane Williams acknowledged that city officials are having to make difficult decisions given the extent of the crisis impacting the city, yet still, he said, that fact shouldn't supersede the city's responsibility to meet its right-to-shelter law and provide the "most humane responses" possible.
"We have to make sure that if we're using the kind of structures that are being proposed now that one, it is an absolute last measure, and we have exhausted things like some of the open spaces and armories and hotels," Williams said to reporters during an afternoon press conference. "None of this can be a circumvent for our right to shelter in the city."
Jacquelyn Simone, policy director at the Coalition for the Homeless, said that the solutions being presented in the midst of this humanitarian crisis shed light on the city's longer term housing needs. "I think the broader question is, why is the city spending resources building tents instead of bolstering high-quality shelter capacity in places like hotels?" Simone said. "And also why have they not made the necessary investments in permanent housing placements that could thereby free up existing shelter capacity?"
Powered By
NEXT STORY: Curbside composting program billed as nation's biggest gets underway