Heard Around Town
Advocates expect Hochul to sign bitcoin mining moratorium
Assembly Member Anna Kelles does not expect chapter amendments that would alter the proposed moratorium on proof-of-work cryptocurrency mining.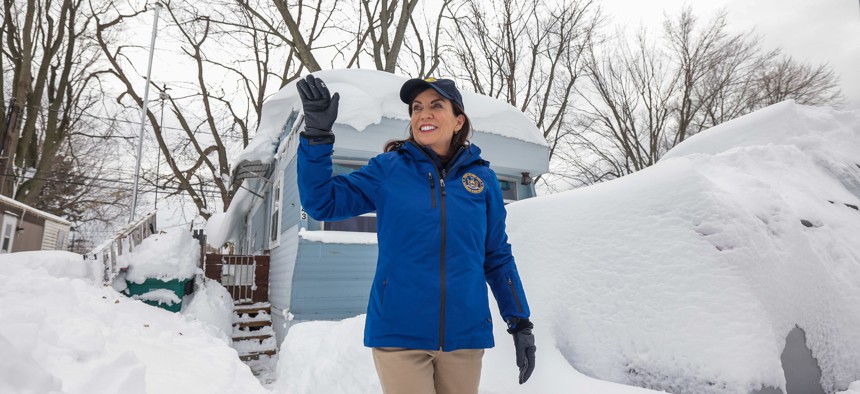 Editor's note: Soon after the story was published Tuesday night, Hochul signed the legislation.
New York environmental activists might have something to be extra grateful for this Thanksgiving. The state Legislature's cryptocurrency mining moratorium legislation has been delivered to Gov. Kathy Hochul's desk for a signature, and its backers are hopeful that the governor will sign it without chapter amendments, or requested changes before the holiday. "I'm getting every indication that she will sign it," Assembly Member Anna Kelles, who sponsored the bill, wrote in a text to City & State Tuesday night. A letter from businesses in the Finger Lakes (where Bitcoin miners have flocked) urging the governor to sign it – and first reported by NY1's Zack Fink – might have helped, Kelles said. 
Kelles said that there have been no requests for chapter amendments. "Truly the bill is so focused and narrow there are no amendments that could really be proposed without changing its fundamental intent," Kelles wrote.
The legislation would place a two-year moratorium on new or renewed permits for fossil fuel burning plants using behind-the-meter power to fuel energy intensive proof-of-work crypto mining. The bill passed at the end of session this year, and has faced steady pushback from the cryptocurrency industry. Industry proponents – like billionaire Brock Pierce, who was hanging out at the Somos Puerto Rico conference – argue the legislation will send a message that crypto business isn't welcome in New York. The bill's supporters, however, have cast the mining industry's job creation numbers as paltry and argue the harmful environmental effects of proof-of-work mining necessitate a pause on new operations while those effects are studied.