New York City
How to buy weed legally in New York
The first dispensary selling recreational use marijuana in the state has opened in Manhattan. Here's everything you need to know.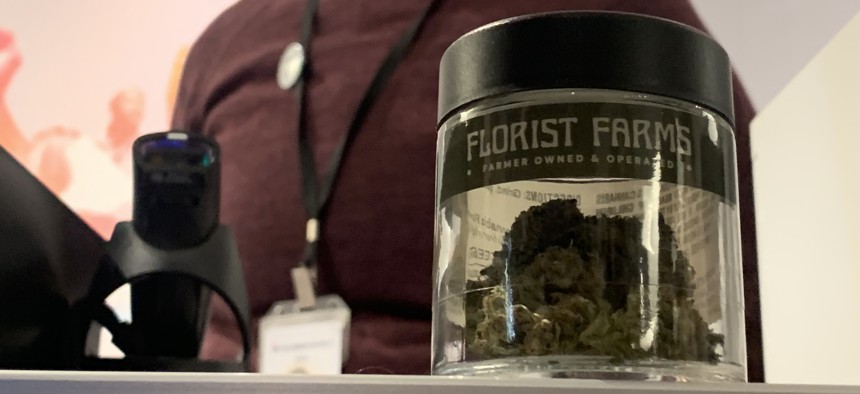 Recreational use marijuana is now being sold legally for the first time in New York state. 
The first licensed cannabis dispensary opened Thursday in New York City, making its debut sale to Chris Alexander, executive director of the state Office of Cannabis Management, after a press conference unveiling the operation off Astor Place in Manhattan. The office, created by legislation sponsored by state Sen. Liz Krueger and Assembly Member Crystal Peoples-Stokes, is the principal regulator of New York's emerging cannabis industry. The dispensary, operated by the nonprofit Housing Works, was the first of more than two dozen operators that have thus far received licenses. 
Housing Works, after the press conference, paused its grand opening until 4:20 p.m., the time traditionally reserved for marijuana consumption by potheads going back to the 1970s. If you're looking to check out the dispensary's debut, here's everything you'll need to know to be able to buy weed without breaking the law. 
Dispensary name and location:
Housing Works Cannabis Co., 750 Broadway (at the corner of 8th Street and Broadway)
How to get there:
Take the R or W trains to East 8th Street or the 6 train to Astor Place and walk one block west. 
Hours of operation: 
On Thursday for the grand opening, 4:20 p.m. to 7:10 p.m. Normal hours starting on Friday are 11 a.m. to 7 p.m., seven days a week. 
Will there be a line:
Yes, a long one. While the dispensary is open to the general public, it also expects as many as 2,000 people to come who were given a chance to RSVP for the opening.
How to pay: 
Cash only, for now. Credit cards will soon be accepted and are expected to be a payment option at all dispensaries once they open. 
Who can buy: 
Anyone 21-years-old and older. Customers must bring government issued identification for proof of age and sign in to a point of sale system for purchase. 
How much can be purchased? 
There is a 3 ounce limit per customer, per day.
Are there online sales? 
Not yet. Once it's set up, customers can order ahead for pickup or request delivery.
What products are available?
Edibles, flower, pre-rolls and vape pens, all from growers in upstate New York, regulated and approved safe for sale. Only about a half dozen brands are available, for now, including Back Home Cannabis Co., Aryloom and Florist Farms. The menu is expected to expand up to as many as 30 brands. 
What will Housing Works do with the proceeds?
All proceeds from the dispensary will go towards supporting Housing Works, a nonprofit that began in 1990 to provide safe and stable housing for people with AIDS. The organization today helps provide housing, health care and vocational training to New Yorkers. Housing Works' advocacy work specifically supports people who have suffered adversely from the war on drugs, driving its motivation to run the dispensary. The business features products by LGBTQ+, people of color and women-led brands, representing communities disproportionately affected by drug criminalization.
What's the law behind the creation of legal marijuana sales?
The Marijuana Regulation and Taxation Act was signed into law on March 31, 2021. The law legalized recreational use of marijuana and created the state Office of Cannabis Management. The office, under the governance of the state Cannabis Control Board, was charged with the comprehensive regulation of adult-use, medical and hemp cannabis, licensing and providing regulatory oversight of participating businesses.
Who else has a license to sell recreational weed?
Twenty eight entrepreneurs and eight nonprofits have been chosen for the initial licenses issued in November. Emphasis in the selection process was placed on people who previously had a cannabis-related conviction, or who was related to someone convicted for a similar offense, as well as nonprofits that serve individuals who were previously arrested or incarcerated. 
Where's the next dispensary going?
It's not clear, but the Dormitory Authority of the State of New York signed a lease for a dispensary at 248 W.125th St. in Harlem. An operator has not yet been identified, and the authority expects to sign several more leases.