New York State
New York recommends masking again. Will mask-weary schools comply?
The state health and education departments issued guidance in line with the CDC following an uptick in respiratory illnesses and COVID-19.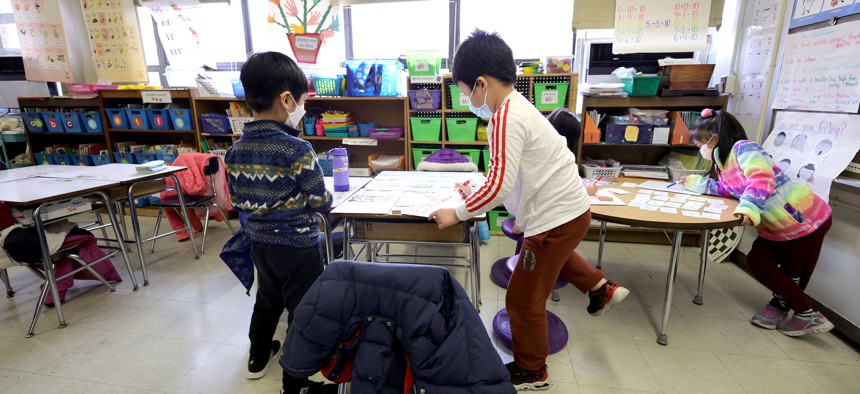 New York state health and education officials are recommending that school leaders protect themselves against the growing number of flu, COVID-19 and RSV cases by once again masking indoors.
In a letter sent to school districts earlier this week, state Health Commissioner Mary Bassett and state Education Commissioner Betty Rosa released a series of health recommendations for public schools as a surge of respiratory virus cases have strained the health care system. It is one of Bassett's last guidance memos, as she will step down at the end of the year. Beyond masking, they also advised schools to encourage students to stay up to date on their vaccinations, thoroughly wash hands and stay home when sick. The departments' recommendations largely echo the guidance given Monday by the federal Centers for Disease Control and Prevention, however, no mandates or directives have been implemented. 
"A host of respiratory viruses, including influenza, RSV and COVID-19, have taken hold in our state and in most of our communities," the joint letter reads. "These viruses, while often manageable, can cause serious outcomes, especially for children."
The news comes as the state moves into its third pandemic winter. Winter break – which in recent years has been followed by a dramatic spike of COVID-19 cases as students return to school – is a few weeks away. But it's not just an uptick in COVID-19 cases that's pushing health experts to once again recommend masking. The convergence of three different highly contagious respiratory viruses this year is being described as a "tripledemic." With flu hospitalizations more than doubling and the number of confirmed cases in New York nearly tripling in the last three weeks, the 2022-23 flu season is poised to be the worst in over a decade. RSV, a fairly common childhood illness that causes cold-like symptoms, is also on the rise, impacting very young children in particular. 
In a statement to City & State, the state Department of Education said PPE would be provided to students and staff. "We are encouraging every student and staff member to mask up as we head into the winter season. Every school is equipped with masks should students need them and we continue to advise all school community members to stay up to date with all vaccinations including flu and COVID," the statement said.
While experts say the number of cases will peak in December and January, New York City and upstate hospitals are already reporting being overwhelmed by the number of children contracting RSV – so much so that U.S. Sen. Chuck Schumer called on the federal government Sunday to be ready to provide immediate aid should it be needed.
The state hasn't required masks in schools since March 2022 when the swell of cases brought about by the Omicron variant last winter subsided. New York City lifted its own mandate around that time – something the United Federation of Teachers agreed at the time was the right thing to do given that there wasn't a bump in positive cases following the February break.
Whether school districts will heed the state's latest recommendations remains to be seen. 
Anna Bershteyn, assistant professor of population health at NYU Grossman School of Medicine, said masking has been very effective over the past couple of years in mitigating not just COVID-19, but the flu in particular – that's partially why there's been such a high level of infections this year. Many peoples' immune systems began to wane, and now with masks largely gone away, more people are contracting the flu. Still, requiring masking in schools again at this point would be complicated, she said, pointing to the strong sentiments some parents have about mandating and explaining how every child's circumstance is different.
"Authorities have to do their best to balance really being honest about what's happening right now and adapting to those situations while not completely confusing the public," Bershteyn said. "And the public just has to do their best to keep current on this ever changing situation."