Heard Around Town
Union ad campaign pushes health care cost transparency bill
The New York City Council bill has 42 sponsors, but hospitals don't like it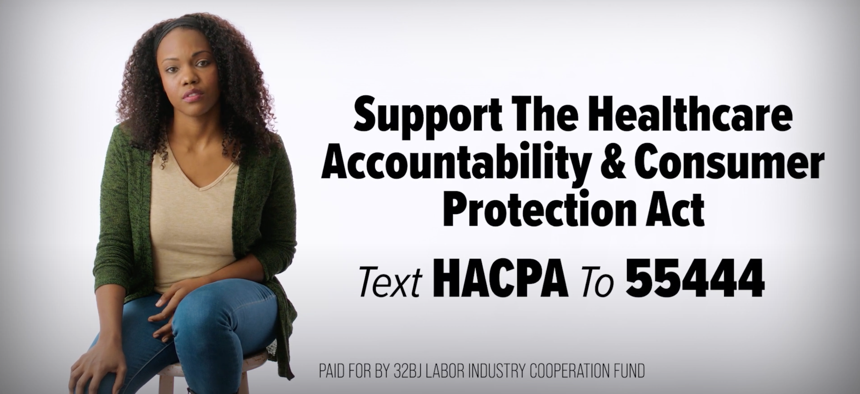 Starting Monday, 32BJ SEIU is running TV ads to grow public support for a New York City Council bill to make hospitals disclose their prices. Labor unions think the Healthcare Accountability & Consumer Protection Act will lower costs, and lead sponsor Council Member Julie Menin said it could save the city up to $2 billion by making an Office of Healthcare Accountability.
Int. 844 has a whopping 42 sponsors, plus backing from the public advocate and four borough presidents, so the campaign is less about winning votes and more about pushing Speaker Adrienne Adams' office and making sure it wouldn't get watered down in implementation by Mayor Eric Adams' administration. The hospitals, naturally, are fighting it. Most are simply ignoring a federal rule to post prices. 
The union said it's spending six figures running TV ads on NY1, CNN and News 12, plus print ads in am New York and local papers, and a digital ad campaign. It starts Monday and runs through the Feb. 23 council hearing on the bill.
"This is a consumer protection issue," Menin told City & State. "There's no other (industry) where you're getting a service and you have no idea what you're being charged." She brushed off fears the law could backfire and result in more expensive procedures. "It would be hard for the prices to go up any higher," she said. "Let's be real. 10,000 for a routine colonoscopy?" 
32BJ is also part of the Patient Protection Coalition, which is running TV ads against a bill backed by Gov. Kathy Hochul to change health care billing procedures. 
"The growth of healthcare and hospital prices are an unfair tax on union workers," 32BJ President Manny Pastreich said, and that makes it "more difficult for businesses and the city to afford health coverage for employees."