Heard Around Town
Has the real rat czar been here all along?
Mayor Eric Adams shot a video with a city rat expert, while the search for the new role continues.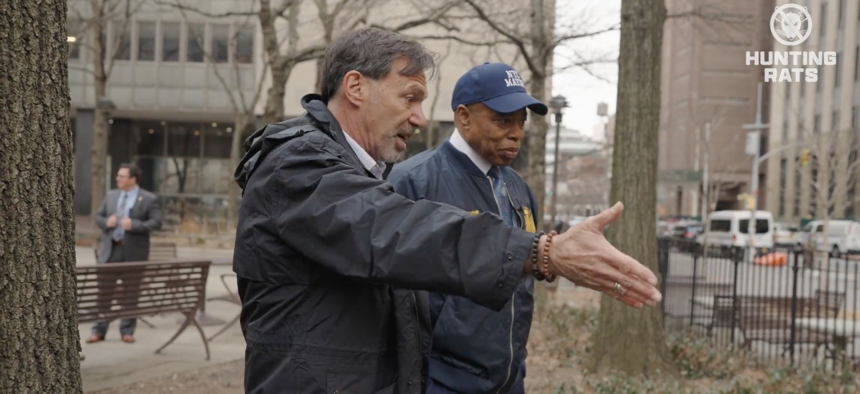 Has New York City's real rat czar been scurrying around the city's burrows already? In a new promotional video, rodenticidal Mayor Eric Adams introduced a seemingly perfect fit for the much-hyped new position. "You know what I just learned? There's someone that works for the city that hates rats just as much as I do," Adams says, before shaking hands with Rick Simeone, a seasoned expert who can "smell" rats. As it happens, Simeone is already employed by the city health department as its director of pest control services. (Simeone was not immediately available to provide his thoughts on the new rat role.) 
But Simeone – who took Adams on a tour of one of the city's former "epicenters of rats" outside Manhattan Criminal Court and demonstrated how professionals knock out the pests by filling burrows with dry ice – is doing a different job than what the rat czar will do, according to City Hall. "(Simeone's) work includes identifying and fixing conditions that make life easy for rats," a City Hall spokesperson said, pointing to mitigation and education initiatives like the city's Rat Academy. The spokesperson cast the rat czar – a position for which the city received 900 applications in a week and a half – as a more universal role overseeing different agencies' efforts. (Perhaps "rat king" would be more appropriate.)
The city is still working through the hiring process for the rat czar, but a spokesperson did not comment on whether they're looking internally for the position. Based on some of the absurdly aggressive language in the city's job posting, Adams is looking for someone bloodthirsty.
Powered By
NEXT STORY: Report finds racial disparities in NY victim compensation