Heard Around Town
Mannion emphasizes traumatic realities of upstate swatting incidents
The state senator has introduced legislation to punish offenders, but many false threat calls come from outside the country.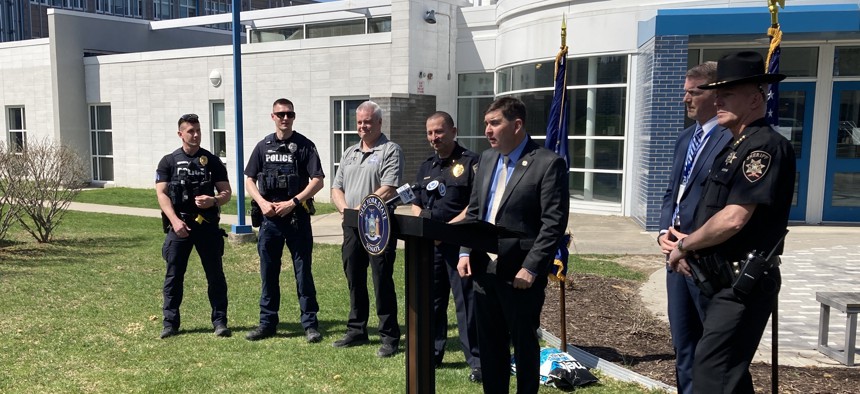 Caitlyn, a junior at Westhill High School just outside Syracuse, was in her chorus period when she and over 500 other students went into a hold-in-place on March 30. A few minutes later, her classroom went into a lockdown.
Her classroom's doors were locked, the lights were off and she went to text her brother, another student. While her and her fellow students' fear was real, the report of an active school shooter that went to local police was not.
Caitlyn spoke of her experience at a press conference at her school with Democratic state Sen. John Mannion, who introduced new legislation Friday that would make swatting a Class D felony. Under the legislation, which Mannion expects wide support for in Albany, the punishment for a false report of an active shooter on school grounds would be up to seven years. 
"This legislation is about deterrence and sending a message," Mannion said. "My bill strengthens state law and makes clear that anyone convicted of 'swatting' a school faces serious prison time."
A day after Westhill, nearby Cicero-North Syracuse and a series of other schools in upstate New York were swatted, Gov. Kathy Hochul said the state would have "heightened monitoring" of swatting. 
Law enforcement said that both Westhill and Cicero-North Syracuse's swatting calls came from Canada. A spokesperson for Mannion clarified to City & State in an email that this legislation would not be applicable for calls that came from outside the country.
Mannion, a former public school teacher of almost three decades, said he had previously participated in lockdown and active shooter drills. After the drills, some children would come up to him and ask if the drill that had just occurred was real.
"So you can imagine what kids felt at Westhill on that day and other schools in the state and around this country," Mannion said.