Immigration
Survey: Some asylum-seeker parents haven't been able to get their children enrolled in NYC schools
The study by Make the Road New York and Hester Street also found migrants faced hurdles finding lawyers and getting transportation, among other needs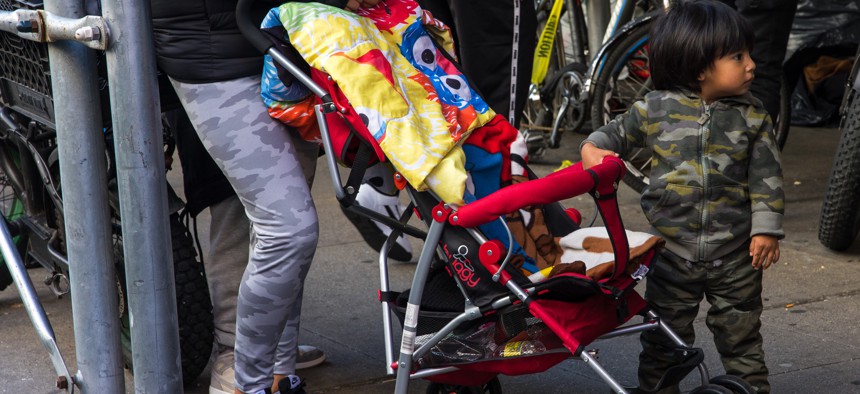 Around a quarter of the 461 asylum-seeker parents who participated in a newly released survey from advocacy groups Make the Road New York and Hester Street said they haven't been able to enroll all of their children in a New York City public school.
While the survey's findings are far from conclusive – its total 766 respondents represent a fraction of the over 46,000 migrants currently in the city's care – it offers a snapshot into the resource gaps asylum-seekers are experiencing as they work to build a life in New York City. In addition to noting the number of parents who struggled to get their child enrolled in school, the survey noted a myriad of challenges migrants have faced, including finding a lawyer, accessing reliable transportation, and meeting their basic needs.
Make the Road New York said the survey is the first of its kind to be administered to date. 
The survey also found that many adult migrants haven't received the free English classes that the city is supposed to provide – 63% of 761 respondents said they haven't been able to take a course. 
The challenges that some migrant families have faced in getting their child enrolled in school are complicated. New York City's school system has been on the ground helping families staying in shelters and Humanitarian Emergency Response and Relief Centers enroll their children in school since August 2022. The effort – dubbed Project Open Arms – has been expansive and involved multiple agencies. 
Still, it's unclear exactly how many migrant children have been enrolled in school. While a spokesperson for the Department of Education said the system has enrolled over 18,000 students in temporary housing in public schools since July 2, 2022, the system does not ask families for immigration status or their country of origin when enrolling them. That means asylum-seekers staying outside of the city's care – such as with a friend or a relative – are not included in that number.
While the survey didn't ask respondents why they've struggled to enroll one or more of their children in school, Make the Road Deputy Director Natalia Aristizábal said that not knowing where to go and the general uncertainty of not knowing which shelter they'll be staying can be very overwhelming for families.
"In order to locate the school you usually need to take them to a Welcome Center," Aristizábal said. "But if you just arrived to New York City and you don't know the language, and you don't have a phone, and you don't have an address, it's a little hard to then go through all the hoops that you are supposed to go to school."
The education department's efforts to enroll new arrivals is ongoing.
"Any families that require additional support can visit a Family Welcome Center or go online for assistance in any language," Nicole Brownstein, an education department spokesperson, said in a statement. "We encourage our advocate partners to connect us with any families that continue to have difficulties enrolling their child." 
The survey also found that 97% of asylum-seekers have yet to receive work authorization to work in the U.S. and as a result, 98% don't have access to steady employment. The consequences of that stark figure is consequential: 72% of respondents said they are having trouble paying for basic living responses, according to the report. New arrivals' access to legal services has also been sparse. While 95% of respondents said they intend to seek asylum, over 93% have yet to find a lawyer.
Several elected officials, including New York City Comptroller Brad Lander and Public Advocate Jumaane Williams joined Make the Road New York to release the survey Tuesday afternoon, urging the city to expand funding for services like immigration legal services and English programs.
"We're hoping that this (survey) and all the information that is coming out is able to help the City Council and the mayor highlight priorities that should be funded within this year's budget," Aristizábal said.