Campaigns & Elections
Yvette Clarke sounds alarm about AI in political messaging
The Brooklyn rep says 2024 "will be the first election cycle where AI-generated ads will be an integral part of how we do campaign advertising."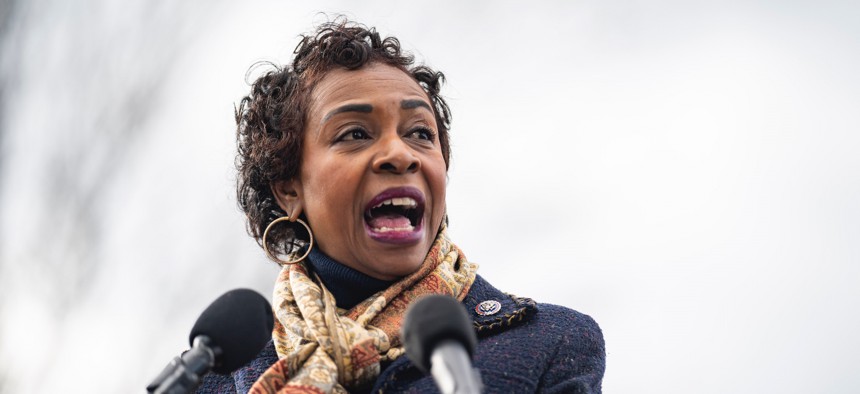 Generative artificial intelligence will allow for digitally manipulated videos, photos and audio to be injected into political campaigns at scale for almost no cost. Rep. Yvette Clarke is worried that this trend will poison political discourse and confuse the public about what is real and what is not.
Clarke introduced the REAL Political Advertisements Act in May to require such ads to include a disclaimer if they were made using AI tools. She recently spoke with City & State's sister publication Nextgov/FCW about her bill. This interview has been edited for length and clarity.
What are your concerns about the undisclosed use of AI in campaign ads?
I think our political climate is very toxic and very polarized. And for those who want to be deceptive or to harm their opponents, they can easily do some real damage with AI-generated advertising. 
I believe the 2024 election cycle will be the first cycle where AI-generated ads will be an integral part of how we do campaign advertising. I think it's critical that we keep up with the times in our political discourse and that we do everything we can to erect guardrails that make it plain to the American people that these are AI-generated advertisements through the use of a disclaimer.
I think the easiest thing that we can do, given the time constraints that we're under with the next election, is to make sure political ads on television and radio have those disclaimers. Then we have to look at what other stipulations need to be placed out there so the American people can clearly see the distinction between what is truthful and factual, and what is fictitious.
The intelligence community has also expressed concerns about generative AI being weaponized by bad actors and foreign adversaries to interfere in future elections. What other steps are needed to combat these threats?
Given what we've seen in previous elections, we need to come together around working with social media platforms. When we can discern that content is specifically meant to disrupt our election process, and when we know that that information can cause harm to the American people, then they have a responsibility to act as well. I think there hasn't been a consistency to the social media entities working in tandem with our national security infrastructure to protect their consumers.
Do you believe Democrats and Republicans can find common ground when it comes to regulating generative AI's use in political campaigns?
Absolutely. Generative AI is neutral ground, and the harm can go in any direction. I believe there's no one political party that is more susceptible to AI's harmful use. So we're going to work diligently in my office to identify key colleagues that can help us build the support we need to move this legislation as quickly as possible.