Heard Around Town
Hochul's favorability and job ratings sink to new low in latest Siena poll
Concerns over the ongoing migrant crisis are weighing down on the governor.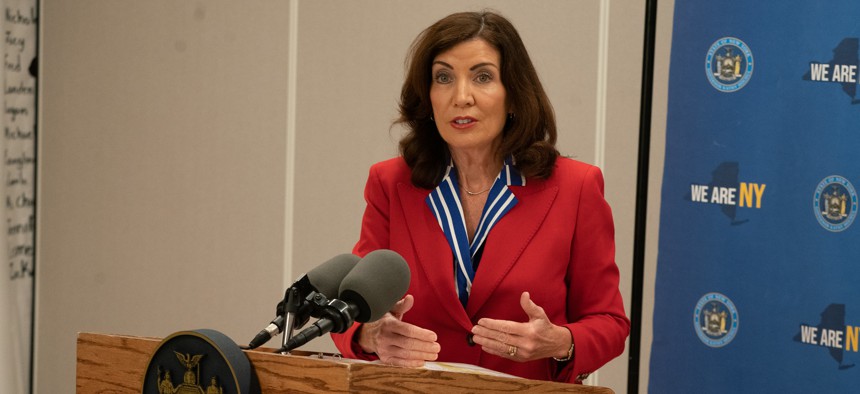 Gov. Kathy Hochul's favorability and job ratings have hit new lows as New Yorkers raise concerns about the ongoing migrant crisis facing New York City and the state. 
According to a new Siena College Poll, 82% of registered voters in the state consider the influx of asylum-seekers to be a serious problem, with the majority holding true across party lines and geography. A majority of those surveyed even said that it is a very serious problem. And by a margin of 58-36%, New Yorkers polled believe that the city and state have already done enough regarding the crisis and should stop accepting new migrants into the state.
In total, 50% of those polled supported relocating new migrants out of New York City temporary shelters into permanent housing throughout the state. The majority of New York City voters and Democrats were on board with the idea, but Republicans were strongly opposed, with independents and voters living outside New York City split.
Voters polled also gave low marks to both Hochul and New York City Mayor Eric Adams for how they've handled the crisis so far. Those surveyed disapproved of Hochul's job performance 51%-35%. Adams had slightly lower marks at 47%-31% disapproval. 
The poll also revealed new Siena College lows in Hochul's overall favorability and job approval, both of which have been on the decline for several months. Her favorability rating stands at 40-46%, down from June when it stood at 44%-43%. Hochul's job approval is evenly split at 56-36%, down from its all-time high in January of 56-36%.