Robin Hood Foundation to help New York City expand child care voucher program
New grant funding will help increase eligibility for child care, facilitate enrollment and fund research.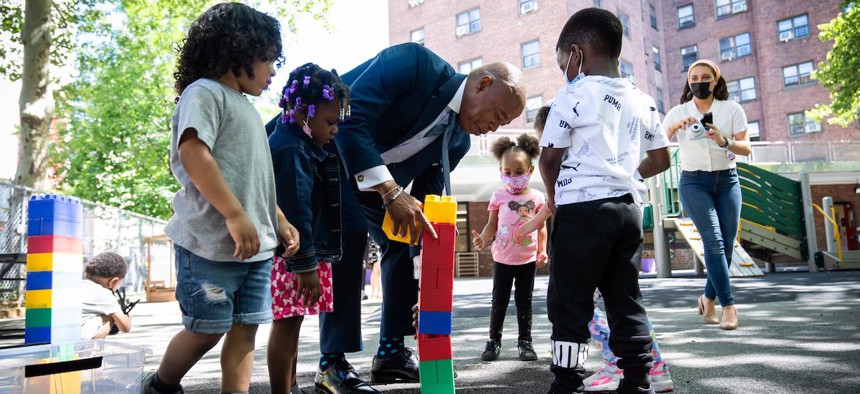 New grant funding will expand access to New York City's child care voucher program through a partnership with The Robin Hood Foundation, according to an announcement shared with New York Nonprofit Media.
The expansion of the voucher program comes through the Child Care Quality and Innovation Initiative, a $100 million partnership between the city and the Robin Hood Foundation. The initiative aims to ensure access to affordable and high-quality child care. Robin Hood, the city's largest poverty-fighting philanthropic entity, will invest about $3 million over the next 18 months, working with the Administration for Children's Services to release each wave of grants. 
Child care costs have risen dramatically, with First Deputy Mayor Sheena Wright writing in a Daily News opinion piece that the issue has risen to the level of a "crisis" after the impacts of the coronavirus pandemic.The announcement, which is expected as soon as this week, also notes that 70% of the city's children under the age of four live in "child care deserts" that lack enough  child care spots to meet demand. Factors leading to the shortages include both low staff wages and reimbursement rates from the state voucher program. 
Legislative efforts have been taken to improve child care accessibility. The City Council passed a universal child care plan, consisting of five bills that create an advisory board to recommend effective policies, mandate subsidies for families up to 300% and 400% below the federal poverty level and establish a grants fund for child care businesses at risk of closure.  
At the state level, law makers approved a $7 billion investment in the the 2023 fiscal year budget that would span over the course of four years. The investment would increase eligibility for the Child Care Assistance Program while increasing the rate that the state pays providers that accept vouchers.
Additionally, the Adams administration launched a tax abatement program for property owners to promote the opening of more child care centers and offer tax incentives for employers that offer to help cover the cost of child care for their employees.
Attempts to address the city's lagging child care system have been ongoing for years. For its part, the Adams administration cleared a backlogged waitlist for affordable child care in 2022 and later created the first Mayor's Office Of Child Care And Early Childhood Education in February.