Poll: Majority of New Yorkers support aid to Israel
Most Democrats and a vast majority of New York Jews said the U.S. should share economic and military aid with Israel, while half of those polled said a large-scale invasion would be unwise.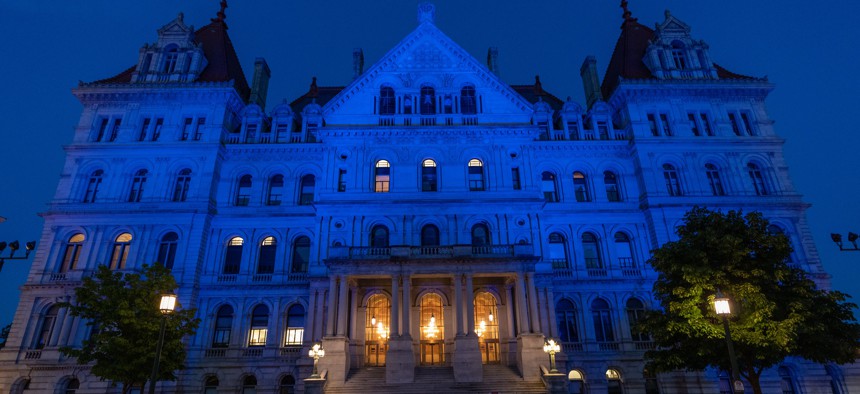 While members of the Democratic Socialists of America and some progressive Democrats call for a ceasefire in Gaza and an end to unconditional military aid to Israel, a new poll from Siena College found that a majority of New Yorkers still support sending both economic and military aid to Israel amid its war with Hamas. The poll also found that New Yorkers are still concerned about crime and migrants.
According to the Siena College poll, 57% of New Yorkers surveyed support providing military and economic aid to Israel. That includes 57% of Democrats, though only 46% of self-identified liberals. Among Jewish New Yorkers polled, 81% supported sending aid to Israel. 
The support in New York for Israel is not universal. Among New Yorkers aged 18 to 34, 50% of those polled said they oppose economic and military aid to Israel. Polls from Quinnipiac and CBS/YouGov found similar splits along age, with younger Americans opposing military aid and older Americans supporting it. The Siena poll also found that a majority of Latinos surveyed – 57% – opposed giving military and economic aid to Israel.
Despite the military support, 50% of New Yorkers polled said that a large-scale Israeli invasion in Gaza would be unwise "given the large number of innocent Palestinian civilians likely to be killed or wounded." That included 58% of Democrats and 70% of self-identified liberals. However, 53% of New York Jews and a plurality of Republicans and self-identified conservatives said that Israel is justified in taking any action "regardless of casualties" in order to prevent another attack by Hamas similar to the one that occurred on Oct. 7 and left 1,400 mostly civilian Israelis dead.
New York is home to the largest population of Jews in the world outside of Israel, as well as a large Muslim and Arab community. In recent weeks, New York City has been host to several large pro-Palestine rallies that garnered national attention. It's unclear whether support for Israel is higher in New York than in the rest of the country. The recent national poll from CBS and YouGov found that only 48% of Americans thought that the federal government should send weapons and supplies to Israel, while another recent poll from Quinnipiac found 64% of Americans support sending weapons and military aid. 
In addition to questions about Israel and Palestine, poll respondents were asked for their thoughts on crime and the migrant crisis. Although crime stats indicate that most major crime has decreased compared to a year ago – at least in New York City – 59% of New Yorkers polled believe crime has gotten worse over the past year around the state. That includes 51% of those polled in New York City, a number which grows to 64% in both the suburbs and upstate. Comparatively, a majority of suburbanites and a slight plurality of upstaters said that closer to home, crime has remained the same.
The Siena poll also found a slight increase in the number of New Yorkers who see the influx of migrants coming to New York City as a very serious problem, which rose to 57% from 54% in August. A slight majority of those polled said they agree with New York City Mayor Eric Adams' assertion that the migrant crisis "will destroy New York City."