New York City
DiNapoli keeps an eye on NYC agency performance with new data tracker
Watchdogs rejoice: The new tool aims to bring more transparency to city agencies' performance.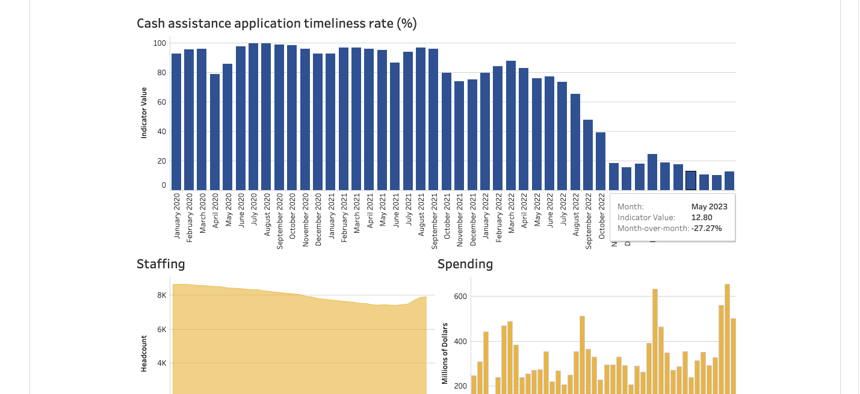 The state comptroller's office is launching a new oversight tool to show how New York City agencies' performance may be impacted by staffing and funding level challenges. 
The Agency Services Monitoring Tool, shared exclusively with City & State ahead of its Tuesday launch, comes roughly a month into a city agency hiring freeze and as City Hall warns about the looming potential of 15% budget cuts tied to ballooning asylum-seeker related costs. Recent reports have shown that staffing shortages within various New York City agencies are to blame at least in part for disrupting the delivery of key services. Outcomes chronicled in New York City Mayor Eric Adams' most recent Mayor's Management Report (MMR) ranged from far fewer stretches of new bus lanes and plummeting rates of timely processing of applications for the Supplemental Nutrition Assistance Program and cash assistance benefits.
The new tracker mirrors much of the data covered in the MMR, further expanding on the annual report's information by juxtaposing how agencies are performing with staffing levels and department funding. The tracker, which will be updated on a monthly basis, features data for over 40 city agencies or departments. Viewers will be able to use it to review over 1,000 different services.
In one example, the tracker shows that the number of people admitted into Department of Corrections custody had returned to pre-pandemic levels as of June 2023. At the same time, however, the department's headcount dropped from 11,416 in January 2020 to 7,801 in June 2023. Funding meanwhile remained relatively unchanged. In another example, the tracker shows that as Human Resources Administration staffing levels dropped from 8,612 people in January 2020 to 7,862 people in June 2023, the rate of timely processing of cash assistance applications for low-income New Yorkers plummeted from 93% to 11%. The MMR acknowledged that attrition was partly to blame for that decline in timely processing, but clear explanations of other fluctuations in the delivery of city services aren't always found in the annual report. DiNapoli's office has pitched this new tool as a starting point for lawmakers, the press and watchdogs to ask questions about changes in the delivery of city services in the context of staffing and budget levels.
DiNapoli said the goal is to make city agency performance more transparent and to help identify areas of potential risk within the city's budget.
"Performance management is critical at this time of budgetary stress and uncertainty in New York City," DiNapoli said in a statement. "This tool looks to help the public, policymakers, members of the media and good government groups understand how spending and staffing may be impacting city services that New Yorkers depend on."