Gloves come off at Clinton-Sanders debate, but New York remains on the sidelines in questions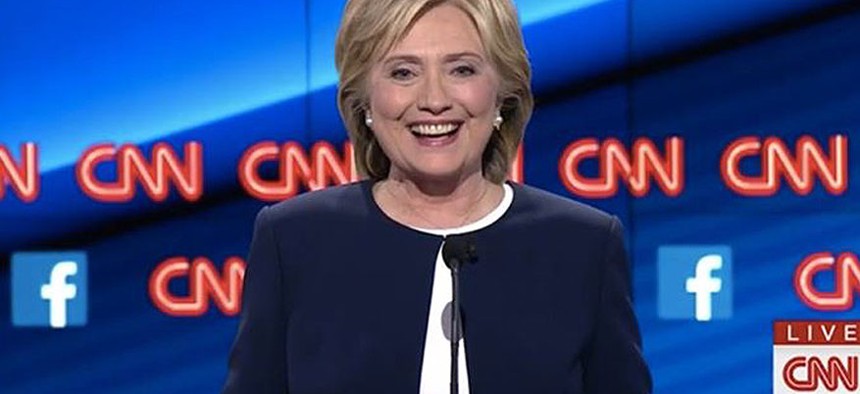 After weeks filled with some of the most contentious barbs of the 2016 Democratic presidential primary campaign, Thursday night's debate in New York between Hillary Clinton and U.S. Sen. Bernie Sanders lived up to the title-fight level attacks, with both candidates going after each other over economic policy, gun control and a number of other issues that have dogged both candidates throughout the primary season.
From the first question of the night at the Brooklyn Navy Yard, on Clinton's qualifications to serve as president, Sanders hit her over her paid speeches to Wall Street bankers, her varying statements on a nationwide $15 minimum wage and her actions as secretary of state in Libya.
Clinton countered with jabs at Sanders on his current and past action on gun control, his unreleased tax returns and the unclear details he gave in a Daily News interview of his plan to shut down banks deemed too big to fail.
Both candidates struggled on some of the most controversial issues. When asked about why she didn't release her speeches to Wall Street banks, Clinton said the calls from Sanders and his supporters were not something that is normally expected of presidential candidates and that she will release her speeches when her potential Republican opponents do the same. "There are certain expectations (of presidential candidates), and this is a new one," Clinton said.
Sanders jokingly replied that he would release the text of the speeches he gave to Wall Street banks.
"I am going to release all of the transcripts of the speeches that I gave on Wall Street behind closed doors," he said. "Not for $225,000, not for $2,000, not for 2 cents. There were no speeches."
But on gun control, a topic important to New York voters on both sides of the issue, Clinton criticized Sanders after he said he would not offer an apology to the families of Sandy Hook victims for saying gun companies should not be able to be sued if their weapons are used in mass shootings.
"We hear a lot from Senator Sanders about the greed and recklessness of Wall Street. And I agree we've got to hold Wall Street accountable, Clinton said. "But what about the greed and recklessness of the gun manufacturers and dealers in America?"
The candidates agreed on a number of subjects broadly during the debate, but dug at each other over differences on energy policy, the Israel-Palestine conflict and the problems in the 1994 crime bill passed by President Bill Clinton that both supported at the time. Many times, the debate over these issues centered on how much progressive legislation could be to be successfully passed in a Republican-controlled Congress.
"It's easy to diagnose the problem. It's harder to do something about the problem," Clinton said on her support of hydrofracking in cases in which foreign countries use it as a transition from coal and oil to greener energies.
One subject that received scant attention however, was the Empire State itself. No direct questions were asked related to New York-specific issues during the debate, a point which may have riled New Yorkers who go to the polls next Tuesday.
The person most likely to ask those questions, NY1 anchor Errol Louis, who co-moderated the debate alongside CNN's Wolf Blitzer and Dana Bash, instead chose to test the candidates on mass incarceration, energy policy and President Barack Obama's nomination of Merrick Garland to the U.S. Supreme Court.
The candidates did however name-drop the Empire State on many occasions. Clinton remarked early in the night that she "love(d) being in Brooklyn, this is great," and praised Gov. Andrew Cuomo's campaign for a statewide $15 minimum wage, which Clinton said was "a model for the nation," and New York City Mayor Bill de Blasio's universal prekindergarten program. Sanders, meanwhile, mentioned his Brooklyn upbringing and the importance of immigrant families like his own, which came to New York in today's America.
Looking towards the April 19 primary vote in New York, many Clinton supporters hope a victory in the state will prove to be the final blow to a Sanders campaign that has continued to show resiliency time and again. But Sanders expressed confidence that his current seven-state winning streak is just the beginning of what would be one of the greatest upsets in U.S. political history.
"I think we're going to win this nomination, to tell you the truth," Sanders said.