Despite deal with NYPD, advocates, council members won't give up on Right to Know Act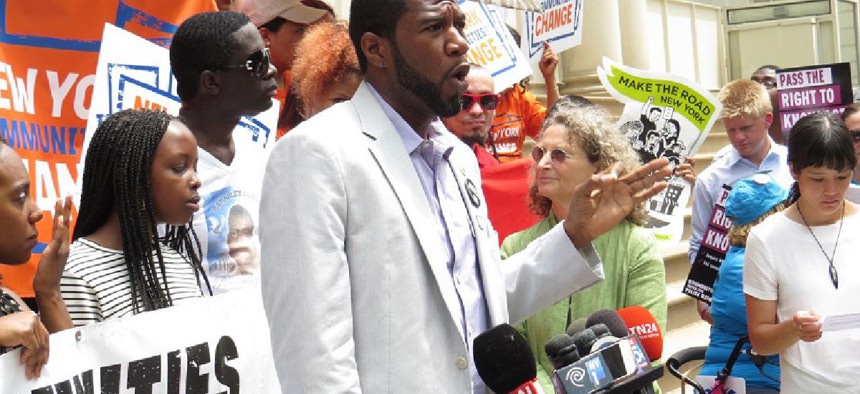 After months of debate on police reform legislation opposed by NYPD Commissioner William Bratton, New York City Council Speaker Melissa Mark-Viverito said it was time to abandon the bills and hash out a compromise with the administration.
But on Wednesday, council members Rosie Mendez, Inez Barron and Jumaane Williams joined dozens of advocates on the steps of City Hall, claiming the 2013 primary proved the public wanted to reform policing protocols by passing laws like those outlined in the Right to Know Act, which aims to guide how police behave when they stop New Yorkers. Speakers repeatedly stressed that the measures have enough support to pass.
The Rev. Kirsten John Foy, a leader with the National Action Network civil rights group, expressed exasperation that self-described progressive elected officials were negotiating with Bratton, who took a tough-on-crime tack while working under former Mayor Rudolph Giuliani.
"They promised us they would change 1 Police Plaza, and instead they've given us smack, backroom deals," sad Foy, who worked for Bill de Blasio when he was the public advocate. "You want to call yourself progressive, you really need to open a dictionary and look under the letter 'P' and find the word that will guide you to the right answer, because if you do not, our feet will guide us to the poll, and you will be on the line at the Department of Labor."
The so-called Right to Know Act contains two bills introduced in November 2014. The first, sponsored by Councilman Ritchie Torres, would require police officers to identify themselves and explain why they're approaching someone in non-emergency situations. If the stop does not result in an arrest or summons, officers would be required to hand out a business card.
The second, sponsored by Councilman Antonio Reynoso, aims to prevent unconstitutional searches by requiring officers to prove they received the OK to search someone if they do not have probable cause to do so.
Bratton described the Right to Know Act and other police-related legislation as "unprecedented intrusions into the operation and management of the Police Department" during a 2015 public hearing. He said the Right to Know Act raised legal and operational concerns, and that many of its goals would be better achieved by collaboration with the department. The mayor also said he had concerns with the legislation and urged compromise.
The legislation's sponsors, however, maintained that, unlike laws, administrative policy changes would not necessarily be adopted by future police commissioners. They pointed out that many of the changes proposed in the legislation were included in policing recommendations by a White House and U.S. Department of Justice task force that included law enforcement officials. Over time, both bills had gathered support from a majority of the council.
Police reform advocates at the rally described several ways they believed the new agreement fell short of the legislation. Many said that there appeared to be few repercussions when police protocol is breached, noting that Eric Garner died after officers placed him in a chokehold, a move which is forbidden in the patrol guide.
Advocates said the new agreement would not require police to identify themselves and explain why they are stopping people in most "minor" incidents, whereas the legislation would have guaranteed this information is shared in nearly all encounters. They also contended that the legislation called for including a telephone number for the Civilian Complaint Review Board on business cards to be handed out by officers, whereas the new agreement does not guarantee that those who feel they've been treated unfairly know where to turn.
And though the agreement prompts officers to ask if they can search individuals or their belongings and respond accordingly, advocates contended it fails to ensure that all New Yorkers are aware that they may refuse the search. They also maintained that the agreement would not require officers to prove they have received consent, nor does it mandate the collection of data on how often such searches occur.
Given the Right to Know Act's support among lawmakers, advocates at the rally were quick to label Mark-Viverito's compromise a "back-door deal." (Because the mayor supported Mark-Viverito in her bid for the speakership, she has long contended with the perception that she is not as independent from him as some would like.) Councilwoman Mendez said she wanted to know more about what guided the decision to hammer out an agreement with the administration.
"I don't know how the leadership – who in the leadership of the City Council – determined that we were not going to get a hearing," Mendez said. "The body of the City Council – a majority – have decided that they want to pass this legislation. And you know what? We can, and we should."
Earlier Wednesday morning, Mark-Viverito told reporters that everything proceeded transparently, and that she met with advocates supporting the measures at the legislation's sponsors' request. She said she then felt compelled to meet with the council's leadership and Democratic conference. Torres and Reynoso were both out of the city and did not attend the Democratic conference gathering where the administrative agreement was announced. Still, Mark-Viverito said she looped them in during the months of negotiation.
"This is not any waiting game; this is, within the next nine months, officers will have been trained in these new policies and procedures," the speaker said. "We've had conversations with a lot of members, and I feel that this has a lot of support in terms of the approach that we're taking."
The mayor, in a statement, also praised the agreement, saying, "These smart reforms will help bridge the essential relationship between police and community that is at the center of keeping our neighborhoods safe."
Torres said he was aware of the compromise two weeks ago, so he was not caught off guard when it was announced. He said he and Mark-Viverito "respectfully disagreed" on the best strategies for improving police-community relations, but that, ultimately, both were equally committed to the same goal.
"If you're asking me whether I wish I had an opportunity to speak to my colleagues during the Democratic conference and express my thoughts on the Right to Know Act and the administrative agreement, the answer is yes, but I'd rather keep the discussion on substance," Torres said, stressing that he did not think the speaker acted in bad faith. "All I ask is that I'm part of a City Council led by a speaker who respects my freedom of conscience, my freedom to disagree with the official position of the council. And she's given me that freedom."
A spokeswoman for Reynoso, who is out of the country on a honeymoon, declined to comment.
Torres declined to say whether he would invoke the so-called bill sponsor's privilege, which allows sponsors of legislation to move the bill to a committee, and if it passes there, before the full Council.
"I'm operating under the assumption that the bill can be enacted within the next year and a half," Torres said. "I will continue advancing the Right to Know Act as if there were no agreement."
Correction: This post has been updated to reflect what can happen when a City Council member invokes the so-called bill sponsor privilege.