With daily fantasy legalization expected, will online poker be next online game to be approved in New York?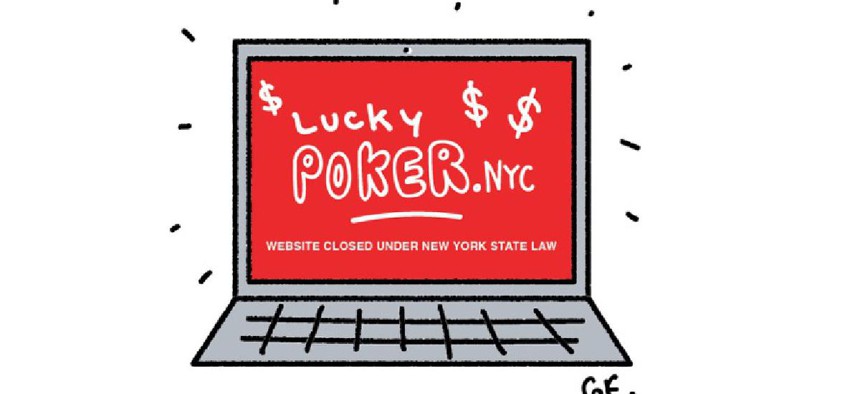 Among the most talked-about pieces of legislation in Albany this year was a bill that legalized daily fantasy sports (DFS) just months after Attorney General Eric Schneiderman, to much fanfare, declared it gambling, forcing the two largest operators to shut down. Amid that fantasy sports frenzy, another online gaming bill, which pitted local casino owners against out-of-state interests, quietly gained momentum. The champions of that bill, which would legalize online poker in New York, deployed the same legal argument as the DFS operators. The legal battle surrounding the two bills could impact the future of New York's gaming industry.
Just days before the Legislature gave DFS a legal stamp of approval, the online poker bill passed the Senate by a 53-5 margin; its twin Assembly bill, however, never got out of committee.
Gambling, with limited exceptions, is barred under the New York state Constitution. A 2013 law authorized an expansion of the casino sector, which so far has resulted in the licensing of four new venues upstate. It was also in 2013 that the first attempt to legalize internet poker, through an attachment to the state budget, emerged. In subsequent years a standalone bill was introduced; its supporters, like those of DFS, argued that poker is a "game of skill" – rather than a "game of chance" – and, therefore, not subject to the constitutional prohibition.
That poker players possess varying degrees of ability is beside the point for those who believe it should be treated as gambling – and regulated as such, regardless of its legality. In a November filing against FanDuel and DraftKings, the two largest DFS operators, the attorney general's office disputed the "game of skills" argument on two grounds: "First, this view overlooks the explicit prohibition against wagering on future contingent events, a statutory test that requires no judgment of the relative importance of skill and chance – they are irrelevant to the question … Second, the key factor establishing a game of skill is not the presence of skill, but the absence of a material element of chance."
"A few good players in a poker tournament may rise to the top based on their skill; but the game is still gambling. So is DFS," the statement concluded.
Some experts, however, believe the constitutional wording allows a measure of leeway for interpretation. "Nobody really knows how the courts will adjudicate this, because there's no clear jurisprudential standard on what constitutes a 'game of skill' or a 'game of chance,'" said Bennett Liebman, interim director of the Government Law Center at Albany Law School. "It's almost a smell test to individual judges: does this smell like gambling? Is it more like chess than a raffle?"
But Liebman added: "The courts in New York, as a general rule, have found that almost all card games are gambling, but whether they would hold that in the face of a legislative finding that certain games of poker are 'games of skill' is certainly up to debate."
Proponents of regulating online poker argue that many New Yorkers already participate in illicit poker games, whether through offshore websites or in underground card rooms, and the state would be wise to tap into a potential revenue stream while enforcing stronger consumer protections and industry oversight. They point to a 2011 federal crackdown on offshore poker sites, which exposed the misallocation of funds that should have been available for payouts. (Some industry experts dismiss claims about the widespread use of offshore websites, within New York state, as exaggerated.)
The two sides dispute the extent to which online platforms can enforce protections against underage and problem gambling. Critics, however, emphasize the potential social cost to permitting around-the-clock betting – from laptops, tablets, and smartphones – on a card game that can be addictive.
And as a moneymaker, online poker thus far has a lackluster track record in the three states that have legalized it – one more reason, skeptics say, that New York state should think twice before betting on the game.
Despite a recent uptick in the market, online gambling in New Jersey, which was legalized in 2013, has fallen well short of expectations, with poker reporting just $1.97 million in revenue last month. In Delaware and Nevada, the other two states that have legalized the game, online poker has been even less successful.
Like in other peer-to-peer games (including DFS), poker players take money from each other rather than wagering against the house. Operators collect a "rake" – a very small percentage of each pot.For that reason, poker generates less in revenue than other online casino games (which are harder to sell as "games of skill"). Nonetheless, Internet poker companies believe that entering a major market like New York would go a long way toward creating larger pools. Higher jackpots and tournament prizes would attract more, and bigger, players. States are currently cordoned off by "electric walls," so a resident of New York is barred from participating in an online game in neighboring New Jersey, but lifting such restrictions in the future could lead to a critical mass of players – and increased "liquidity" in games.
"The only way it works is if you grow in size," said Alan Woinski, president of Gaming USA Corp. "They envision the entire country legalizing online gambling."
Irrespective of whatever profit the games themselves turn, online platforms double as marketing tools that draw customers to the actual casinos, which was one reason New York's gaming venues initially opposed the introduction of online poker. Earlier iterations of the bill, which was backed by MGM Resorts International and Caesars Entertainment, would have opened up licensing for online poker to out-of-state operators.
"That's (MGM's) way of taking all the business away from New York and promoting it over to the (MGM-owned) Borgata and their Maryland and Massachusetts casinos, without spending a dime in New York or hiring people or anything else," Woinski said.
New York Gaming Association President James Featherstonhaugh told City & State that the earlier bill would have been detrimental to the existing gaming venues, which are already facing the addition of new commercial casinos to the market. "We thought it was a mistake not only for the industry, but for New York itself not to have (online poker) tied to existing New York brick-and-mortar facilities," he said. "Eventually, after lots of discussions with some of the out-of-state and large gaming interests that were promoting iGaming, we reached an agreement and accommodation with them to amend the bill, so that in order to be licensed you would have to already be licensed as a New York brick-and-mortar facility"
Though no such partnerships have been announced, Featherstonhaugh confirmed that some NYGA members now "have either formal or informal agreements with out-of-state providers of iGaming."
Like brick-and-mortar businesses in other industries, casinos fear that online platforms will strip away their customer base. In 2014, billionaire casino magnate Sheldon Adelson launched a lobbying campaign for a national ban on online gambling, claiming it harms both casinos and gamblers.
State Sen. Liz Krueger, who opposed the 2013 legislation authorizing casino expansion, is skeptical of casinos as engines of sustainable economic growth, yet acknowledged that brick-and-mortar venues create many more jobs than online platforms. "Each of these (online gaming) bills should be looked at publicly, in the light of day, in total, as part of a package of major changes in the gambling industry in New York state going forward," she said.
State Sen. John Bonacic, chairman of the Senate Committee on Racing, Gaming and Wagering, views the internet poker bill, of which he is a sponsor, as an "extension" of the popular will expressed in the 2013 casino referendum. "I believe that if the state of New York has approved, in the referendum in 2013, that they want commercialized gaming, that's an indication that they don't have a problem with seeing gaming happen," he said. (Bonacic, it should be noted, cited "consumer protections, revenue enhancement and to monitor the industry" as his primary motives for supporting the internet poker bill.)
The concern of Krueger, and others who opposed the DFS and internet poker bills, is that the parallel expansion of brick-and-mortar casinos and online platforms will accelerate, without adequate due diligence, the transformation of New York's gaming landscape into something more expansive, and omnipresent, than people currently realize. The construction of new casinos and erosion of barriers that previously existed between online and land-based gaming, they argue, could pave the way for various forms of legalized internet betting, including on video games and even sports.
"There is so much money in that, so much more than there is in casinos," said Stephen Q. Shafer, chairman of the coalition against gambling in New York. "I think it's the dream not of the casino proprietors – they don't want it – but it will be the dream of all those who now have some kind of internet betting platform."
Though forced this past session to take a back seat to the DFS bill, whose swift passage Albany lawmakers prioritized (and which local casino interests opposed), internet poker seems a good bet to pop up again in the near future.
"We are going to pursue it next year and hopefully it gets done early in the session and not later in the session," said Assemblyman Gary Pretlow, chairman of the Assembly Committee on Racing and Wagering and sponsor of the bill.
Without going into specifics, however, Pretlow alluded to a constitutional roadblock. "The programming counsel who overlooks all the bills to make sure that everything is doable, and passes constitutional muster, still had some questions on it," he revealed.
Indeed, among the concerns that the industry may have going forward is whether the attorney general will take an official position on internet poker's legality, along with the possibility of the state's tribes deciding to enter the market. Perhaps more importantly, the same DFS companies that held it up this year might prove pivotal to online poker's momentum in the coming year. "If DFS starts off slowly, if there are blockages, if the governor puts up some road blocks, then the way forward for poker is much slower," said Liebman, who was appointed deputy secretary for gaming and racing by Gov. Andrew Cuomo in 2011.
"I am sure that's not what they wanted," he added, "but their ultimate success is now tied into how well DFS companies perform."