10 things to watch for in the state budget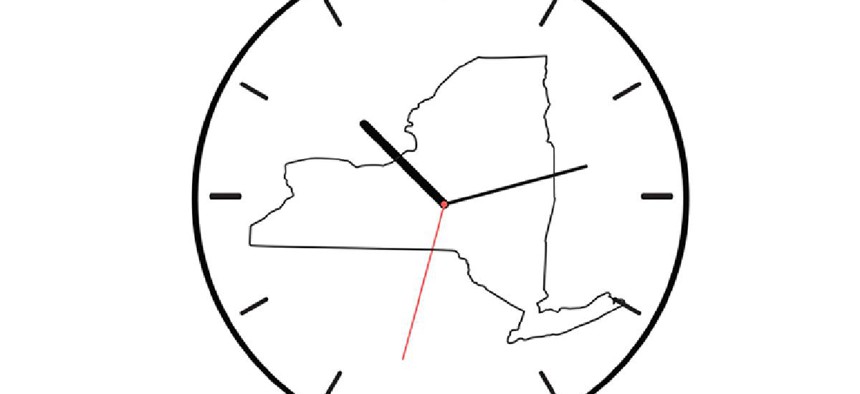 There's less than one week left until the state budget is due, and Albany is abuzz with activity as all the key parties try to secure the best possible deal. Here are 10 things to watch as the April 1 deadline approaches.
On-time budget
Since he took office in 2011, Gov. Andrew Cuomo has prided himself on delivering timely state budgets and end-of-session agreements after years of missed deadlines and budget extenders. This year, the state Legislature will be in session for five days the final week before the April 1 budget deadline, which has not happened in nearly six years. Legislative leaders involved with the budget negotiation talks will likely face pressure from their members to clinch a deal so they can leave for the weekend. However, the much-loathed five-day workweek in Albany highlights legislators' push for a pay raise. Currently, state legislators earn $79,500 annually for a part-time job, but they are allowed to make outside income. A task force set up by Cuomo last fall declined to recommend a pay raise for legislators, though Cuomo has said he would support the move if legislators became a full-time legislature and limited outside income. There have been some rumblings that lawmakers would revolt against Cuomo over the failure to approve a salary increase last year by delaying the budget, but it could be a risky move.
Will it happen? LIKELY
Ride-hailing
Ride-hailing companies such as Uber and Lyft have tried and failed to push for a change in the state's insurance laws to allow ride-hailing services outside of New York City. While there are bills in both the Assembly and state Senate to do this, legislative leaders have been unable to come to an agreement on the level of insurance to be required for drivers and companies. This year, the proposal has a higher chance of passage now that Gov. Andrew Cuomo has fully thrown his support behind the measure and included it in his executive budget proposal. It also doesn't hurt that a recent poll found 77 percent of respondents support the expansion.
Will it be in the budget? LIKELY
RELATED: Is this the year for ride-hailing in upstate NY?
Free tuition?
Cuomo stood alongside liberal icon U.S. Sen. Bernie Sanders in January to announce a plan to provide free tuition at SUNY and CUNY institutions for families making up to $125,000. Many legislators in both parties have expressed concern about how the state will pay for the program, estimated to cost $163 million a year once fully phased in. Given the financial implications, the measure will have to be taken up during the budget process and not pushed off until June. While it is a lofty goal, Cuomo has managed to pull off similar big-ticket issues, such as paid family leave and raising the minimum wage.
RELATED: How will Cuomo pay for his free tuition proposal?
In the budget? HIGHLY LIKELY
Ethics reform
After the arrests and convictions of two disgraced legislative leaders and the indictment of Cuomo's own former associate, Joe Percoco, on bribery allegations, the governor once again proposed several ethics reforms this year. Cuomo is pushing to close the so-called "LLC loophole," which allows limited liability corporations to avoid contribution limits and to limit legislators' outside income, among other proposals. But like previous years, proposed reforms often fail to be included in the final agreement. Little has been said about ethics reforms since Cuomo's State of the State speeches, but the recent indictment of state Sen. Robert Ortt may change that.
In the budget? UNLIKELY
Millionaires tax
With New York facing potentially severe cuts in federal funding from President Donald Trump's administration, the debate over an expiring 8.82 percent tax on household incomes above $2.1 million (and individual filers' income above $1.1 million) has become a sticking point in budget discussions. The tax has support among Assembly Democrats and Cuomo supports the measure, but he opposes the Assembly's effort to raise the tax. State Senate Republicans are the main opposition to the proposal. Cuomo has said much of his 2017 agenda hinges on the revenue from the tax and losing it would create a $4 billion gap in the budget.
In the budget? HIGHLY LIKELY
Mansion tax
One of New York City Mayor Bill de Blasio's top priorities this year is a 2.5 percent tax on homes sold for more than $2 million. As is the case with many funding issues in the city, he must win support from Albany – and it doesn't look like he will, with the governor focusing on the millionaires tax and state Senate Republicans dismissive of de Blasio's proposal, which would raise an estimated $336 million. Assembly Speaker Carl Heastie and Independent Democratic Conference state Sen. Diane Savino are on board, but even some Democrats are questioning the mayor's push.
In the budget? HIGHLY UNLIKELY
Property taxes
Since taking office, Cuomo has taken steps to hold the line on property tax hikes, first with a tax cap and then with a tax freeze. This year, he is once again targeting property taxes by allowing voters to approve locally designed plans that eliminate duplicative services with the goal of lowering local government costs. The proposal has received much criticism from local government officials, even though high property taxes are a perennial complaint. Meanwhile, state Senate Republicans are pushing to make the property tax cap permanent. Cuomo's proposal could pass, since opposition is not very fierce in the state Senate and Assembly Democrats could horse trade for an issue they care about more.
In the budget? MAYBE
Nuclear power plant bailout?
In August, the state Public Service Commission approved Cuomo's $7.6 billion subsidy to help keep upstate nuclear power plants open, which he says is needed to meet the state's clean energy goals. The move – which would be paid for by higher utility rates – comes around the same time Cuomo has announced an agreement to close the Indian Point nuclear power plant, which he's long sought to do. The Assembly's one-house budget plan included a proposal to halt the subsidy, which goes into effect April 1, until more research can be done on the subsidy's impact on ratepayers. However, given the governor's powers in the budget process, it is unlikely to be halted.
In the budget? UNLIKELY
RELATED: Indian Point timeline
Raise the Age?
The proposal to raise the age of criminal responsibility to 18 has failed in recent years. Currently, 16- and 17-year-olds can be tried as adults. New York and North Carolina are the last states that do this. As Cuomo tries to build up his progressive credentials on the national stage, he has thrown his support behind the proposal along with Assembly Speaker Carl Heastie, but state Senate Republicans have funding and safety concerns. However, the powerful state Senate Independent Democratic Conference Leader Jeff Klein said he would not support any agreement that does not include Raise the Age.
In the budget? MAYBE
RELATED: Heastie talks IDC, Raise the Age
Voting reforms
In his proposed budget, Cuomo included voting reforms to combat New York's low voter turnout. A recent report found New York ranked 41st in voter turnout in the 2016 general election. Some of the reforms Cuomo has proposed include allowing early voting before Election Day, allowing people to register to vote the day of an election and a proposal to create a process to automatically register people to vote. However, Cuomo recently told reporters that the voting reforms were not likely to make it into a budget agreement and would continue to be discussed before the end of session.
In the budget? MAYBE