Bill de Blasio
New York elected officials react to Trump's Syria strike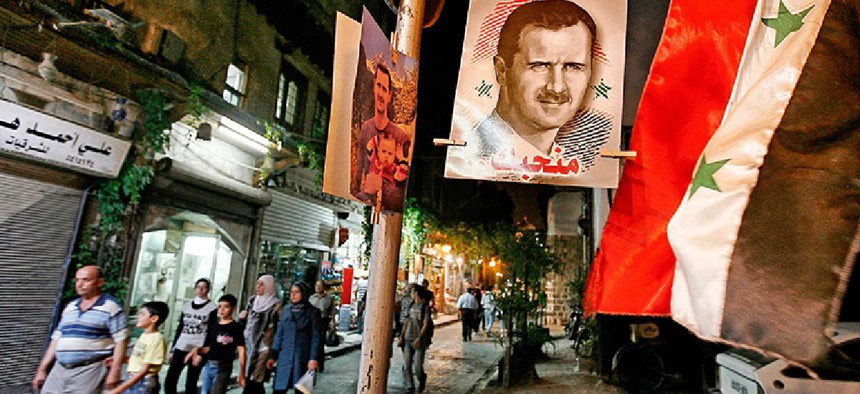 President Donald Trump ordered a missile strike on Syria on Thursday, a stunning shift for a commander-in-chief who has repeatedly warned against getting bogged down in overseas conflicts.
But an apparent chemical weapons attack by the Assad regime on its own citizens drove the president to shift his strategy, and on Thursday night 59 Tomahawk cruise missiles were fired at a Syrian airbase. According to reports, nine people, including two children, were killed.
The attack was a stark contrast from the approach of the previous administration, which refrained from direct military strikes even after Syria crossed President Barack Obama's "red line" by launching a similar chemical weapons attack.
Here's a running list of how elected officials in New York are reacting.
U.S. Sen. Charles Schumer (D), Senate minority leader, via Twitter:
"Making sure Assad knows that when he commits such despicable atrocities he will pay a price is the right thing to do. It is incumbent on the Trump administration to come up with a strategy and consult with Congress before implementing it. I salute the professionalism and skill of our Armed Forces who took action today."
RELATED: Gov. Cuomo's fixation with Trump
Mayor Bill de Blasio (D), in remarks on "The Brian Lehrer Show":
"I would say we should be very, very concerned anytime the United States intervenes in another country. And the way that is supposed to go is through a vote of Congress. It's quite clear in the Constitution. And the history of U.S. military interventions over many, many decades is not a positive one. "But that being said, you know, responding to an act of genocide is a different reality. I don't think a simple airstrike in response to a nerve gas attack is necessarily a poorly considered idea in the scheme of things. But I think what we have to get back to here is … we've now entered into the conflict in Syria. I would argue we've been in the conflict in Syria in a lot of ways. I would argue that one of the biggest contradictions here is President Trump's embrace of Russia when Russia is propping up the regime that perpetrated this gas attack."
Rep. Joe Crowley (D), House Democratic Caucus chairman:
"The recent chemical weapons attack against the Syrian people is an affront to the United States and the civilized world, and demands a compelling strategy to stop the normalization of chemical weapons use. This horrific assault against men, women, and children highlights the pressing need to bring an end to the terrible Syrian civil war that has cost hundreds of thousands of innocent lives. As the leader of the free world, the U.S. should never sit on the sidelines as atrocities unfold. The decision to strike an air base in Syria after Bashir al-Assad perpetrated the deadly attack against his own people appears to be a proportional response by the Trump Administration.
"President Trump owes it to our men and women in uniform and the American people to explain his long-term strategy toward Syria and how it enhances American security and advances protections of human rights. This explanation is critical given that just last week the Administration signaled a hands-off approach in response to the atrocities in Syria, the President's long, effusive praise for the Assad regime's patron Vladimir Putin, and his long-held position that the U.S. should not intervene in Syria.
"There is also an unmistakable need to consult with Congress about authorization for the U.S. to move beyond limited strikes. I support calls for Speaker Ryan to bring Congress back to Washington to consider a new Authorization for Use of Military Force, as well as to hold discussions on the path forward.
"Furthermore, the need for military strikes against Syria also begs the Trump Administration to reevaluate its inhumane policies toward refugees – many of whom are seeking to flee the brutal dictatorship of Assad. As President Trump explains to the American people what his strategy is, I hope to also hear about how he will welcome refugees who are seeking safety and security in the U.S."
"The need for military strikes against Syria also begs the Trump Administration to reevaluate its inhumane policies toward refugees – many of whom are seeking to flee the brutal dictatorship of Assad."
Rep. Chris Collins (R):
"Bashar al-Assad's barbaric actions against innocent children and civilians were tolerated for too long. President Trump promised Americans he would stand up to our enemies, and he delivered on that promise. Last night's military actions demonstrated American strength and leadership. It reassured our allies and let our enemies know the status quo will no longer be tolerated."
Rep. John Faso (R):
"The US attack on the Syrian air base associated with the chemical weapons attack was the correct response. The civilized world must respond to the horrific use of chemical weapons, especially against innocent civilians, or else we risk normalizing such behavior which has been outlawed since the end of World War I."
Rep. Nita Lowey (D), ranking member of the House Appropriations Committee and the Subcommittee on State and Foreign Operations:
"This week, Syrian President Bashar al-Assad again used chemical weapons to brutally massacre innocent Syrian men, women, and children. There is absolutely no place in human society for chemical weapons, and those who would use these barbaric tools must be held accountable.
"President Trump's missile strike was a measured response to deter further use of chemical weapons by Assad and the Syrian regime. However, this strike will not solve the Syrian crisis nor provide humanitarian assistance to millions of Syrians so desperately in need. "President Trump must now present to the American people and Armed Forces a comprehensive, long-term strategy for ending the Syrian crisis, providing stability to the region, removing Assad, and holding him accountable for his crimes."
RELATED: Thew New York City Power 100
Rep. Louise Slaughter (D):
"Bashar al-Assad's ongoing atrocities against his own people are an affront to the civilized world. These crimes have often been abetted by Vladimir Putin and the Russian regime. The missile strikes ordered by President Trump appear to be a proportionate response to Assad's barbaric use of chemical weapons against innocent civilians. Regardless of where you stand on these strikes, there is no question that President Trump must come before Congress and seek an Authorization for Use of Military Force before any escalation of this conflict. After more than a decade of occupying two countries, we must not enter into another open-ended conflict abroad. The American people and especially our brave men and women in uniform deserve to hear a concrete strategy from this administration."
Rep. Claudia Tenney:
"Earlier this week, the Assad regime launched a brutal chemical weapons attack in Syria that killed innocent men, woman and children. The policies of the past administration have failed and it is now time for a new strategy. Last night, President Trump's action showed the world that the United States will not sit idly by while the Assad regime continues to murder their own people. Going forward, it is vitally important that the administration involve Congress in any future decisions regarding the region."
Assemblyman Michael Blake (D):
"Bashar Assad is a merciless dictator in Syria whose actions are barbaric and inhumane. His latest chemical warfare attacks have taken the lives of many of his own people, especially innocent women and children. This behavior in Syria has already lead to a strong response by the United States going back to 2014 under President Obama, where he sought Congressional approval.
"While I do acknowledge that swift and decisive action is necessary, the need for Congressional authorization and oversight is equally critical. Let us remember that in 2013, 183 Republicans voted against President Obama plan to take action. In September 2014, as part of a Coalition campaign against ISIS, the U.S began launching attacks against ISIS in Syria under the leadership of President Obama."
Congressman John Katko (R):
"The horrific and barbaric chemical attacks by the Assad regime against innocent civilians, including children, warranted strong and measured action. Targeted U.S. strikes on the air base from which these chemical attacks emanated were a proportional response to this horrible atrocity. Given the complexity of the conflict in Syria, I urge the Administration to articulate its strategy moving forward. As always, our Armed Forces acted bravely, professionally, and successfully, and I remain committed to ensuring they have the resources to be safe and successful."
Rep. Nydia M. Velázquez (D):
"The use of chemical weapons in Syria must be condemned in the strongest terms. There is no moral or legal justification for those atrocities.
"I do have concerns that additional U.S. military action could inflame the conflict and further destabilize the region. The President owes Congress and the American people a clear explanation of what his strategy is moving forward.
"Moreover, the President's decision to act unilaterally raises questions related to Authorization of Military Force. Under our Constitution, only Congress can declare war and any more military action must be considered by Congress.
"Finally, I would note that we cannot turn our back on the refugees fleeing that part of the world. I will continue pressing the Administration to rethink its policies blocking refugees seeking entry to the United States."
Rep. Sean Patrick Maloney:
"President Assad is a butcher and a murderer, and the images of his chemical weapons attack on his own people – including women and children – was one of the most disturbing things I have ever seen. Last night's tactical strikes were a targeted and proportionate response.
"However, the U.S. cannot conduct foreign policy on an ad hoc basis. If the President wants to take expanded military action in Syria, he must get a formal Authorization for the Use of Military Force from Congress. Members of Congress should have to stand up and be counted before we commit to a wider conflict in Syria. In addition, any plan to increase our military role in this conflict has to include a clear mission objective and exit strategy and it needs the support of the American people."