Andrew Cuomo
State budget update: Cuomo's shifting tone on stalled issues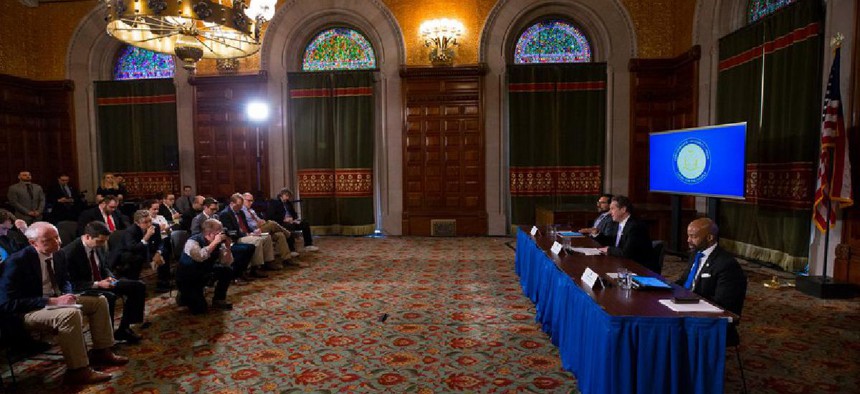 Gov. Andrew Cuomo held a press conference in the Red Room at the state Capitol Wednesday night to explain why there is still no state budget agreement. While many issues have been resolved, the main holdups, according to the governor, are still charter school aid and a proposal to raise the age of criminal responsibility to 18 years old.
Cuomo, who has repeatedly touted his record of on-time budgets, also continued to explain away the delay this year in part by invoking looming federal cuts. The federal government is set to unveil a budget plan next month, but it's not expected to be finalized until the fall.
Not surprisingly, the governor has shifted from the tone he – and his allies – set in recent months. Here are a few examples:
RELATED: Gov. Cuomo's budget extender, explained.
On on-time budgets:
"In fact, it is in the Legislature's best interest to continue this streak of on-time budgets and continue to perform as they have done since 2011. I believe a late budget would make any future pay raise proposal – long overdue for legislators – impossible for Gov. Cuomo to support. The Legislature needs the governor to support and sign a pay raise by the end of 2018, otherwise lawmakers would have to wait until at least 2020 before a raise could legally go into effect. The Legislature has built a reputation of professionalism, function and performance. That brand would be tarnished if the public thought a late budget was the result of legislative retaliation because of a lack of a pay raise last year." – Larry Schwartz, former secretary to Gov. Andrew Cuomo, March 6, 2017
"In this landscape, that changes on an almost weekly basis, that is the kind of financial flexibly we need here. You know, picking a number now, and saying this is going to be the number, and not knowing what's going to happen next week and next month and when the federal government passes the budget or when they don't pass the budget, or when they do the next continuing resolution, is very hard. So I am looking for continuing financial flexibility in the budget process, but certainty and permanence in the operations that need to continue which is what we accomplished in the extender." – Gov. Andrew Cuomo, Red Room press conference, April 5, 2017
On "Raise the Age":
"We will be the state of law and order but also the state of compassion and common sense. We will work to improve the justice system and end racial and resource inequities. We will propose groundbreaking reforms. We will video tape interrogations, improve fairness in lineups, and raise the age of criminal liability from 16 to 18." – Cuomo, State of the State address, Jan. 9, 2017
"Raise the Age, remember, we've talked about for many, many years, and it hasn't passed for many, many years, because it really is the most political, polarizing issue, right? Depending on your philosophy, this is a – can be – an ideologically polarizing. Criminal justice laws are usually lightning rods for ideological differences. And raise the age poses a very important, but controversial hearing. What do you do with the 16- and 17-year-old and how do you treat them? And it may be a 16- and 17-year-old that did a bad act. Maybe it was a 16- and 17-year-old that actually hurt someone. And how do you treat them? Are they criminal? Should they be locked up? Or do you give them a second chance and try to rehabilitate them? And what is that balance? That's what raise the age poses. If you are a Republican conservative, you see it one way. If you're a Democratic Liberal, you see it a different way. So that's what Raise the Age has been posing. That is still an open issue." – Cuomo, April 5, 2017
On $2 billion earmarked for affordable housing:
"This agreement marks a major step forward in the state's comprehensive efforts to combat the homelessness and affordable housing crisis in New York. By advancing the state's largest commitment to affordable and supportive housing, hundreds of thousands of New Yorkers will be able to find a safe place to call home. I call on the state Legislature to join me in this effort, and sign the memorandum of understanding so we can fully realize the transformational benefits this historic investment will bring to New York's most vulnerable residents." – Cuomo, Sept. 14, 2016
"There's an issue with the Affordable New York program, the 421-a program, which sometimes was what they would say, late to rent reform where they both expired at the same time. They are now separated because of the delay in passing the new Affordable New York program. So that is an issue of concern more in the Assembly." – Cuomo, April 5, 2017