Peter King
Pete King: Cracking down on illegal immigration to curb gang violence 'could be interpreted the wrong way'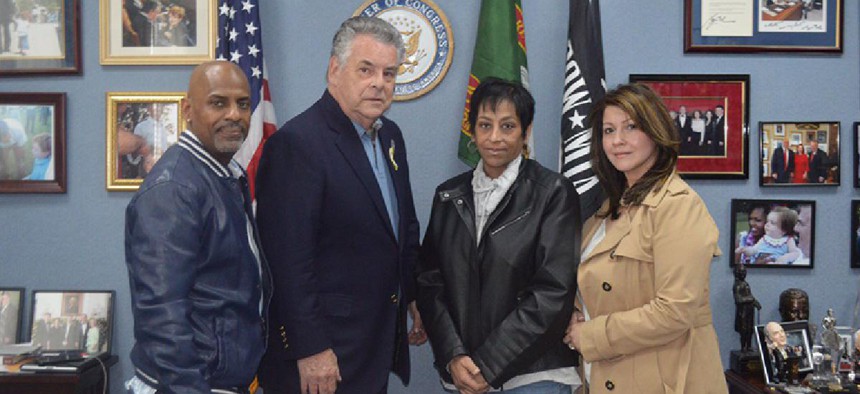 Rep. Pete King called Long Island's top law enforcement officials to a wood-paneled courtroom at the federal courthouse in Central Islip for a field hearing of the House Counterterrorism and Intelligence Subcommittee, which King chairs.
It was just two miles down the road from the park where the bodies of four murdered young men had been found just two months before, in the latest deaths attributed to the gang members of Mara Salvatrucha, best known as MS-13.
King led the questioning, asking officials from the FBI and the Suffolk County Police Department about what could be done to shut down MS-13. The gang is responsible for at least 11 Suffolk County murders in the past year, many of them targeted killings of teenagers.
RELATED: How Pete King learned to stop worrying and love the Donald
"It appears MS-13 has gamed the system," King said. According to him, many of the gang members came into the country by crossing the U.S.-Mexico border as unaccompanied minors. The young people, mostly from El Salvador, are picked up there and sent to live with family and friends in Central Islip and the surrounding towns while they await their immigration hearings.
"We have to be careful about how we address it. Could be interpreted the wrong way," said King, with illegal immigration being such a controversial topic. "It could turn the community against us, and we need community support."
U.S. Attorney General Jeff Sessions faced protests in Central Islip when he spoke in April about cracking down on MS-13. Many in the community fear President Donald Trump's administration will use the violence as pretext for more aggressive enforcement of immigration laws and widespread deportations.
RELATED: A timeline of Pete King's on-again, off-again support of Trump
While many of the MS-13 gang members are Spanish-speaking immigrants, so are most of the victims. King said that because many in the area are undocumented or don't speak English, the violence has stayed out of the news. "The average person is barely aware of the horrible nature of these deaths and the fact that they're occurring," he said. "It's confined to an area where the people can't even yell that much because they're afraid of drawing attention to themselves."
One of the solutions suggested at the congressional hearing was better oversight for unaccompanied minors. Somebody suggested they each be assigned caseworkers. Suffolk County Police Commissioner Timothy Sini agreed: "If we don't provide for these unaccompanied minors, MS-13 will."