Donald Trump
UPDATED: New York Republicans respond to Trump's ban on transgender people in the military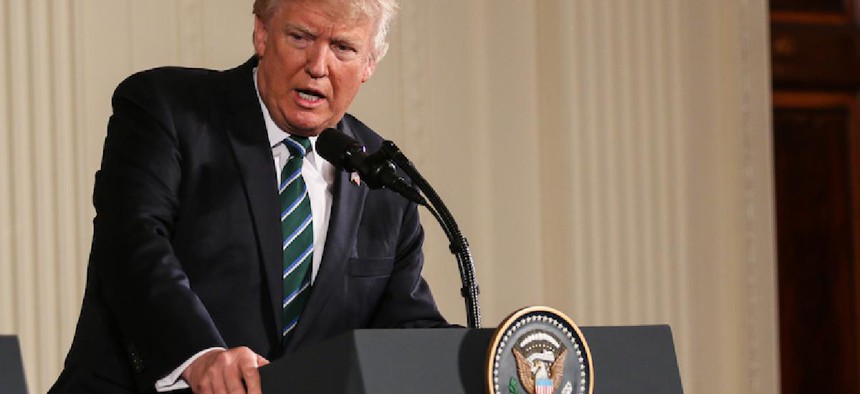 Editor's note: This story was updated to include responses from more GOP members of Congress.
President Donald Trump took to Twitter on Wednesday morning to announce a dramatic shift in military policy.
"After consultation with my Generals and military experts, please be advised that the United States Government will not accept or allow transgender individuals to serve in any capacity in the U.S. Military," Trump wrote in a series of tweets. "Our military must be focused on decisive and overwhelming victory and cannot be burdened with the tremendous medical costs and disruption that transgender in the military would entail."
The announcement comes a month after Secretary of Defense James Mattis delayed a plan to accept transgender troops by six months to study the costs of requiring the Pentagon to cover gender transition treatments to service members, a policy which began during the Obama administration.
RELATED: 10 people making a difference for LGBT New Yorkers
The president's proposal surprised many in Congress. Congressional leadership was reportedly not informed of the change before the president tweeted.
There was some pushback from Republicans in the U.S. Senate, notably Armed Services Committee Chair John McCain, as well as conservative Sens. Joni Ernst and Orrin Hatch.
Of the nine Republican New York members of Congress, five had returned requests for comment.
Rep. Elise Stefanik wrote in a statement that she has the "deepest respect and admiration for anyone who wishes to serve our nation." She wrote that she "supports the review" ordered by Mattis, and believes that he and "senior military leaders should be given the time and authority to consult with medical and personnel experts, the Service chiefs, and outside groups to properly and completely review this policy and its impacts on the force." Her statement did not directly mention Trump or his ban of transgender individuals in the military.
RELATED: Sen. Daniel Squadron on fighting for basic rights for trans New Yorkers
Similarly, Rep. John Faso deferred to the Department of Defense when asked about this issue. "Policies such as transgender service in the military should be given serious and thoughtful consideration, and I am waiting to hear from the Department of Defense on this topic," he said. "The qualification of any citizen to serve in the military should be compatible with the demands of the military and should not impede its ability to remain ready to face the immense challenges throughout the world."
Rep. Dan Donovan questioned the policy, while deferring to military leaders "to determine who is and is not fit to carry out the country's mission."
"I personally see no reason why Americans who meet mental and physical fitness standards shouldn't be able to serve their country, and I'd like to hear more from the Department of Defense on how this policy will impact the armed forces," Donovan said.
Rep. Chris Collins, a strong supporter of Trump on Capitol Hill, defended the president's announcement. "This decision came directly from the Commander in Chief, and I defer to him and our military leaders to do what is best for our military," he said. "The President cited concerns over costs, and I have to agree that elective surgeries with long recovery times should not be funded by taxpayers."
Rep. Lee Zeldin, a veteran, agreed that while "we should find a place for any American to be able to protect our national defense who is willing to risk their life in defense of our freedoms and liberties," he believes that "ultimately, this is a decision for the President to make as the Commander in Chief." He noted that President Barack Obama had used his presidential prerogative to allow the Pentagon to cover gender transition treatment.
"From my own personal observations, the military was in fact starting to go way over the top in the obsession and prioritization of social engineering its own ranks over accomplishing the most important mission of protecting our national defense," Zeldin said.
RELATED: Christine Marinoni on preserving the gains made by the LGBT community
New York's Democratic senators, meanwhile, each released characteristically fiery statements opposing the change in policy.
"Transgender Americans are serving honorably in our military," Senate Minority Leader Chuck Schumer wrote on Twitter. "We stand with these patriots."
U.S. Sen. Kirsten Gillibrand, a member of the Senate Armed Services Committee, released a statement saying that "this new directive is harmful, misguided, and weakens – not strengthens – our military." She added that she will introduce legislation to override the ban.
Rank-and-file Democrats in the New York congressional delegation also released statements opposing the ban, including Rep. Brian Higgins, a member of the Congressional LGBT Equality Caucus. Higgins wrote that "statements made by the President of the United States mean something and today's comments by President Trump are the latest demonstrating blatant and dangerous abuse of the bully pulpit."
A 2016 study by the RAND Corporation estimated that there are 2,450 transgender individuals currently serving in active duty in the military. The same study found that providing services for transgender soldiers on active duty would cause health care costs for the Pentagon rise 0.04 percent to 0.13 percent.