'Brooklyn Prime' campaign aims to bring Amazon headquarters to NYC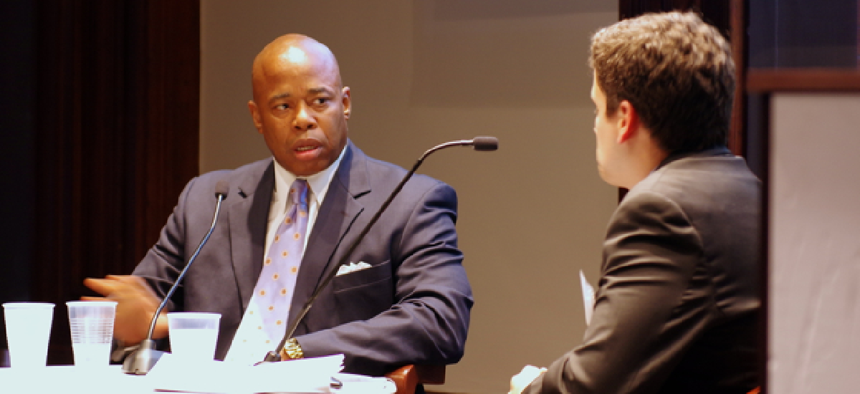 Amazon's announcement last week that is seeking proposals for siting a second headquarters has spurred cities across the country – from Austin to Boston to Buffalo and beyond – to pitch themselves as an ideal home for the growing online shopping giant.
Now you can officially count Brooklyn as one of the contenders trying to woo the Seattle-based company.
RELATED: Eric Adams discusses his vision for Brooklyn
In an open letter to Amazon, Brooklyn Borough President Eric Adams and Brooklyn Chamber of Commerce President Andrew Hoan kick of their "Brooklyn Prime" campaign by broadly laying out the borough's advantages.
Adams and Hoan cite Brooklyn's large and diverse population, its many college-educated residents and the quality of life it could offer to Amazon employees, among other benefits.
A spokesman for Adams said Amazon's announcement had prompted "an organic meeting of the minds to discuss how to maximize this unique opportunity," and that the Brooklyn Borough President's Office and the Brooklyn Chamber of Commerce hoped to "bring together elected officials and leaders in the business community to make this push."
Amazon's move has raised concerns in some quarters that the winning city will ultimately offer too much in taxpayer subsidies and incentives. Asked about what kind of incentives make sense to offer to Amazon, the spokesman for Adams said that "all ideas will be on the discussion table for a unique opportunity like this."
Adams is expected to discuss the new campaign to recruit Amazon while speaking at the Brooklyn Chamber's Newsmakers event at 8:30 a.m. Wednesday at Brooklyn Law School.
RELATED: Five projects Brooklyn leaders want to tackle next
The full text of the letter is below:
Dear Amazon:

Ready, set, grow!

Since Robert Fulton steamed and Emily Roebling bridged, Brooklyn has been getting ready for you. We have no doubt that America's fourth- (and soon-to-be third-) largest city is the best choice you can make for your second corporate headquarters.

And we're all set! Some of America's best universities are located in our burgeoning downtown, with more college students in Brooklyn's Tech Triangle than in Cambridge, Massachusetts. And it doesn't stop there; it extends from the Atlantic Ocean to Atlantic Avenue and everywhere in between. So, when it comes to intellectual property, Brooklyn owns it!

Our quality of life is second-to-none, with world-class arts and culture, five-star foodie experiences, healthy workplace initiatives, and incredible transit access to all of the natural beauty our region has to offer. Most important, we have the human capital any top-tier global business is looking for; with 90 spoken languages, Brooklyn is the living embodiment of the United Nations.

With several prime options along Brooklyn's Innovation Coast already in construction, stretching from Sunset Park to Williamsburg, we can accommodate your immediate and long-term needs.

Now, all that's left to do is put down roots and grow here in Brooklyn, a brand that speaks volumes from Paris to Pretoria. Our one-of-a-kind energy is what has been attracting innovators, freedom riders, and immigrants from every other place on Earth, what has more than 2.6 million people waking up here every day, what has young scholars selecting our schools, and what has the public and private sectors investing billions of dollars here. 

Brooklyn is the prime location for Amazon and its future; you might call this 'Brooklyn Prime!'