New York State Senate
What the Kings County Democrats left out of their endorsement of Brian Kavanagh for state Senate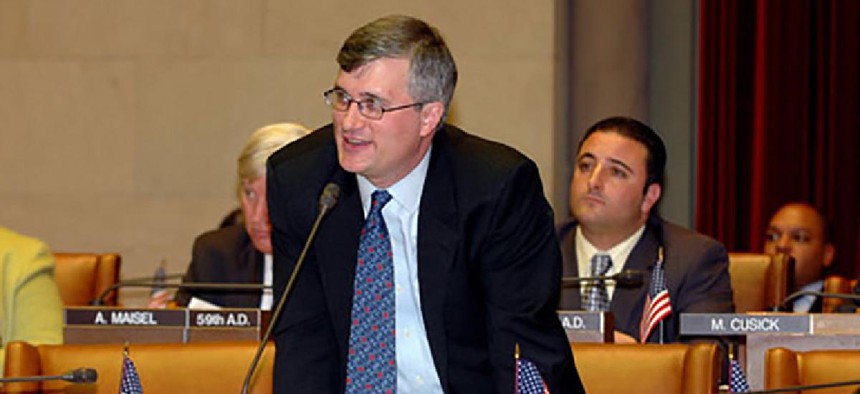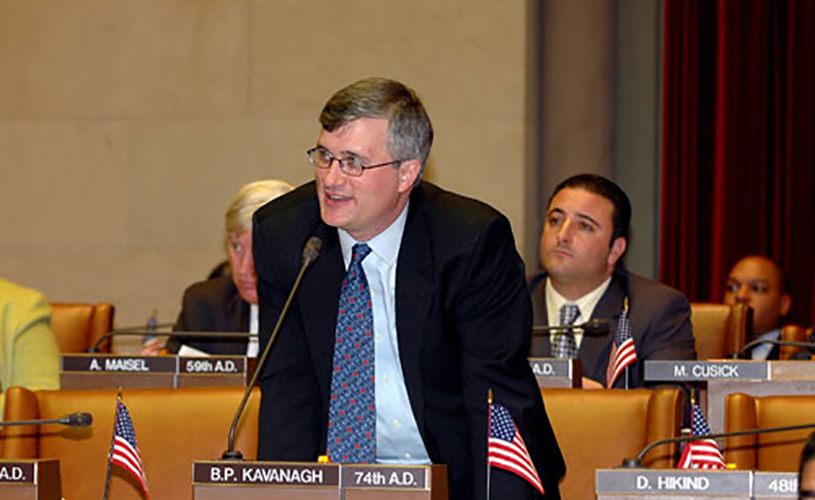 Brian Kavanagh.
State Sen. Daniel Squadron announced in August he'd be stepping down in the middle of his term to focus on promoting liberal politics nationally. Immediately, candidates started jockeying to replace him. A month later, City & State received this press release. We felt it left out some crucial details.
Hover over the highlighted portions to see our annotations.
–––––
KINGS COUNTY DEMOCRATS ENDORSE BRIAN KAVANAUGH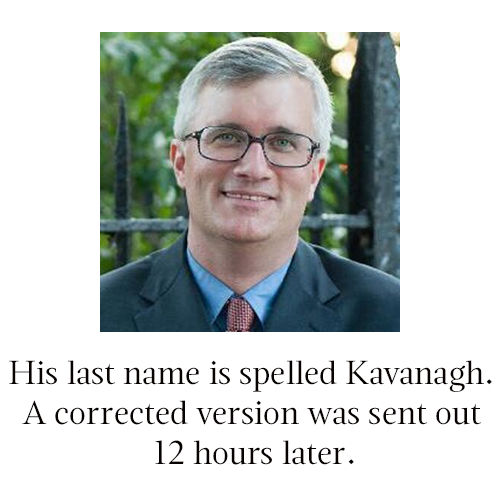 FOR STATE SENATE
BROOKLYN LEADER FRANK SEDDIO CITES KAVANAUGH'S SUPPORT AMONG BROOKLYN LEGISLATORS, SAYS HE WILL BE EFFECTIVE CHAMPION FOR BROOKLYN
FOR IMMEDIATE RELEASE
SEPTEMBER 16, 2017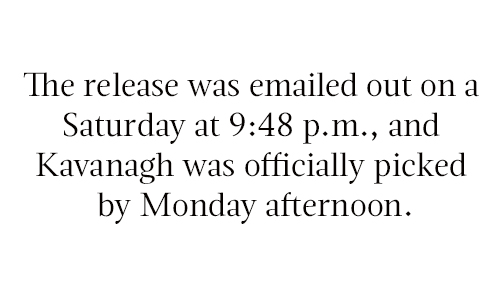 Brooklyn Democratic Leader Frank Seddio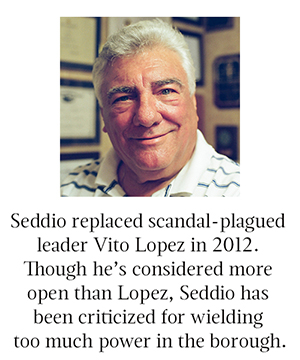 announced that Kings County leaders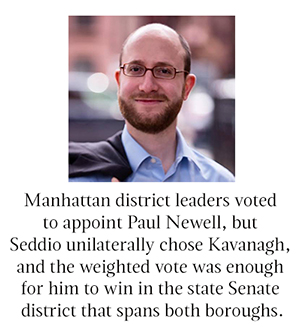 support for Assemblyman Brian Kavanaugh's bid for the Democratic nomination to succeed Sen. Daniel Squadron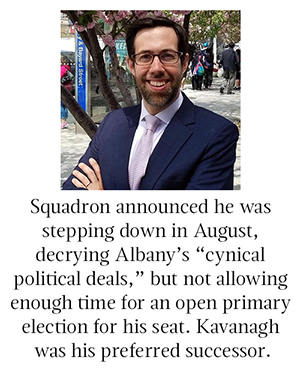 in the 16th Senate District covering northwest Brooklyn and southeastern Manhattan.
"Brian Kavanaugh has impressed his Brooklyn Assembly colleagues with his commitment to making government work for those who need it, whether mass transit riders, those who come in contact with our criminal justice system or tenants struggling to remain in their homes and their neighborhoods," said Seddio. "When Democrats finally get together to take control of the chamber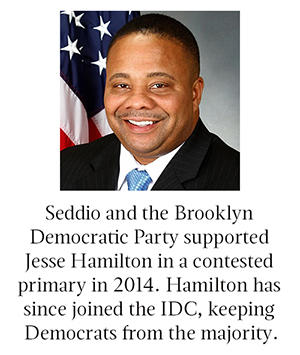 , we are confident he will serve his Brooklyn constituents

effectively and progressively with honor and dignity."
Congressman Hakeem Jeffries, who served in the Assembly with Kavanaugh, said, "These are indeed challenging times that demand dedicated public servants. Brian's legislative record on a whole host of issues indicates he will serve the people of Brooklyn well and fight for what is right."
Borough President Eric Adams said, "Brian Kavanaugh has worked hard in the Assembly on issues of critical importance to Brooklyn -- affordable housing, reforming our criminal justice system, creating an equitable transportation system and combatting the effects of climate change. We look forward to working with him when he moves to the State Senate for the benefit of all Brooklyn residents."
Seddio noted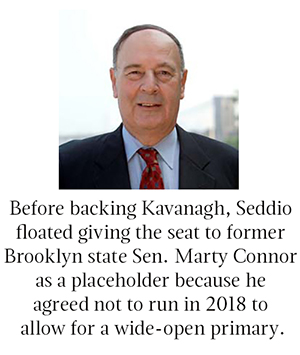 that Kavanaugh, who currently represents Manhattan's 74th Assembly District in Albany, has earned the support from a broad cross-section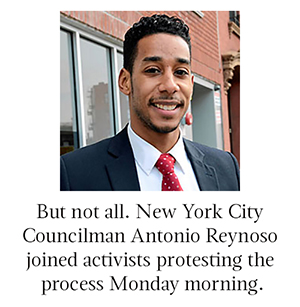 of Brooklyn legislators whose districts overlap the Senate district.
Assemblyman Joe Lentol said: "I have worked with Brian Kavanagh in the Assembly for more than a decade. I have seen his commitment to the issues that matter most. We've worked together to increase funding for mass transit and find real solutions to reform our criminal justice system. Now, I'm endorsing Brian Kavanagh for State Senate because he is the best choice to replace Daniel Squadron."
Assemblymember Maritza Davila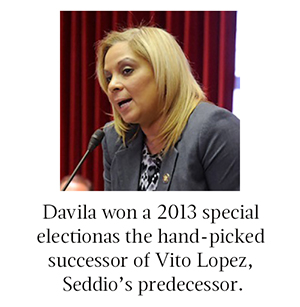 said: "Brian Kavanagh and I have been partners in the Assembly, fighting to protect tenants and expand affordable housing. I am endorsing Brian because I know we can do even more to help our constituents when he is elected to the State Senate."
Assemblymember Walter Mosley said: "Over the years, Brian Kavanagh has been a staunch advocate for affordable housing and a tireless leader in the efforts to reduce gun violence. I am endorsing him for New York State Senate because we need dedicated, fearless legislators who are willing to fight for the issues that matter. I admire Brian's longstanding commitment to representing the needs of all New Yorkers, and have no doubt he will continue this important work in the New York State Senate."
Assemblymember Jo Anne Simon, joined by District Leaders Josh Skaller and Anne Swern, said, "We are happy to endorse Brian Kavanagh for Senate District 26. While we wish the process could have been more transparent and participatory, we believe Mr. Kavanagh to be an excellent match for the 52nd AD. He is a seasoned legislator with a long history of advocacy for election reform, public schools, affordable housing and the environment and the prevention of gun violence. We are confident that he can hit the ground running and look forward to working closely with him."
Councilman Steve Levin said, "I am proud to endorse Brian Kavanaugh to be the next senator from the 26th District in Brooklyn and Manhattan. During his time in the Assembly, Brian has established himself as a consistent progressive voice for affordable housing, equitable transportation policy, and addressing income inequality. I look forward to working with him on these issues when he is the next senator."
City Councilmember Brad Lander said, "Brian Kavanagh will fight to combat climate change, strengthen the rent laws, and bring campaign finance reform to New York State. I have long admired Brian's record of fighting for progressive values in the Assembly and I know that he will make Brooklyn proud as our next State Senator. After all, his initials are BK!"
Kavanaugh expressed his appreciation for their support.
"I'm honored to have the support of so many colleagues from Brooklyn whom I've worked so closely with throughout my career," said Kavanaugh. "Brooklyn needs a champion in the State Senate who will fight to ensure we protect affordable housing, expand funding for the MTA, and work to reduce gun violence. I look forward to working with my partners."
Brian Kavanagh currently represents the 74th Assembly District and is running for State Senate to represent the 26th Senate District, which includes lower Manhattan and parts of Brooklyn. First elected to the Assembly in 2006, Kavanagh is one of New York's leading champions of reform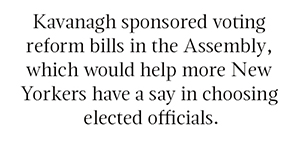 and is an outspoken advocate for changing the culture in Albany.
As an Assemblymember, Kavanagh authored some of the most important bills to strengthen rent laws and expand tax breaks to freeze rents and keep housing affordable for seniors and people with disabilities. He helped lead the successful effort to ban the environmentally destructive practice of drilling for gas known as "fracking," and is a leader in the fight against gun violence. Kavanagh is currently the Chair of the Assembly Committee on Consumer Affairs and Protection. His complete biography can be found at briankavanagh.org.
The election to replace Squadron

takes place on Election Day, Tuesday, November 7th.
Correction: An earlier version of this post incorrectly said Kavanagh would run unopposed. A Republican candidate is also running in November.