Immigration
Renewed focus on state DREAM Act in the wake of Trump's DACA announcement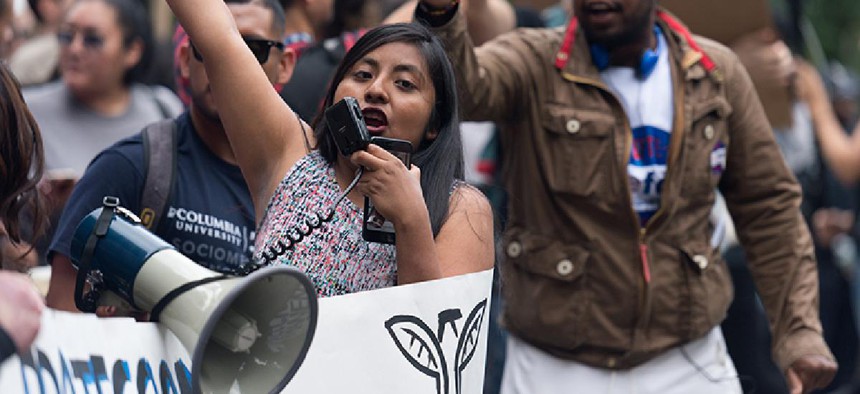 President Donald Trump has roiled the immigrant community with his decision to end an Obama-era policy that allowed young undocumented immigrants to stay in the U.S.
With the president shifting the responsibility to Congress to replace the program in the next six months and uncertainty about whether there will be enough votes in Washington, some state lawmakers say it's critical that New York do what it can on its own for these young immigrants.
The Development, Relief, and Education for Alien Minors Act, or DREAM Act, was aimed at protecting young immigrants who are vulnerable to deportation, but Congress has failed to pass the bill. The state's version of the DREAM Act would allow these undocumented immigrants to qualify for state financial aid for college.
RELATED: Without DACA, NY must step up for immigrant communities
This state legislation, which passed in the Assembly, has found only 16 supporters in the state Senate, far short of the 32 needed for passage, said state Sen. Jose Peralta, a sponsor of the legislation, and member of the state Senate Independent Democratic Conference.
"(The goal is to) include it in the state budget and make it a priority especially because of what's going on at a federal level," Peralta toldCity & State.
"Many of the mainline (Democrats) understand that we have become the front line of immigrant protection," Peralta said. "Now, we have to step up to the plate and help them do whatever we can to protect immigrants on a state level."
However, Republicans who control the state Senate have blocked the legislation. Early last year, Senate Majority Leader John Flanagan reiterated his conference's opposition to the bill.
"I'm going to put it in plain and simple terms: There's tons of middle class families in the state of New York who are struggling," Flanagan told the Times Union. "I met with college students who are working two and three jobs just to go to community college. So my primary obligation, and I think the position of our members is, let's make sure we're taking care of the hard-working middle class taxpayers who are struggling right now."
RELATED: Teach For America on DACA and teacher training
States do not have the power to legalize the status of undocumented immigrants. Young so-called "Dreamers," for the failed federal DREAM Act, are faced with collateral issues like paying for higher education. Even though Republicans oppose the idea of passing the legislation that would allow undocumented students to receive financial aid for college, at least 18 states, including New York, have passed laws that allow them to pay in-state tuition rates.
After Gov. Andrew Cuomo included the state DREAM Act in his 2017 budget proposal, Peralta believes there is hope for the bill to be included in Cuomo's budget next year.
"We're going to ask him to include it again. Not only to include it in his executive budget, but to keep it in his budget so we can make it a reality, especially with what we see happening on a federal level," Peralta said
In the meantime, Peralta said he's working with other senators to add their signatures to the DREAM Act. He said the biggest challenge is having leaders who privately support the bill, but aren't making it known publicly.