Elizabeth Crowley
Fewer women in the City Council, even if Crowley comes back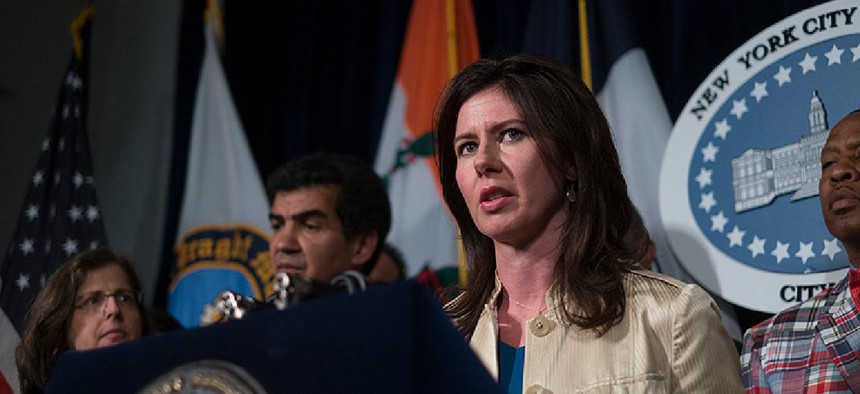 There could be even fewer women in the New York City Council than expected next year if Robert Holden holds on to his slim lead over incumbent Democratic City Councilwoman Elizabeth Crowley.
If Holden wins, there would be just 11 women on the 51-member City Council, or 22 percent. If Crowley comes back, there would be 12 women, still down from the 13 women on the current council.
As of 12:42 a.m. on Wednesday, Holden had a 133-vote lead over Crowley, with 99 percent of scanners reporting. Holden declared victory on Tuesday night, but Crowley has not conceded. The incumbent put out a statement Wednesday morning saying, "I am proud of my record and the campaign my team and I ran based on truth and hard work," and that she is confident she will prevail when all the ballots are counted.
RELATED: Women fight for equal representation in New York politics
A spokesperson for the Crowley campaign told City & State that it expects the New York City Board of Elections to take one or two weeks to count all the remaining absentee ballots and affidavits, and that there could be some 700 to 1,000 ballots that have not yet been counted.
Holden told City & State on Wednesday that he doesn't anticipate nearly that many absentee ballots, "but whatever it is, it is, and I don't believe it'll swing all to her." 
"It's not over. It probably won't be over for another week. But I'd rather be in my position than hers at this point," Holden said with a laugh.
RELATED: New York City's 2017 general election results
A Holden win would make Crowley the only incumbent in the City Council to run for re-election and lose. Holden, a professor and leader of the Juniper Park Civic Association, ran as a Democrat in the primary and lost to Crowley, then earned the Republican nomination and challenged her again in the general. 
Holden said he is a registered Democrat, and has been his whole life, but added that he doesn't "consider myself really a Democrat or a Republican." When asked whether he would caucus with the Democrats or the Republicans, who are an extreme minority with just three seats,  Holden said he hadn't even given it a thought.
"It's the furthest thing from my mind. I don't know what to expect there," he said, then cited strong relationships with fellow Queens City Council members like Democrat Karen Koslowitz and Republican Eric Ulrich.
Editor's note: This article has been updated with comments from Holden.