How Holden beat Crowley – and why he's not loyal to either party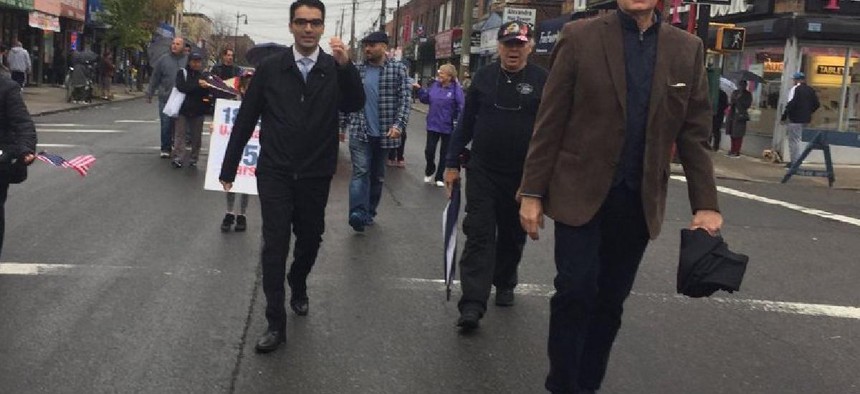 Upstart New York City Council candidate Robert Holden, a longtime community activist in tightknit Maspeth, Queens, unseated incumbent Elizabeth Crowley by 137 votes, the slimmest margin of the city election. Holden took 10,221 to Crowley's 10,088, according to a count of paper ballots by the New York City Board of Elections on Wednesday. 
"The last nine years have been some of the most rewarding and fulfilling of my entire life," Crowley, who conceded Thursday morning, said in a statement . "I want to thank the communities of Glendale, Maspeth, Middle Village, Ridgewood, Woodhaven, and Woodside for both believing in me and working together to make our communities better. It has been a true honor." A spokesperson for Crowley said she wasn't available for further comment.
Holden is the only challenger to defeat a sitting council member in the city this election and he did so in a remarkable upset victory.
"I never expected this," Holden told City & State. "But here it is."
Holden had good reason to doubt his win.
Holden and Crowley, both registered Democrats, faced off in the September primary. As a sitting council member of nearly a decade, Crowley benefited from an rare endorsement from Gov. Andrew Cuomo, and raised 10 times more in campaign funds than Holden. And in the primary, Crowley crushed Holden with 67 percent of the vote.
RELATED: Women in the City Council at lowest levels in decades
Holden believes his lackluster showing in the primary is owed to an accident of amateur politics just weeks before the vote. He was converting his garage into a makeshift campaign office, loading up a sanitation truck with a heavy cabinet, when he remembers stepping on a dolly.
"I went flying in the air and I, well, I lost some memory," Holden said. "They asked me who the president of the United States was – I didn't know."
Holden was in the hospital for two days in July recovering from his injuries. "I had a concussion and broke a couple of ribs, so I couldn't campaign in the primary," Holden said.
So, how did Holden bounce back?
"I campaigned very differently," he said. "I campaigned in the areas that didn't know me as a civic leader. I said, 'Look, I'm actually president of the civic association in Middle Village. I've been working all my life to protect the quality of life in the neighborhoods. You tell me. I see problems on your block. What do you think?'"
They were lengthy conversations, Holden said, "but I think I got their votes."
"I was unique in that I had a 30-year track record of volunteering both on the community board and with the civic," Holden said, referencing, among others, his tenure at the Juniper Park Civic Association, a politically active 501(c)(4) nonprofit where he has battled city leaders over what they can do in their neighborhood, from shutting down the Betts incinerator in Mayor David Dinkins' day to efforts to stop Mayor Bill de Blasio's policy of housing homeless in a local Holiday Inn Express.
And those years of efforts, what his opponents call a "not-in-my-backyard" movement, motivated much of Holden's local constituency. But it may have been late support from a rival party that made the difference that mattered at the ballot box.
The Republican Party added Holden to the GOP line after the primary, allowing him to show up on the Republican, Reform, Conservative and Dump de Blasio lines on voter ballots.
Holden said he was surprised when he got the Republican nod.
"How can I get that? Is that even possible?" Holden remembers saying to Tony Nunziato, a local Republican leader, who Holden said asked him if he would be interested in the endorsement. "I didn't know that was possible. How is that going to work? Is that even legal? (Nunziato) said, yeah, you gotta do a Wilson-Pakula.' Whatever you gotta do. I'll do it! I'd be stupid not to, wouldn't I?"
Holden ultimately received 8,457 votes on the Republican line, according to an unofficial election night tally by the New York City Board of Elections.
The milieu of endorsements has raised questions about his party loyalties, with Crowley attacking him as a counterfeit Democrat. De Blasio weighed in as well.
"I don't know him. He's obviously a Republican and we don't share values," de Blasio said, as reported in the Queens Chronicle. "If you run as a Republican in Donald Trump's America, you just bought the whole label."
But speaking to Holden now – fully recovered from his campaign concussion – he doesn't seem to care what the president's name is now, either. He doesn't care for Washington politics or political loyalties.
"I don't cater to any party. I do what I think is right," Holden said. That goes for other political power players as well.
RELATED: New York City's 2017 general election results
Labor unions that rebuffed him earlier – and are now calling nonstop, he said – will have to wait. "They have to learn to talk to everybody," Holden said.
A graphic designer who teaches the subject at CUNY, Holden believes he taught Crowley a lesson about communicating in a local election. The mailers that he and his son designed themselves, as the campaign attacks grew increasingly personal, were superior because they focused on specific community issues, Holden said.
"It was David versus Goliath, that's really who we are," Holden said of working with his much smaller campaign budget to get his message out. "I think we out-Facebook-ed her. On social media, we beat her."
One Facebook post in particular caught people's attention. It appears to show Crowley pushing one of Holden's canvassers aside in an apartment complex hallway, turning and smiling broadly. The Facebook video has been viewed over 46,000 times, and one commenter pointedly wrote, "This video changed my vote."
The burning question for political gadflies calling him since his official win on Thursday, Holden said, is whether he will caucus with the Democrats or the Republicans. It's not a question he's in a hurry to answer.
"They say you have to pick one. The Republicans say to me, 'You got to change to a Republican.' I say, 'Really?' And someone else says to me, 'Well, you're not a real Democrat.' I say, 'Well, tell me what a real Democrat is."
"I'm not even planning caucusing. I guess I'll have to – I'm going to have to get a course in how to get around the City Council," said CUNY professor, now Councilman-elect Robert Holden.
Who is he caucusing with?
"Whoever is nice. Whoever is good. Whoever is going to help my constituents," Holden said.
"I don't know," Holden concluded, with a laugh. "I'll see."