Donald Trump
Donald Trump's tweets targeting New York politicians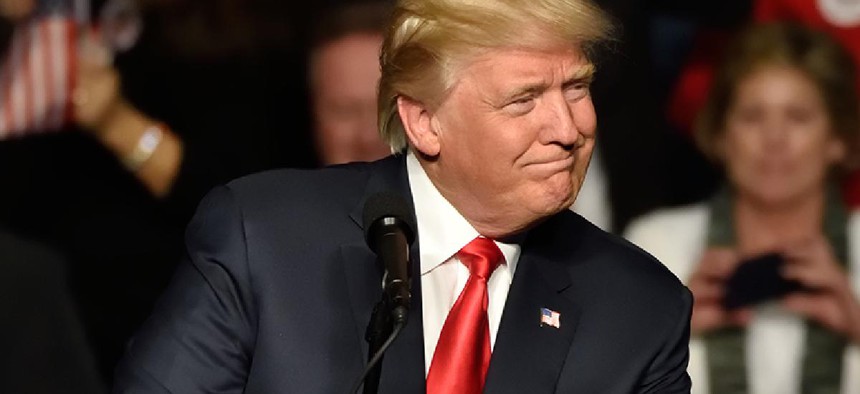 On Tuesday morning, President Donald Trump tweeted that U.S. Sen. Kirsten Gillibrand was a "lightweight" who had asked for campaign contributions, "and would do anything for them." Gillibrand, who responded that Trump "cannot silence me," isn't the only New York politician who has been the target of Twitter ire from @realDonaldTrump. Here's a look back at the New Yorkers that Trump has praised and criticized via Twitter.
This is not a comprehensive list of all the tweets the president has sent regarding New York politicians, but a selection of the most newsworthy tweets.
RELATED: What the covfefe happened to political discourse
U.S. Sen. Kirsten Gillibrand
On Monday, Gillibrand called for Trump to step down due to allegations of sexual misconduct against him. The president fired back on Tuesday with this suggestive tweet, insulting her using gendered language. He also indirectly referred to another New York politician in the tweet today – Hillary Clinton, whom he calls "Crooked":
Lightweight Senator Kirsten Gillibrand, a total flunky for Chuck Schumer and someone who would come to my office "begging" for campaign contributions not so long ago (and would do anything for them), is now in the ring fighting against Trump. Very disloyal to Bill & Crooked-USED!

— Donald J. Trump (@realDonaldTrump) December 12, 2017
U.S. Senate Minority Leader Charles Schumer
Trump has often tweeted about Schumer, the senior senator from New York, since he was elected president. Shortly after the 2016 election, he praised Schumer:
I have always had a good relationship with Chuck Schumer. He is far smarter than Harry R and has the ability to get things done. Good news!

— Donald J. Trump (@realDonaldTrump) November 20, 2016
Shortly after his inauguration, however, the president's tone toward his fellow New Yorker changed. Below is a tweet criticizing Schumer and House Minority Leader Nancy Pelosi after they held a rally to oppose Trump's initial executive order barring immigration from majority-Muslim countries:
Nancy Pelosi and Fake Tears Chuck Schumer held a rally at the steps of The Supreme Court and mic did not work (a mess)-just like Dem party!

— Donald J. Trump (@realDonaldTrump) January 31, 2017
After a terrorist attack in New York City on Halloween, Trump criticized Schumer for voting to approve the program that allowed the perpetrator into the country, although the Senate minority leader later voted to repeal that measure:
The terrorist came into our country through what is called the "Diversity Visa Lottery Program," a Chuck Schumer beauty. I want merit based.

— Donald J. Trump (@realDonaldTrump) November 1, 2017
After this tweet below, Schumer and Pelosi chose not to meet with Trump to discuss a deal on funding the government:
Meeting with "Chuck and Nancy" today about keeping government open and working. Problem is they want illegal immigrants flooding into our Country unchecked, are weak on Crime and want to substantially RAISE Taxes. I don't see a deal!

— Donald J. Trump (@realDonaldTrump) November 28, 2017
Gov. Andrew Cuomo
Trump has not often tweeted about Cuomo, although he did flirt with challenging Cuomo in 2013:
"@briansaheed: @realDonaldTrump Governor Cuomo won't get any real challenge unless it's Mr. Trump.." True!

— Donald J. Trump (@realDonaldTrump) December 19, 2013
Trump supported Republican candidate Rob Astorino in his 2014 bid against Cuomo, but did not show much confidence in his campaign:
I like Rob Astorino. He's a friend and really good guy. Sadly, he has ZERO chance of beating Cuomo and the 2 to 1 Dems for governor!

— Donald J. Trump (@realDonaldTrump) December 19, 2013
Trump later confirmed that he would not challenge Cuomo:
While I won't be running for Governor of New York State, a race I would have won, I have much bigger plans in mind- stay tuned, will happen!

— Donald J. Trump (@realDonaldTrump) March 14, 2014
Trump mentioned this year that he spoke with Cuomo and New York City Mayor Bill de Blasio – rarely a target of the president's tweets – after the Halloween terrorist attack:
...fully supports any and all of their efforts with respect to the West Side attack. #NYCStrong

— Donald J. Trump (@realDonaldTrump) November 1, 2017
RELATED: Have Cuomo and de Blasio lived up to their promises on transparency?
New York Attorney General Eric Schneiderman
Trump has an ongoing feud with state Attorney General Eric Schneiderman, ever since Schneiderman sued the Trump Organization for fraudulent business practices by Trump University in 2013. Between August 24 of that year, when Schneiderman filed the suit, and August 27, Trump tweeted 22 times about the attorney general:
Why did failing A.G. Eric Schneiderman, after years of looking, file his pathetic lawsuit on a SATURDAY afternoon (unheard of)? No case!

— Donald J. Trump (@realDonaldTrump) August 25, 2013
Gillibrand isn't the only New Yorker whom Trump has called a "lightweight":
Lightweight A.G. Eric Schneiderman is perhaps the most incompetent and least respected A.G. in the U.S. He is a total joke!

— Donald J. Trump (@realDonaldTrump) September 19, 2013
In 2016, Schneiderman and the Trump Organization reached a settlement agreement in the Trump University lawsuit for $25 million.
Trump would occasionally drag Cuomo into his feud with Schneiderman:
Governor Cuomo is right about one thing - Attorney General Eric Schneiderman does wear eyeliner! What the hell is up with him?

— Donald J. Trump (@realDonaldTrump) February 20, 2014
It's Tuesday. @AGSchneiderman is wearing Revlon eyeliner today. Governor Cuomo alerted all to this.

— Donald J. Trump (@realDonaldTrump) October 14, 2014
Trump criticized Schneiderman while weighing in on the arrest of former Assembly Speaker Sheldon Silver in 2015:
They just arrested pol Shelly Silver in New York. Why aren't they arresting a far bigger crook --@AGSchneiderman?

— Donald J. Trump (@realDonaldTrump) January 22, 2015
Former New York City Mayor Michael Bloomberg
In 2012, Trump was complimentary of Bloomberg:
Mike Bloomberg is doing a great job as Mayor of New York City. Ray Kelly is a great Police Commissioner. @MikeBloomberg

— Donald J. Trump (@realDonaldTrump) April 16, 2012
However, that changed after Bloomberg made a speech at the Democratic National Convention calling Trump a "con":
If Michael Bloomberg ran again for Mayor of New York, he wouldn't get 10% of the vote - they would run him out of town! #NeverHillary

— Donald J. Trump (@realDonaldTrump) July 29, 2016
Former Gov. George Pataki
Trump has also criticized Pataki, who had a short-lived campaign for the presidential nomination:
.@GovernorPataki did a terrible job as Governor of New York. If he ran again, he would have lost in a landslide. He and Graham ZERO in polls

— Donald J. Trump (@realDonaldTrump) August 25, 2015
Former Rep. Anthony Weiner
Trump was disdainful of Anthony Weiner during Weiner's mayoral bid and of former Gov. Eliot Spitzer's run to become city comptroller in 2013, due to their respective sexual misconduct scandals:
With Spitzer & Anthony Weiner running for office, New York is pervert central! Pathetic

— Donald J. Trump (@realDonaldTrump) July 9, 2013
With the two wacko perverts--Spitzer and Weiner--NYC politics has become a joke all over the world.

— Donald J. Trump (@realDonaldTrump) July 10, 2013
Trump has not tweeted about Weiner since the former congressman was convicted for sexting an underage girl and sent to prison, but this succinct tweet from 2013 summarizes any situation involving Weiner:
Is Anthony Weiner a jerk or what!

— Donald J. Trump (@realDonaldTrump) September 5, 2013