New York City Council
In the race for New York City Council speaker, who's a player and who's being played?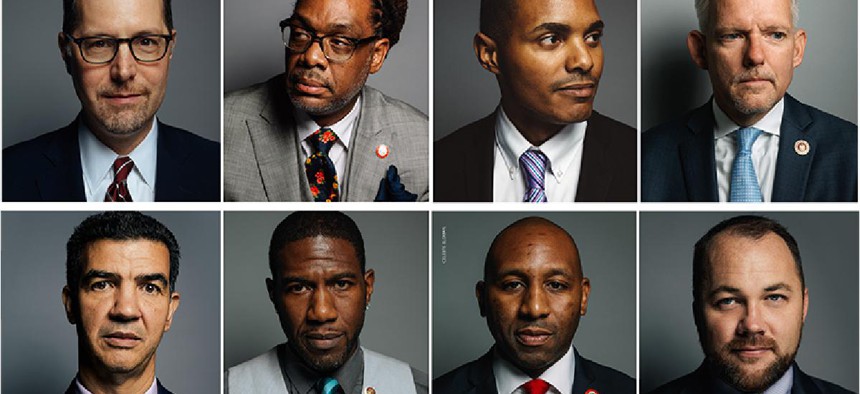 The coffee was hot and the fruit was soggy on the porcelain plates of the New York City political elite. Hundreds of lobbyists, activists and government types filled the New York Athletic Club's gilded ballroom from edge to edge. And at 8:30 a.m. on Nov. 1 with Crain's New York City Council speaker's debate, the race had officially begun. Or rather, the race had been given a microphone, after months – or years – of furtive phone calls, backroom whispers and scribbled notes.
One of the first questions was about terrorism. The day before, a man had driven a truck down the Hudson River Park bike path, killing eight people in the deadliest terror attack in New York City since 9/11. The incident had made New Yorkers close their eyes, breathe in slow and think: It happened again.
The moderator asked the eight candidates how they would prevent this type of attack. We need to fight the Trump administration, City Councilman Jimmy Van Bramer said, to keep it from reducing federal funding for the NYPD and other organizations fighting terrorism. Then, the money line: "We've also got to elect a Democratic Congress, make sure that Joe Crowley is the speaker and make sure that we get the resources that we need in the city of New York."
The audience hesitated. Did he just say that? But the crowd let out a rolling laugh. Van Bramer paused a second for the crowd, a mischievous smile painted his face.
"I see that wasn't lost on anyone in the audience," he said.
RELATED: Speaker candidates agree, Crowley will have say in central staff
Van Bramer's comment was a sly acknowledgement that if you're going to be City Council speaker, you need to suck up to Rep. Joe Crowley, New York City Mayor Bill de Blasio, Rep. Hakeem Jeffries and other potential kingmakers who weren't even at the debate that day. But the remark was also an acknowledgement of the wider forces at play in the race – forces with larger, even national implications. The crowd laughing at Van Bramer's joke was in on a secret: The members of the City Council won't really decide who the next speaker will be.
And who the next speaker will be barely matters at all.
"What is more important to us than the individual chosen to lead the council is the agenda the council is going to pursue on behalf of working people in this city," said Stuart Appelbaum, president of the Retail, Wholesale and Department Store Union, or RWDSU.
City & State spoke to more than a dozen sources for this story, on and off the record, many of whom echoed Appelbaum's sentiments: The individual chosen from among these eight candidates doesn't matter that much.
Debates between the candidates can sound like a man practicing a speech, trying out different versions of the same sentence in a mirror. All agree on closing Rikers Island. All have signed on to the Right to Know Act, the controversial police reform package that New York City Council Speaker Melissa Mark-Viverito has held from a floor vote. All even agree on repealing the current two-term limit for City Council members. As much as the candidates may want to stand out, they have to admit there are similarities.
"The ideological differences among the council (speaker candidates) is a matter of degree rather than a matter of kind," City Councilman Ritchie Torres, who is vying for the post himself, said in an interview after another forum. "There's differences in personality, differences in approach to leadership, but the same basic ideological worldview."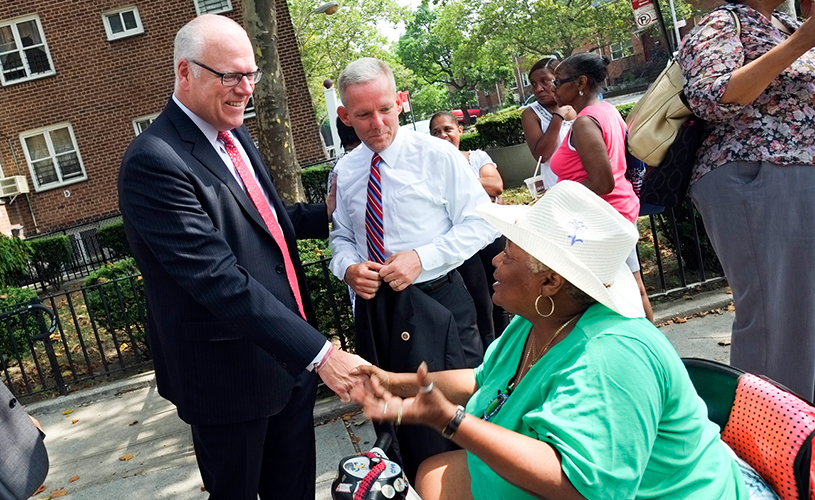 New York City Councilman Jimmy Van Bramer acknowledged that if you're going to be City Council speaker, you need to suck up to Rep. Joe Crowley. (Photo by William Alatriste for the New York City Council)
Eight candidates have been running for the seat, all men. There is Manhattan's Corey Johnson, the controversial front-runner, disliked by many and loved by others, who's been openly vying for speakerfor more than two years. Also from Manhattan is Mark Levine – the kind, mild-mannered safe bet, hampered by the widely held thought that he's de Blasio's preferred candidate in a year when independence from the executive is a priority. There's Upper Manhattan's Ydanis Rodriguez, an extreme long shot who has nonetheless managed to impress some power players in the race.
From Brooklyn, there's Robert Cornegy Jr., whose more moderate politics have helped his stock rise, and Jumaane Williams, a long-tenured voice of the council's radical left. Representing Queens is Donovan Richards, whose long-shot bid likely hinges on if he earns the support of the mayor, and Van Bramer, who's highly unlikely to earn the necessary support from Crowley. And alone in the Bronx is Torres, the well-liked youngest member of the council, whose bright political future likely lies in another office.
The speaker of the New York City Council will be chosen by his peers at the first meeting of each four-year term. Each of the council members will cast one vote on Jan. 3, and the winner will lead the legislative body of the largest city in the United States, with serious power over legislation, land use, a budget larger than all but a handful of states and oversight over a sprawling city government with a municipal workforce nearly the size of Cleveland.
But in practice, the 51 council members aren't going to cast individual votes. Many of them will pledge their votes to county organizations (like Queens), geographic coalitions (like Upper Manhattan) or ideological groups (like the Progressive Caucus).
"Speaker's races have coalition dynamics. That's just the nature of a New York City Council speaker's race," City Councilman Brad Lander told City & State. As founding co-chairman of the Progressive Caucus, Lander was instrumental in gathering support for co-chairwoman Melissa Mark-Viverito in her successful run for speaker four years ago.
"It's more like a parliamentary system than our two-party system," Lander said. "And that creates a different set of dynamics and incentives for how people engage."
For better or for worse, those dynamics mean that players who can create coalitions hold an outsized amount of power in the race. And the most powerful of these players is Crowley.
"The speaker's race is just one piece in a larger chess game." — RWDSU President Stuart Appelbaum
Crowley is not only a congressman, he's also chairman of the Queens County Democratic Party. Crowley can expect most, if not all, of Queens' 14 council members to pledge their speaker votes to him. Crowley's congressional district stretches deep into the Bronx as well, which has helped him build on the Queens committee's longstanding relationship with the Bronx Democratic County Committee. And the Bronx, with its eight council members, is expected to partner with Crowley and the Queens Democrats again, just as they have in past speaker races.
"I see no scenario in which the Bronx alienates Queens or Queens alienates the Bronx," Torres told City & State. Torres has talked openly about only staying in the race if he has the Bronx Democrats' support. But the Bronx and Queens are "indivisible," he said. "And I think we're more powerful together than we are in isolation."
The past three races for speaker – Gifford Miller winning in 2002, Christine Quinn in 2006 and Mark-Viverito in 2014 – have followed similar patterns, explained Bruce Berg, a political science professor at Fordham University. Manhattan does not have a strong, countywide organization like the other boroughs. (Staten Island, with just three council members, is usually left out of the conversation entirely.) So to broker peace, a speaker from Manhattan is chosen. The other boroughs then divvy up the rest of the spoils, such as patronage jobs on the City Council's central staff and prominent committee chairmanships for members.
"In the end, there will be a number of IOUs that will be dispersed depending upon who's supporting whom and who bows out," Berg said. "Certainly the county party organizations have played a major role in the past, so there will be reciprocity there as well."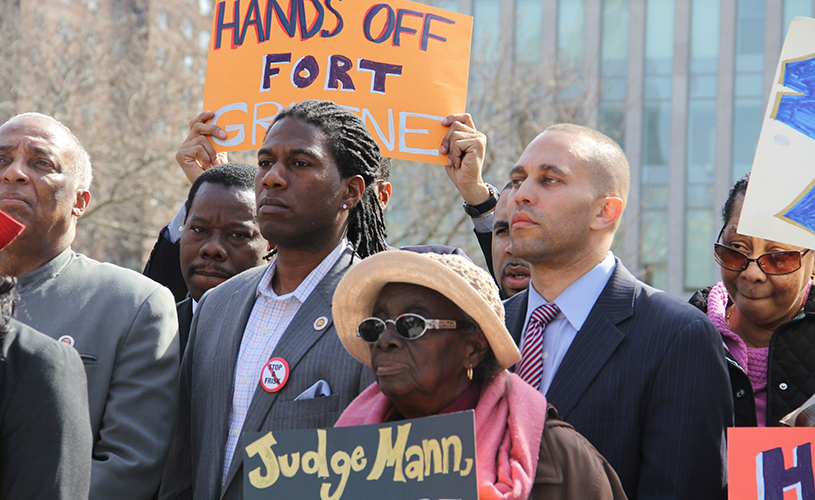 Some say Crowley doing a favor for Rep. Hakeem Jeffries – pictured here with Jumaane Williams – could help cement Jeffries' support for Crowley's speaker bid in Washington. (Photo courtesy the Fort Green Focus)
This system of county domination is accepted to varying degrees by all the candidates – and it seems like any council member has to accept it if he wants a shot at the top position.
"All right, let's just get straight to the chase. The counties are going to make the decision," Richards bluntly said at the Nov. 1 Crain's forum.
But Brooklyn's Cornegy disagreed. "I'm not quite ready to absolve the responsibility of my individual vote in this process," he said at the forum. "I haven't given my vote to (Brooklyn Democratic Party leader) Frank Seddio."
This answer was typical of the public obfuscation at play in the speaker's race, since Seddio himself seems to favor Cornegy for speaker. The Brooklyn leader partnered with the Progressive Caucus and de Blasio in 2014 to get Mark-Viverito elected against the wishes of Queens and the Bronx. Feeling betrayed, Crowley has refused to talk to Seddio and has done all he can to minimize Seddio's influence this time around. But Seddio is defiant. Kings County Politics reported that he vowed to pick the winner, and signaled support for Cornegy at a charity event in mid-November. Other Brooklynites like Jeffries are trying to negotiate with Crowley on Brooklyn's behalf. Jeffries, whose district overlaps Cornegy's, has also been publicly supportive of Cornegy's bid, as well as Johnson's. 
Others candidates openly embrace the system as a way to avoid a constant boogeyman in the race – the mayor's influence over the legislative body. "A process dominated by the county organization is the only means by which to ensure that the council remains independent from the mayor," Torres said at the Crain's forum. "So I think it's the best process that we have."
"Decisions that are made as it relates to the speaker's race will reverberate across the city all the way through to the 2021 election cycle." — Rep. Hakeem Jeffries
In an interview with City & State, Levine played coy on the county leaders' influence, admitting that labor leaders and county parties have broader considerations in the race, but insisted that council members have to be happy with the pick too. "Ultimately, it might just be about convincing 50 of your colleagues, at least 25 of them, that you're the best person for the job," he said.
Manhattan's Johnson said at the Crain's forum that county organizations are just looking out for their own interests, but ultimately "every one of us up here are left-of-center Democrats."
RELATED: Who's trending in the New York City Council speaker's race?
Such thinking, while true, is also politically expedient for Johnson, who is considered by some observers to be driven more by politics than ideology. He worked in government relations for major real estate development firm GFI before joining the council, and his opponent for re-election this year based her campaign on tying Johnson to the Real Estate Board of New York, the influential industry group.
Johnson's front-runner status in the race is largely thanks to his old-fashioned politicking. He has had his eye on the speaker position for more than two years, and has built up goodwill by donating his own campaign funds to more than 20 other council members. More than any other candidate, Johnson was constantly out volunteering for other council members in their primary election races. A senior official on one campaign even complained to City & State that Johnson's continuous presence was more of an annoyance.
"Corey is a very calculating individual. He's not stupid," another speaker candidate told City & State, laughing with what seemed to be amazement. "You've got to give the guy credit!"
But Johnson said he feels good about his council relationships.
"I feel like part of the reason I'm considered a top-tier contender is because of my relationships with my colleagues," he said. "Are there other members who are supporting other folks for speaker? Yeah! That's OK. We're all going to come together in the end when this is over and work in a unified way for 8.5 million New Yorkers who expect us to get things done."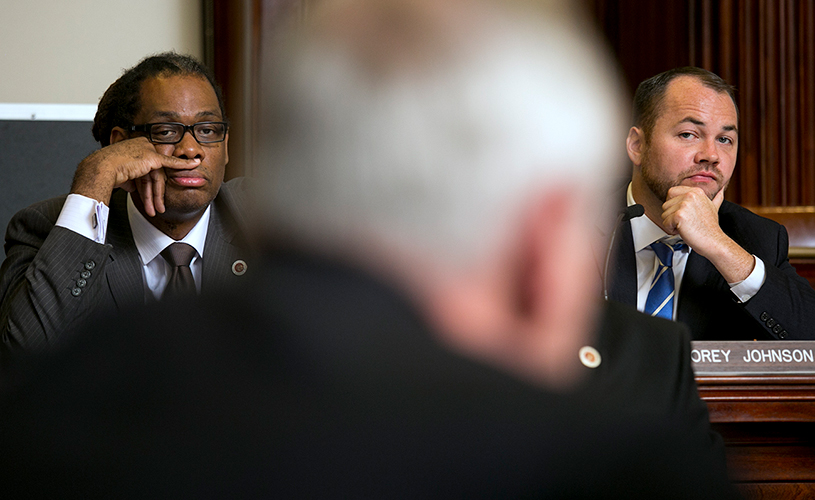 Cornegy's more moderate politics have helped his stock rise. But front-runner Corey Johnson has been openly vying for speaker for more than two years. (Photo by William Alatriste for the New York City Council)
The speaker candidates don't agree yet on who should lead the council, but they're aligned on most other things.
"It's not like a presidential race," Lander said. "Everyone generally agrees on the big points."
While Lander played a big role in electing Mark-Viverito in 2014, his influence may be muted this year – thanks to the caucus he co-founded. Seven of the eight candidates – all except Cornegy – are members of the council's Progressive Caucus, a left-leaning group created in 2010 as a counterweight to the centrist politics of Quinn and then-Mayor Michael Bloomberg. But in an interview with City & State last month, Lander said he would not necessarily need to support a member of the Progressive Caucus, leaving an opening for his fellow Brooklynite Cornegy.
So if all the candidates are so similar, what has made this the hottest race in town?
"The speaker's race is just one piece in a larger chess game," Appelbaum said. His union, RWDSU, has partnered with some other of the city's most powerful unions, including 32BJ Service Employees International Union and District Council 37, to meet with candidates and try to have a say in the race. The speaker has real power – and Appelbaum can point for a number of progressive laws that he credits to Mark-Viverito – but the unions aren't just getting involved to help choose a City Council leader that may be marginally better than the others.
The unions are here to play the "broader chess game," Appelbaum said, "that will determine who will achieve other political offices, both in the city and in the country, what sort of agenda is going to be put forward, what sort of relationships will continue between the council and the mayor and the city and the governor."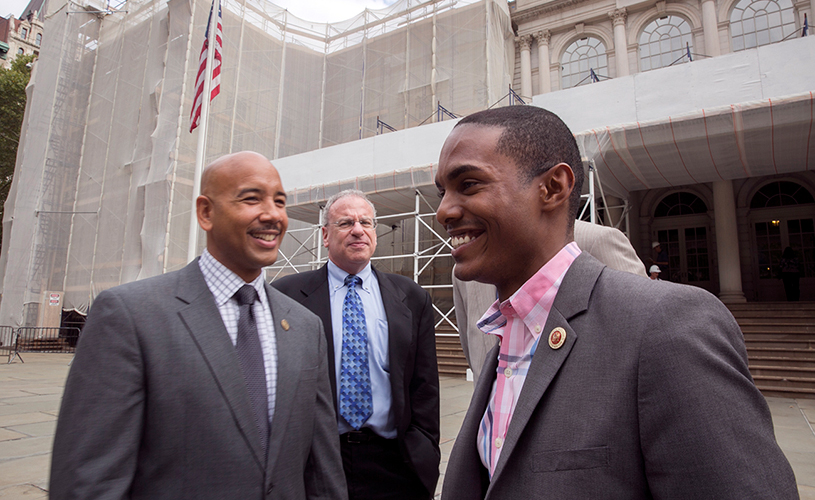 A number of rumored 2021 mayoral candidates are incluencing the race, including Bronx Borough President Rubén Díaz Jr., seen here with Ritchie Torres. (Photo by William Alatriste for the New York City Council)
Chief among these reverberations may be the political calculus of Crowley, as he sets his sights on ascending the national Democratic ranks. The congressman is currently the chairman of the Democratic caucus, the fourth-ranking position in the Democratic ranks, but it's an open secret in Washington politics that Crowley would love to succeed California Rep. Nancy Pelosi as minority leader – and earn a chance to be speaker of the House, if the Democrats take back the majority in an anti-Republican wave.
Crowley's power in the speaker's race could be overstated – he was outmaneuvered in 2013 by Brooklyn's Seddio, and the favored choice of Queens, City Councilman Dan Garodnick, did not become speaker. But Crowley is widely expected to have the most say in picking the next speaker. He is even, as of late November, rumored to have 32 votes pledged to him already – the needed majority. Whether or not this is true, the rumor's credibility speaks to his influence. With Crowley in charge of so many chips, he's in position to build coalitions and divvy out favors that could help his own race for speaker. In one oft-cited example, Crowley doing a favor for Jeffries in the City Council speaker race could help cement Jeffries' support for Crowley's speaker bid in Washington – potentially as a powerful envoy on behalf of Crowley to the Congressional Black Caucus.
"Hakeem Jeffries, it's presumed, has interest in running for other positions," a Democratic political insider told City & State. "You establish a lot of quid pro quos, a lot of chips, in this whole process. Joe may need Hakeem, Hakeem may need to get someone who he can work with as speaker."
The speaker candidate who asked to remain anonymous said he also thought that Crowley's political ambitions may force him to play nice.
"If I'm (Crowley), I want the least amount of blood as possible," he said. "I want to leave this one a winner, but I want to leave it unscathed so I can walk into D.C. and say, 'We've done this back home' and not have people on different sides of the Democratic spectrum to a great degree be mad at him."
RELATED: The best New York City Council members
Crowley, who declined to comment for this article, also has the opportunity to strengthen already good relationships with the unions, including RWDSU, which has pull among Washington Democrats. Despite his wishes, de Blasio is not a national figure, but Crowley must consider his relationship with the city's chief executive as well. De Blasio championing Mark-Viverito in 2014 helped swing the race in her favor, but four years later, de Blasio's no longer a newly elected progressive darling and his influence has weakened as he enters his final term. To many of the candidates, de Blasio's open or implied support would be considered a negative, as grounds for an allegation that someone is not sufficiently independent. But Crowley met with de Blasio in mid-November, and the mayor is expected to still have a say in Crowley's decision.
"It's not like a presidential race. Everyone generally agrees on the big points." – New York City Councilman Brad Lander
But the speaker's race may be as much about the next mayor as the current one. A number of rumored 2021 mayoral candidates are influencing the race for speaker, including Jeffries, Brooklyn Borough President Eric Adams and Bronx Borough President Ruben Diaz Jr., who is an influential voice in the Bronx Democratic Party. New York City Public Advocate Letitia James even hosted her own public forum for speaker candidates on Nov. 30.
"It's in the interest of everyone to build out bridges in the places they may not be strong," said the speaker candidate who asked to remain anonymous. Potential mayoral candidates like Adams and Diaz have been reaching out to speaker candidates hoping to build relationships. According to the candidate, backing a speaker of a different race or ethnicity, or from a different borough, could be especially helpful for potential mayoral candidates who are already thinking about building coalitions for 2021.
"A lot of people are flirting with different people, and we'll just see where this madness goes as it begins to wrap up eventually," he said.
Another Democratic insider said there was a more important dynamic at play.
"If I were Ruben Diaz Jr. or if I were Tish James … I would not really care who the speaker is. I would care that during this process of negotiating who the speaker is that I bond myself to Queens," the insider said. Crowley, with his powerful hold over the borough's Democratic Party, is expected to be a factor in that race too, as Democrats jockey for position ahead of the primary.
But with four years to go, more candidates for mayor could emerge, including whoever ends up becoming speaker. Both Miller and Quinn launched credible runs for mayor after their terms as speaker concluded. There was no opening for Mark-Viverito to run for mayor this year, due to de Blasio seeking a second term, but the next speaker would at least consider a run for the Democratic nomination when the office opens up in 2021.
That 2021 election is guaranteed to change the city's political landscape. The 2017 elections saw just 11 new council members, and incumbents kept all three citywide positions. Because of term limits, all the citywide seats are expected to be open in 2021 as well as some three dozen City Council seats.
"A significant number of City Council members are term-limited in four years," Jeffries told City & State. "And so in many ways, decisions that are made as it relates to the speaker's race will reverberate across the city all the way through to the 2021 election cycle."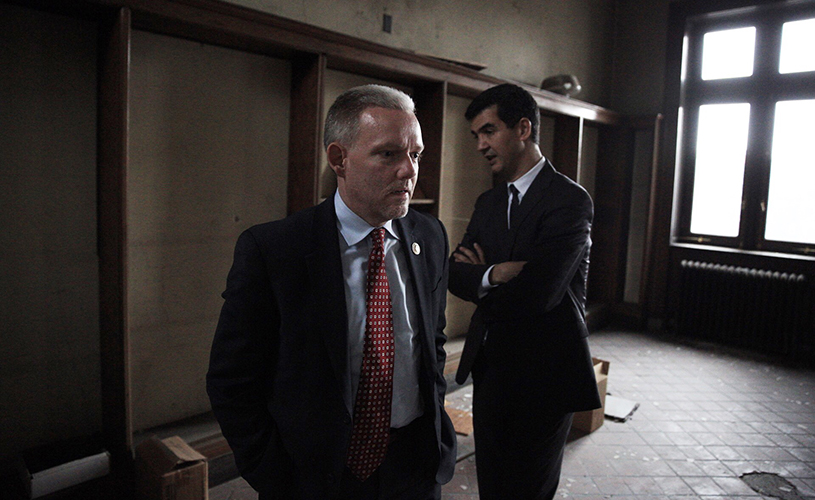 Van Bramer is highly unlikely to earn the necessary support from Crowley to become speaker. City Councilman Rodriguez is also a long shot. (Photo by William Alatriste for the New York City Council)
The Crain's speaker's debate was the first public event in what's sure to be a busy two months for the candidates vying for speaker. Many insiders don't expect a decision until late December. Why cut it off when there's always something else to negotiate for? Some candidates may drop out of the race, backing others in the hopes of earning a prime committee chairmanship, or just hoping not to burn bridges with the next speaker.
People refer to the speaker's race as chess game, but it's much more complicated, with no set rules and innumerable winners and losers – and some won't know their lot for years.
"We are all talking and we are all speaking to all of those who want to weigh in and actually have a right to weigh in because this is an incredibly important thing for all of us to decide, and I look forward to that," Van Bramer said at the Crain's forum.
"And I just reiterate my endorsement of Joe Crowley for speaker."
Editor's note: This post has been updated to reflect that Rep. Hakeem Jeffries has been supportive of the speaker bids of both City Councilmen Corey Johnson and Robert Cornegy. 
Powered By
NEXT STORY: Unions endorse Levine, Richards, Torres in council speaker's race