New York City Council
Most speaker candidates concede to Johnson, but Cornegy, Williams keep fighting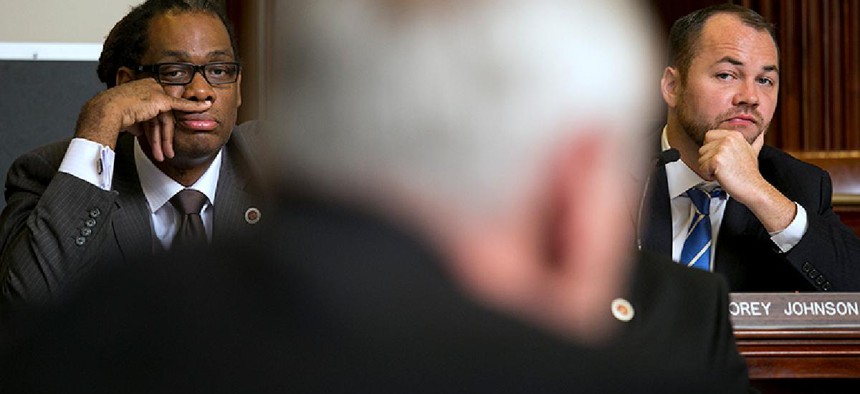 On Wednesday night, New York City Councilman Corey Johnson's ascension as the next council speaker went from a likely bet to a near guarantee, as dozens of endorsements and congratulations rolled in.
But two of Johnson's competitors have yet to concede as of Thursday afternoon, and planned to stay in the race with the hope of securing more power for City Council members of color.
One challenger, City Councilman Robert Cornegy, released a statement Wednesday afternoon saying that he would continue his campaign.
Reached for comment on Thursday, Cornegy spokeswoman Lupe Todd-Medina shared a statement with City & State.
"There is a frightening lack of diversity within the leadership of the city that has been absent during the recent media cycle," she said. "Council Member Cornegy has received numerous phone calls and text messages [from people asking him] to remain in the race in large party because city leaders seem unable to recognize this important point."
"This is not an attack on Council Member Johnson but rather the larger issue of a city that is supposedly dedicated to true diversity in leadership yet has none," Todd-Medina said.
RELATED: Reports say Johnson will be the next NYC Council speaker
Another speaker candidate, City Councilman Jumaane Williams, tweeted a vague statement Thursday saying that he looks forward to casting his vote in early January. But Williams has not conceded in the race, according to a source familiar with the matter, and the councilman will be speaking with colleagues over the next couple days. "I would imagine part of the discussions would be to make sure that the interest of communities of color are represented, regardless of who the speaker is," the source said.
Johnson is white, and would be entering a position of power in a city already led by two white males in Mayor Bill de Blasio and Comptroller Scott Stringer. The other citywide elected official, Public Advocate Letitia James, is a black woman.
RELATED: The politics of deciding the New York City Council speaker
The City Council's Black, Latino and Asian Caucus released a statement in December calling for a speaker of color. Both Cornegy and Williams are black, and are members of the 26-member caucus.
When asked about his choice of a white candidate on Thursday, de Blasio insisted Johnson was the man for the job.
"When you're looking at a group of candidates, there's a lot of attributes, including who can work best with everyone in a very diverse body in a very diverse city," he said. "And I came to the conclusion that Corey Johnson was the person who could do that best."
RELATED: The best New York City Council members
The other five of Johnson's seven opponents seemed to concede on Wednesday and Thursday, with City Council members Mark Levine, Donovan Richards, Ydanis Rodriguez, Ritchie Torres and Jimmy Van Bramer sharing their congratulations over Twitter. They were joined by de Blasio, powerful unions like RWDSU and at least 13 more of Johnson's colleagues on the council.
While the vote will not be held until the first meeting of the council's new session on Jan. 3, Johnson's election appears to be an inevitability. 
*This story has been updated to include comments from the Cornegy campaign.