Michael Grimm
The 10 best stories (not by City & State) on New York politics this year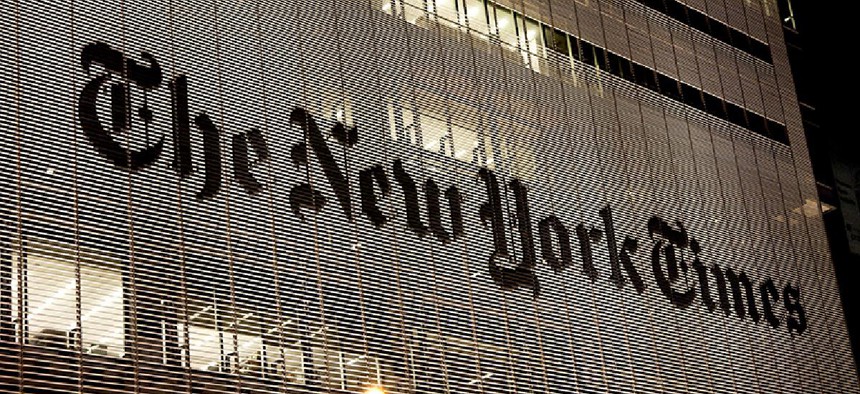 As much as City & State would love to be the only game in town, there are a number of outlets doing great reporting on New York's political scene. There were several excellent articles published about New York politics this year, from in-depth profiles to hard-hitting investigations. Here are 10 of our favorite political stories – not written by City & State – about New York this year.
RELATED: The best op-eds of 2017
"New Yorkers Rediscover Activism in the Trump Presidency Era," Ginia Bellafante, The New York Times
Shortly before the Women's March, Bellafante wrote this piece about the surging protest movement in New York that arose in opposition to President Donald Trump. Bellafante is one of the sharpest writers in New York, and her analysis of the burgeoning movement is pitch perfect. Dotted with anecdotes and dry wit, this look into "New York City, the nation's capital of bubbledom" is as fresh as it was in January.
---
"Will This Man Take Down Donald Trump?" David Freedlander, Politico
In this engaging profile, Freedlander made the case that state Attorney General Eric Schneiderman would be a chief antagonist for the fledgling Trump administration. The article was prescient, as Schneiderman has since filed a number of lawsuits against the Trump administration. It also provided insight into the life and routine of a major New York political player with soaring ambitions. In a year where several New York politicians made an impact nationally, Freedlander reminded readers that Schneiderman should not be overlooked.
---
"Kirsten Gillibrand Is an Enthusiastic No," Rebecca Traister, New York magazine
Before sexual harassment scandals rocked Washington, D.C.; before U.S. Sen. Kirsten Gillibrand said that President Bill Clinton should have stepped down 20 years ago, and Sen. Al Franken should step down now; before she was targeted in a Trump tweet, and bandying about her name as a potential 2020 presidential candidate became de rigueur – before any of that, New York magazine published this profile highlighting Gillibrand as a politician to watch. Traister's access to Gillibrand for interviews makes this article an engaging, intimate read, and it's fascinating to go back and read about a politician on the precipice of a banner year.
---
"The South Bronx Shooting Gallery," Rich Schapiro, The Daily News
This Daily News article is part of a series investigating how widespread opioid use in New York City, with devastating effects. This piece looked specifically at how the epidemic is ravaging the community in the South Bronx. Schapiro's comprehensive reporting, accompanied by photos of addicts and their families, makes it impossible to ignore the crisis and the heartache in the city's most overlooked borough.
---
"A Vote Is a Terrible Thing to Waste," Fred Mogul, WNYC
Republicans hold on to a narrow majority in the state Senate because a group of eight breakaway Democrats, the Independent Democratic Conference, chooses to caucus with them. However, this investigation by WNYC suggests that there may be more to the Republicans' majority than a pact with the IDC, as a quirk in the state's constitution has allowed for extreme gerrymandering. This in-depth look into the partisan forces behind New York politics offers a new angle for understanding the way state government works.
---
"How Ivanka Trump and Donald Trump, Jr. Avoided a Criminal Indictment," Andrea Bernstein, Jesse Eisinger, Justin Elliott, and Ilya Marritz; The New Yorker, ProPublica and WNYC
It should have been an easy re-election year for Manhattan District Attorney Cyrus Vance Jr., but this joint report became the first news story to complicate his campaign. The story revealed that in 2012, Vance overruled a prospective criminal case against Donald Trump Jr. and Ivanka Trump – and that the Trumps' personal lawyer, Marc Kasowitz, was a Vance donor. The fallout from this article formed the first cracks in Vance's reputation, eventually leading to a write-in challenger candidate garnering 9 percent against the district attorney on Election Day.
RELATED: The biggest Winners & Losers of 2017
---
"Harvey Weinstein Paid Off Sexual Harassment Accusers for Decades," Jodi Kantor and Megan Twohey, The New York Times; "From Aggressive Overtures to Sexual Assault: Harvey Weinstein's Accusers Tell Their Stories," Ronan Farrow, The New Yorker
The initial report of producer Harvey Weinstein's misdeeds in The New York Times, and the following investigation in The New Yorker, triggered the #MeToo movement, resulting in the downfall of several prominent men accused of sexual harassment and misconduct. Not only were these two of the most important political stories in the country, they had ramifications in New York – Vance was, once again, implicated for not pursuing a case against Weinstein when there was evidence of his misconduct in 2015.
---
"The Attempted Remaking of Michael Grimm," Olivia Nuzzi, New York magazine
This profile of Rep. Michael Grimm, the once and perhaps future congressman from Staten Island, is both funny and astute. Nuzzi perfectly captures Staten Island's quirky politics, with colorful anecdotes and ruminations on hand size. Not only is it a genuinely fun read, it's an insightful glimpse into what could be a surprisingly close congressional race.
---
"How Bill de Blasio Overcame the Haters," Shane Goldmacher, The New York Times
This profile of New York City Mayor Bill de Blasio, published the week before Election Day, offers an explanation for how a man so unpopular could nonetheless sail to a second term with very few hiccups. Goldmacher describes de Blasio's campaign finance scandals, his legions of potential challengers, his personal flaws – and the traits and accomplishments that made him unbeatable in 2017.
---
"How Politics and Bad Decisions Starved New York's Subways," Brian M. Rosenthal, Emma G. Fitzsimmons and Michael LaForgia, The New York Times
One of the biggest themes of the year has been the ongoing transit crisis in New York City. This investigation highlighted the problems with the city's subway system, and more importantly, how we got to this point. Featuring excellent graphics and blockbuster interviews, this story offered insight into the systemic failures of several administrations, providing a necessary yet maddening explanation for why your train is always delayed, and why it isn't likely to get better anytime soon.