Bill de Blasio
Trump is from New York City, but you can't tell from his policies
Bill de Blasio is boycotting a planned meeting with President Donald Trump because despite Trump's New York City roots, his administration isn't pursuing an urban agenda.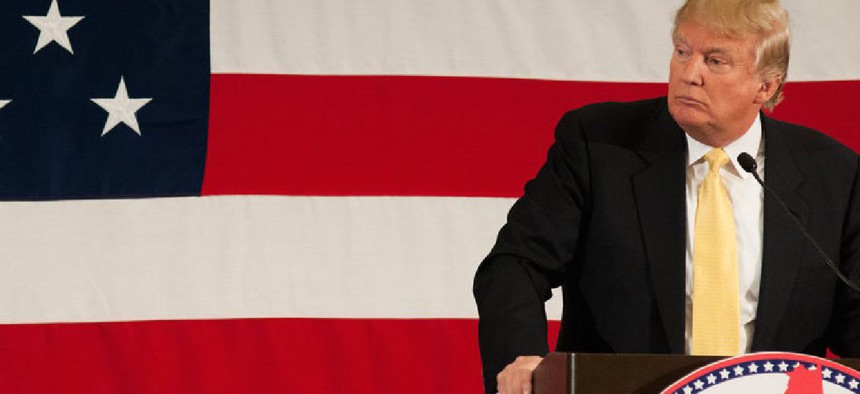 President Donald Trump is the first commander in chief from New York since Franklin Delano Roosevelt. Raised in Queens, the Manhattan-based real estate mogul had significant ties to the local media and once defended his "New York values" on the campaign trail. But, despite his city roots, the Trump administration so far has not instituted many urban-friendly policies.
New York City Mayor Bill de Blasio, who Trump once called "the worst mayor in the history of New York City," was supposed to be among a group of more than 100 mayors visiting the White House on Wednesday to discuss infrastructure. Hours before the meeting, de Blasio announced on Twitter that he would not attend, due to the U.S. Justice Department's "racist assault on our immigrant communities."
As de Blasio would have been rubbing elbows with the mayors of Pascagoula, Mississippi, Dubuque, Iowa, and Hope Township, New Jersey (population 1,952), this gathering was likely to be less intimate than his last meeting with Trump in November 2016 when the mayor visited the president-elect in Trump Tower.
But de Blasio's decision not to visit the White House also reflects the divergent priorities of the two administrations. As a candidate, Trump said that in "our inner cities, African-Americans, Hispanics, are living in hell, because it's so dangerous." Trump said he meant this as a form of outreach to urban and nonwhite voters, an argument that they had nothing to lose by giving him a try. (Trump's critics countered that it was just another way of appealing to the biases of many white voters.) One year into his presidency, Trump has not done much since taking office to fix problems in cities or help his hometown. In some cases, his policies have hurt urban areas. Here are some examples from major policy areas:
Immigration
De Blasio's statement was likely responding to U.S. Attorney General Jeff Sessions' threat to subpoena sanctuary cities, such as New York. The Trump administration has taken a hard line toward undocumented immigrants, most notably by ending the Deferred Action for Childhood Arrivals program, which will expire in March.
U.S. Immigration and Customs Enforcement under the Trump administration has also expanded enforcement. Earlier this month, federal immigration agents raided nearly 100 7-Eleven stores around the country targeting undocumented workers, including 16 in the New York City area. ICE also detained a prominent immigrant rights activist this month in Manhattan, which resulted in a chaotic protest and the arrests of two New York City Council members.
Housing
Urban housing and anti-poverty activists have criticized the Trump administration for appointing unqualified loyalists to key housing policy positions. At the beginning of his term, the president tapped Ben Carson, a conservative pundit and retired pediatric neurosurgeon with no previous experience in housing, urban policy or government, to be secretary of the U.S. Department of Housing and Urban Development. The administration later appointed Lynne Patton, a former event planner who worked on the Trump campaign and helped plan Eric Trump's wedding, to be the regional administrator of HUD for New York and New Jersey in June.
Earlier this month, HUD extended the deadline for the Obama-era Affirmatively Furthering Fair Housing rule, which would require communities to review patterns of housing segregation and come up with plans to address segregation, contingent upon receiving block grants and housing aid. Housing advocates fear that delaying the implementation of the rule until 2020 could derail the examinations that are already underway, resulting in cities prioritizing other issues. New York City is scheduled to begin its review this year.
Infrastructure
The Trump administration also seems to have abandoned the federal government's Obama-era commitment to provide half the funding for the Gateway rail tunnel underneath the Hudson River. In December, Gov. Andrew Cuomo and former New Jersey Gov. Chris Christie reached a tentative funding deal, but it was dismissed by the federal government.
Earlier this week, a Politico New York article revealed the Trump administration's principles for an infrastructure plan, reflecting the idea that local governments should fund greater portions of infrastructure projects. If a new tunnel is not built, experts have warned of an economic "apocalypse" that will occur if the current one fails.
Taxes
The new federal tax law, signed by Trump in December, also threatens funding for New York City's beleaguered subway system, as the federal government may cut programs that the MTA relies on in order to pay for its $1.5 trillion tax cut. The tax overhaul also capped the state and local income and property tax deduction at $10,000, which could harm New York City residents who pay high property taxes.
The environment
The Environmental Protection Agency has relaxed pollution standards under the Trump administration, which could be harmful to New York City. In late October, state Attorney General Eric Schneiderman announced that he was suing the EPA for failing to curb smog pollution entering New York from upwind states. Schneiderman is also leading 15 state attorneys general in a lawsuit against the EPA for flouting Clean Air Act regulations. New York City announced this month that it was suing five oil companies over their role in climate change.
The lack of regard between Trump and his hometown appears to be mutual. On Jan. 21, 2017, the day after his inauguration, approximately 400,000 people marched in New York City to protest Trump's new administration. Trump's subsequent visits to his hometown since becoming president have also been met with protests. This past Saturday, around 200,000 people marched down Sixth Avenue to lament the first anniversary of the president's inauguration.
Powered By
NEXT STORY: Jeffries: No infrastructure plan without public housing