John DeFrancisco
Retiring state senators a threat to Republican majority
The just-announced plans of state Sens. Kathy Marchione, John DeFrancisco and John Bonacic to step down give Republicans more reason to worry about their place in Albany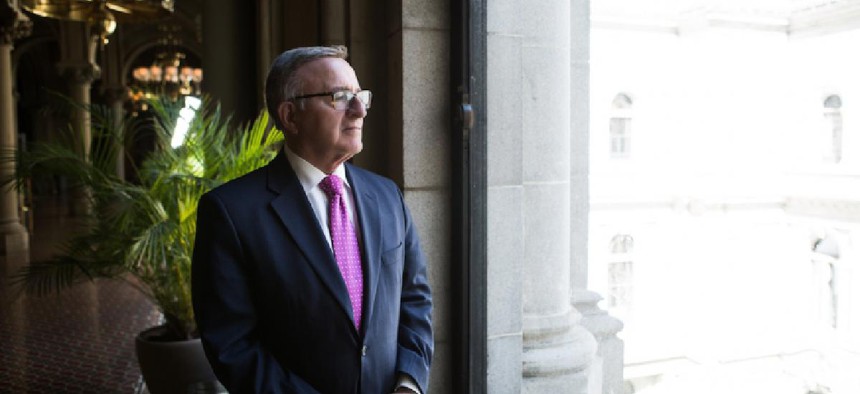 Although New York likes to think of itself as ahead of the curve, there seems to be one national trend on which the state is just beginning to catch up: the sudden, consecutive resignation announcements of Republican lawmakers.
The opening of three previously solid Republican seats in the state Senate, coming on the heels of Republican losses in the special elections on Tuesday, could allow Democrats to play offense in seeking an outright majority.
On Wednesday, the day after the Democratic Party easily held two state Senate seats and flipped a Republican Assembly seat in the special elections, state Sen. Kathy Marchione announced that she would not seek reelection. On Thursday, state Senate Deputy Minority Leader John DeFrancisco said that he was suspending his gubernatorial campaign, and that he too would retire at the end of his term. On Friday, state Sen. John Bonacic became the third senator in three days to announce his impending retirement from the state Senate.
In Congress, there are four Republican U.S. senators who are not seeking reelection in 2018, as well as well as 27 House Republicans who are retiring or have already resigned this year. New York's Republican congressional representatives are all seeking reelection.
The loss of three high-profile state senators in the span of a week is a potential blow to the Republican majority, which holds onto its power by a tenuous one-seat margin thanks to the partnership of party-hopping Democratic state Sen. Simcha Felder. Senate Democrats, on the other hand, are giddy with the prospect of three open and potentially competitive seats.
"Clearly the Republicans see the writing on the wall. Democrats have gained ten seats in 2 weeks, while three Senate Republicans have abandoned ship in just three days. And I am sure there are more to come," said state Senate Democratic Communications Director Mike Murphy in a statement, referring to the special election victories and the recent reunification of the eight-member Independent Democratic Conference with mainline Democrats. 
In a statement, state Senate Majority Leader John Flanagan expressed "mixed emotions" at the retirement of his three colleagues, but said that he believed the majority would retain the seats. "I am confident that our Republican Majority will field excellent candidates in each of these districts, which have all been represented by Republicans for many many years," Flanagan said. "We will succeed in November and maintain our Majority so the true priorities of New Yorkers continue to be put first."
The exodus may have been inspired by the recent special election losses, and perhaps dissatisfaction with the status quo in the state Legislature. Marchione cited family obligations, and said that the end of the year was "the right time for me to step away" in announcing that she would not seek reelection. Marchione won her Hudson Valley seat after a bruising Republican primary battle with incumbent Roy McDonald in 2012. In 2014 and 2016, she was elected by margins with over 60 percent of the vote, but President Donald Trump won her district in 2016 by only a two-point margin.
Marchione may have anticipated a tricky race in 2018. Republicans have a relatively small voter enrollment advantage in her district, with just under 64,000 active registered GOP voters compared to nearly 58,000 active registered Democrats. There is an active pool of Republicans and Democrats eager to jump in for a race in an open seat, although Democratic Assemblywoman Didi Barrett has indicated that she is not interested in the seat.
DeFrancisco, who was forced out of the Republican primary for governor this week after hemorrhaging support from county chairs in favor of Dutchess County Executive Marc Molinaro, said that he was frustrated by the limitations of what he was able to achieve as state senator.
"I want to make a fundamental change and if I can't then I've served my time," DeFrancisco told the Auburn Citizen in an interview.
DeFrancisco has been in the state Senate for 25 years, and has often gone unchallenged by Democrats in his elections. He ran unopposed in 2016 and 2014, and received 85 percent of the vote against a Green Party candidate in 2012. However, DeFrancisco's district encompasses the suburbs of Syracuse, and also has significant Democratic enrollment. There are 62,000 active registered Democrats, and 63,000 active registered Republicans. Hillary Clinton won DeFrancisco's district in 2016.
Bonacic also cited family commitments in his announcement, and said that his 20 years in the Senate "is enough." Of the three retiring state senators, Bonacic's district in the Catskills is the most Democratic, although Trump did win there in 2016. There are 64,000 registered Democrats in his district, compared to just 53,000 Republicans.
It's possible that the trend of resignation announcements will continue as the year progresses. Grant Davis Reeher, the director of the Campbell Public Affairs Institute at Syracuse University, suggested that Democrats have reason to be optimistic this year.
"Long-term, New York State has clearly been turning more blue, and absent some large demographic or political shift favoring the Republican Party – which I don't see happening – it is inevitable that the state Senate will go Democratic," Reeher said. "Felder is the last retaining wall for the Republicans. I think others can see that."
Correction: An earlier version of this story incorrectly stated that Bonacic ran uncontested the past three cycles. In fact, he defeated Democrat Pramilla Malick in 2016.