Joe Crowley
The top fundraisers in congressional races across New York
Incumbents and leading challengers in New York House races are raking in donations.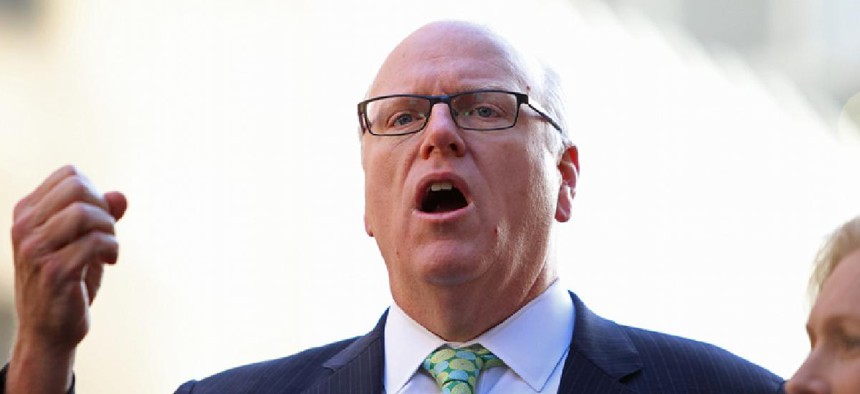 April, best known for taxes, showers and Fool's Day, is also the month in which congressional candidates must file their fundraising reports for the first quarter of the year. The Federal Elections Commission recently released campaign filing reports from congressional campaigns from Jan. 1 to March 31. City & State previously compiled a list of the five members of Congress from New York and the five challengers that raised the most money during the final quarter of 2017.
Now, we take a gander at the five representatives and five challengers who raised the most in the first quarter of 2018. This list only includes candidates that have registered with the FEC and filed a financial report as of April 15, 2018.
INCUMBENTS
Receipts – $640,224.85
Cash on hand – $1,592,361.65
If you come at the king, you best not miss – which may be why the man The Wall Street Journal dubbed "the king of New York politics," and who serves as chairman of the House Democratic Caucus, has raised so much money that to it would be almost impossible to challenge him. Crowley's sole primary opponent, Alexandria Ocasio-Cortez, has just over $48,000 in cash on hand.
Total receipts – $507,019.30
Cash on hand – $1,212,583.75
Meng doesn't appear to have a serious challenger in her Queens district this year – her only opponent listed on the FEC's website is a Green Party member who has not filed any reports – but that hasn't stopped the Democrat from raking in the cash in the first quarter of 2018.
Total receipts – $488,279.41
Cash on hand – $912,756.60
Maloney, a staunch Upper East Side liberal, is suddenly facing a difficult race thanks to her well-funded primary challenger, Suraj Patel. Her fundraising seems to reflect potential concern over the race – her fundraising numbers shot up between the final quarter of 2017 and the first few months of 2018.
Total receipts – $474,169.09
Cash on hand – $1,501,640.08
Zeldin improved upon his fundraising in the final quarter of 2017, compiling nearly $50,000 more this quarter. The Long Island Republican has an array of hopeful Democratic challengers, including one, Perry Gershon, who nearly raised as much money as Zeldin in the first quarter.
Total receipts – $468,304.52
Cash on hand – $989,831.00
Faso, a first term lawmaker and possibly the most endangered Republican incumbent in the state, has a slew of Democrats vying to face him, two of whom also raised over $400,000 this quarter. Faso is clearly not taking his reelection for granted.
CHALLENGERS
Receipts – $627,340.50
Cash on hand – $379,833.12
Lewis is a progressive challenging a downstate Democratic institution, longtime Rep. Eliot Engel. The father of two children with Type 1 diabetes, Lewis is challenging Engel in part because he believes the congressman has not done enough as a member of the House Diabetes Caucus.
Total receipts – $573,214.69
Cash on hand – $891,598.45
Everything's coming up roses for this Democratic challenger to Staten Island Rep. Dan Donovan, who is also facing a difficult primary race from former Rep. Michael Grimm. Rose has distinguished himself from other Democratic candidates with his high media visibility and his support from national Democrats.
Total receipts – $536,881.58
Cash on hand – $601,132.76
Patel – a tech-savvy progressive and subway station decorator – is giving Rep. Carolyn Maloney a run for her money. He continued his strong showing in the first quarter of 2018, cracking over $500,000 in donations once again.
Total receipts – $461,637.46
Cash on hand – $1,199,937.78
Delgado is not Faso's only Democratic challenger, but, as of now, he is Faso's best-funded opponent. The upstate native has steadily raised over $400,000 in each quarter.
Receipts – $515,164.90
Cash on hand – $946,626.84
Brindisi is facing incumbent Republican Rep. Claudia Tenney, arguably one of the most vulnerable Republican representatives in New York. It's been a bruising race, and Brindisi has proved that he's at least up to the fundraising challenge.
HONORABLE MENTION
Total receipts – $605,888.00
Cash on hand – $527,094.30
The recent death of longtime Democratic Rep. Louise Slaughter left her upstate seat open. Assemblyman Joseph Morelle is running for the seat on the Democratic line, but has not filed a campaign report. On the other hand, Maxwell, a Republican vying for the vacant seat, wasted no time in raising funds.