Eric Schneiderman
Carl Heastie endorses diversity for AG, but has he promoted women?
Carl Heastie endorses diversity for attorney general selection, but has he promoted women?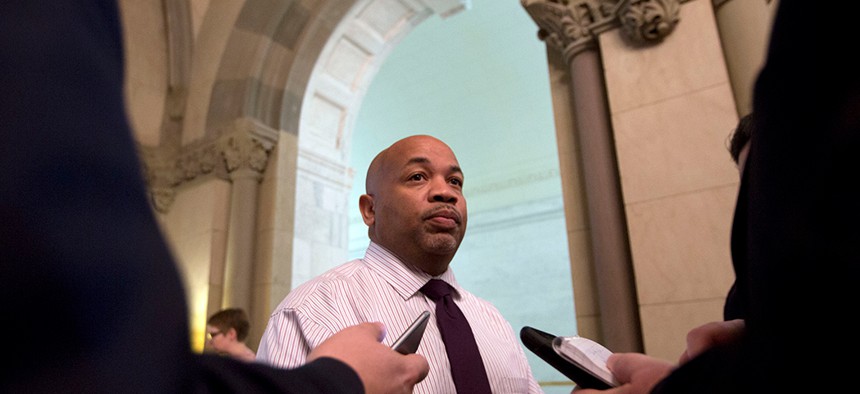 A wide array of candidates covertly are seeking to become the next state attorney general since the resignation of Eric Schneiderman amid allegations that he abused four women. But among Democrats, whose majority in the state Legislature, will decide who fills the vacancy, most agree on one quality Schneiderman's should possess: the next attorney general should either not be white or not be male.
Assembly Speaker Carl Heastie, as the individual with the most power over the selection reflected that sentiment in his caucus after a meeting of Assembly Democrats on Tuesday. "Even back to my days as a county chair, I always believed in diversity," Heastie told reporters. "If it's up to the Legislature to do, diversity does matter."
There has never been a female state attorney general, not counting current acting Attorney General Barbara Underwood, nor a non-white attorney general. While Heastie says diversity is an important consideration, his record of ensuring gender diversity when he served as Bronx Democratic Party county chair from 2008 to 2015 was mixed.
In the Bronx Democratic delegation, few women hold elected office. Assemblywomen Carmen Arroyo, Latoya Joyner and Nathalia Fernandez and New York City Councilwoman Vanessa Gibson are the only female elected legislators in the Bronx. Fernandez was elected in last month's special election, after Assemblyman Marcos Crespo had succeeded Heastie as the Bronx Democratic chair.
In a City & State profile of then-New York City Council candidate Ruben Diaz Sr. in August 2017, Amanda Farias, one of Diaz's opponents, said that the "old boys' club" of the Bronx Democratic Party made it difficult for women to break in.
"They have a record of protecting incumbents and are always slow to adopt change," Farias said. "Even as women have put in their time and built their own base of support, they don't have the support of the boys' club." Diaz, despite holding unusually conservative views for a Democrat, such as his opposition to same-sex marriage and abortion rights, later won the primary and the race.
While the Bronx Democratic Party may have a history of not supporting female candidates – at least, according to a female candidate who felt unsupported – Heastie himself has promoted women for certain leadership positions.
Heastie helped to ensure that Darcel Clark, a black woman, was nominated by the county Democratic Party to become district attorney in late 2015. Clark was a close ally of Heastie's, and, as a judge, administered the oath of office for him when he was sworn in as speaker. Heastie also recently appointed Assemblywoman Helene Weinstein chairwoman of the powerful Ways and Means Committee in late 2017, making her the first woman to hold that position.
Of the several leading candidates to be considered for the attorney general position, only a few are female or people of color, and only one – New York City Public Advocate Letitia James – is female and non-white.