Andrew Cuomo
Cuomo embraces establishment with Biden, Perez endorsements
National figures Joseph Biden and Thomas Perez came to the New York state Democratic convention to back Gov. Andrew Cuomo.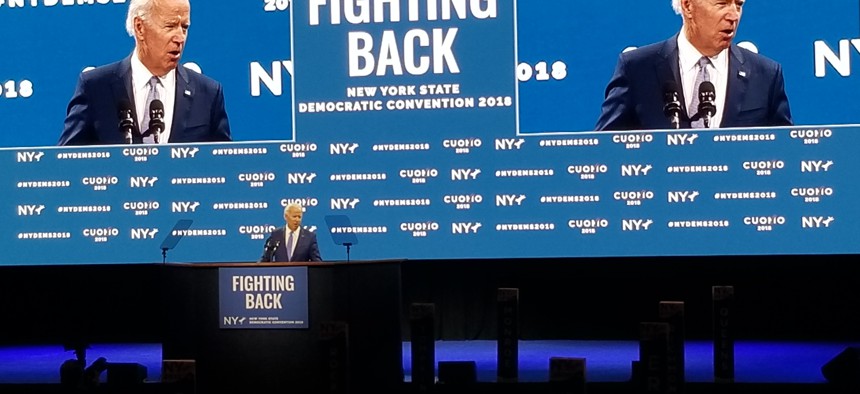 While the first day of the state Democratic Convention was all about business, formally designating the gubernatorial ticket for the state party, the second day was a party.
Unlike the previous day's logistical mishaps, there was brunch food for everyone attending at the beginning and a dazzling array of blue balloons dropped on an enthusiastic crowd at the end. It was the culmination of a weekend in which Gov. Andrew Cuomo drew tight into a mutual embrace with his party's national establishment, comfortable in the idea that the popularity of the officials who came to endorse him would aid him in the primary and general election.
The biggest draw of the day – other than an address by Cuomo right before the balloon drop – was a speech by former Vice President Joe Biden in his typical rambling but engaging style. "Most people out there, like New York, they understand there's not a distinction between our fundamental progressive values and the practical needs of our working people," Biden said, promoting the idea of "progressive pragmatism" that Gov. Mario Cuomo once touted with different words.
Although Biden and Cuomo may square off as opponents in the 2020 Democratic primary, on the stage at Hofstra University on Thursday they met as political allies with complementary ideologies and similar ideas regarding the future of the party. However, lest the audience forget Cuomo's accomplishments as they basked in the glow of a Biden appearance, the event began with a litany of speeches from the governor's allies touting his record.
Assembly Speaker Carl Heastie took the stage to Prince's "Purple Rain" and praised Cuomo. "When you have a quarterback that's a winning quarterback on a winning team, there's no reason to change," said Heastie, officially endorsing Cuomo for the first time. Heastie was followed by state Senate Minority Leader Andrea Stewart-Cousins, who gave a speech intended to pump up the crowd and rally them for a campaign to retake the state Senate.
Buffalo native and Democratic National Committee Chairman Tom Perez spoke in praise of Cuomo and his running mate, Lt. Gov. Kathy Hochul. "He understands that governance isn't about speechifying, it's about making a real difference in people's lives," Perez said about Cuomo. "New Yorkers don't want rhetoric, they want results." He also alluded to divisions within the Democratic Party between moderates and progressives, saying that Cuomo and Hochul belonged in the "accomplishments wing" of the party.
Perez then introduced Biden, whose 45-minute speech was mainly a treatise on Democratic values filled with colorful anecdotes, as well as an endorsement of Cuomo. Biden focused on his own history as a politician, occasionally remembering to link his accomplishments to that of Cuomo's. At one point, he appeared to forget Hochul's name.
Biden also tried to be lighter and to talk about the Cuomos as regular people. "I came here for one reason: Matilda Cuomo," Biden said at the beginning of his speech, referring to Cuomo's mother and the former first lady of New York. He later joked that he liked Andrew Cuomo because they both own Corvettes.
However, most of his speech was spent pontificating on the identity of the Democratic Party. "We're being told by many that we have to make a false choice. Do we yield only to our progressive values, or do we work on things that affect high school-educated working people under siege? As if they're different!" Biden said.
Toward the 34-minute mark of his speech, Biden noted he was "going on too long," but continued speaking for another 11 minutes before he ended his speech and endorsed Cuomo. "Keep the faith, and reelect Andrew!" Biden shouted as the crowd cheered at the end of his speech.
Cuomo's speech, which was roughly three minutes longer than Biden's, was less disjointed, but also less about the Democratic Party in New York than the Democratic Party in the country. In many ways, it was tailored as much to an audience in the Midwest as a convention hall on Long Island. "They don't want pontification from an ivory tower, they want help in their lives," Cuomo said about middle class voters who voted for Trump. However, he later said about those who support the "Make America Great Again" ideal that "their vision is to take us back to their great old American days, and we will not go back."
He did pivot the conversation to his own accomplishments in New York, treading the now-familiar rhetorical paths about gun control, support for making New York a sanctuary state for immigrants, and environmental action. The one surprising point in the speech was a brief moment when protesters requesting safe injection sites for drug use marched out of the hall, although their jeers were drowned out by "four more years" chants from the majority of the audience.
Cuomo made the case that he is the right leader for New York, perhaps laying the groundwork for another stump speech he could make in the 2020 election.
"Why was Tom Perez here, why was Hillary Clinton here, why was Joe Biden here?" Cuomo asked. "Because this is New York, and this election is very, very important." 
He ended with a thundering threat to the Trump administration. "We are better than this, and we will not allow them to lower us. New York is going to raise us, because New York is the alternative state to Trump's America," he said, to a standing ovation. Balloons fell down as the designated Democratic ticket took the stage and lifted their arms together.
It may be Trump's America, but as the state Democratic convention proved this week, it's Andrew Cuomo's New York.