New York City
The biggest snubs of progressives at the state Democratic convention
Progressive Democratic activists feel that Gov. Andrew Cuomo and his allies in the state party shunned their movement at the New York Democratic Party's convention on Long Island.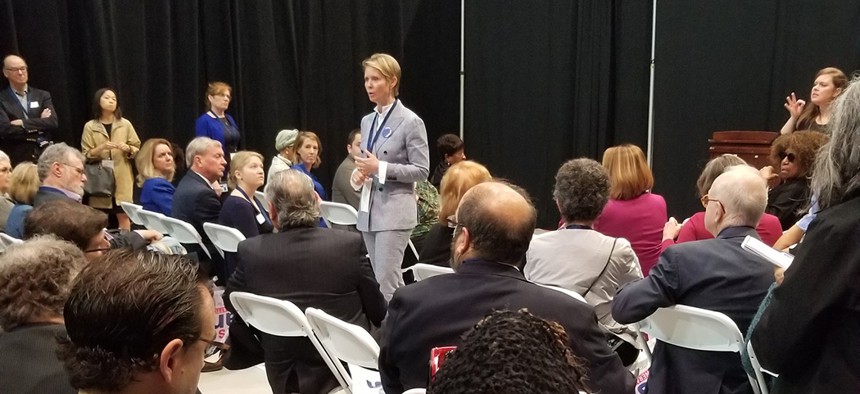 Progressive Democratic activists feel that Gov. Andrew Cuomo and his allies in the state party shunned their movement at the New York Democratic Party's convention on Long Island on Wednesday and Thursday.
Most of the beef stems from actress Cynthia Nixon's primary challenge to Cuomo, which mirrors the Hillary Clinton/Bernie Sanders split during the 2016 Democratic presidential primary.
Supporters of Nixon and other left-leaning leaders such New York City Councilman Jumaane Williams felt snubbed and mistreated by a series of events at the convention that – while perhaps indicative of nothing more than the same incompetence that led the event to run out of food – seemed deliberate to some.  
Throughout the convention, Cuomo and his surrogates pointed to a string of progressive achievements from his two terms, including same-sex marriage, gun control and an increased minimum wage. He also has made a habit in the past of rolling out progressive policy proposals such as expanding voting rights and abortion rights that never go anywhere in the GOP-controlled state Senate. This leaves little room for Nixon, who is assiduously trying to get to Cuomo's left.
But Cuomo's record is also littered with conservative stances and rhetoric, like his staunch opposition to marijuana legalization, the war on unions he campaigned on in 2010 and his 2014 statement that he manages the state in a way "that any Republican would be proud" of. Plus, he has received contributions from many of the same wealthy business executives who have backed President Donald Trump and served in the Trump administration.
Cuomo's feud with left-wing activists has largely played out between Cuomo and the Working Families Party, a third party which has historically supported liberal Democrats and decided to back Nixon this election. But at the Democratic state convention, while Cuomo basked in the accolades from such prominent endorsers as Hillary Clinton, some progressives complained about the following frustrations:
 
Missing a microphone
When Nixon went to address members of the progressive caucus, she had to do so without a mic. The room they were given did not have one. They also happened to be placed right next to the Cuomo-controlled executive committee, which did have a sound system. One member said that it was the worst venue that they had ever gotten. A spokesperson for Cuomo's campaign later told the New York Post that none of the delegate rooms got a microphone, so this was not an intentional move, adding that the executive committee always got a sound system.
 
An inconvenient press gaggle
Cuomo made a surprise appearance at the convention on Wednesday, and where Cuomo goes, reporters follow. He held a brief gaggle with the gathered members of the press – right as New York City Councilman Jumaane Williams was being nominated for lieutenant governor. This, as veteran Albany reporter Ken Lovett pointed out on Twitter, was likely no coincidence. Williams, who has the backing of the Working Families Party, is primarying Cuomo's running mate, Lt. Gov. Kathy Hochul, from the left.
 
An absent de Blasio
Notably missing from the lineup of speakers at the convention was New York City Mayor Bill de Blasio, one of the loudest progressive voices in the state who also holds one of the most recognizable positions in the country. "There was not an invitation to play a meaningful role at the convention," he told reporters at an unrelated press conference. De Blasio attended the 2014 convention, where he had a minor speaking role. But while he helped Cuomo win over progressives back then, the pair's relationship has soured considerably over the next four years.
 
Little support
Although Nixon admitted herself that she did not expect to receive enough delegate votes to automatically appear on the Democratic ballot line, even Cuomo expressed surprise at how overwhelming his support was: a whopping 95 percent of the vote. NY1 reporter Grace Rauh jokingly likened the landslide vote to Russian President Vladimir Putin's re-election victory. Although this cannot be attributed to Cuomo since each delegate cast his or her own ballot as an individual, an agenda of the convention leaked days before the event already named him the nominee.
Powered By
NEXT STORY: The GOP had the classier convention