Did New York's GOP statewide candidates vote for Trump?
The New York Republican Party settled on its four statewide candidates: Marc Molinaro, Julie Killian, Jonathan Trichter and Keith Wofford. But that show of party unity could only go so far as New York Republicans grapple with how to win races in a state where two thirds of voters disapprove of the president.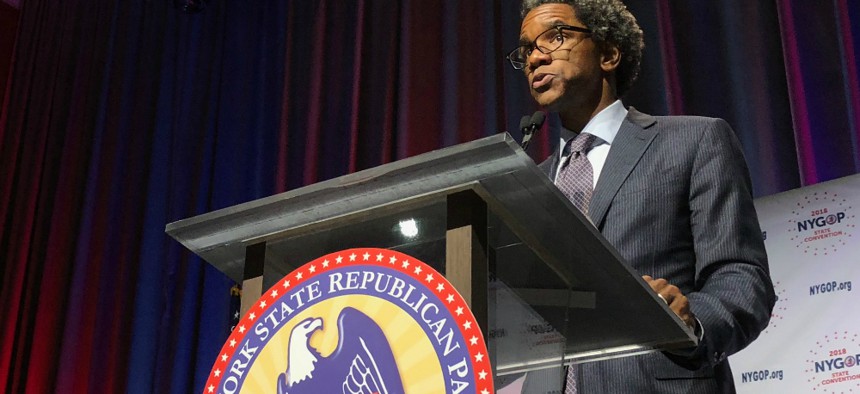 The Republican candidate for governor didn't vote for the New York-bred president of his own party. New York's GOP candidates for lieutenant governor and comptroller won't say which presidential candidate they voted for. Only the party's attorney general nominee admitted to voting for Donald Trump in 2016.
The New York Republican Party settled on its four statewide candidates at its convention on Wednesday and Thursday this week. Barring any surprise petition drive, all of them will avoid primary elections. But that show of party unity could only go so far as New York Republicans grapple with how to win races in a state where two thirds of voters disapprove of the president.
New York's Republican gubernatorial nominee, Marc Molinaro, has worked to distance himself from Trump, and has been open about the fact that he didn't vote for the president in 2016 – instead saying he wrote in retired Rep. Chris Gibson, a fellow Republican. His newly chosen running mate, Julie Killian, brushed off reporters' questions on Wednesday about whether she voted for Trump.
"I haven't ever told anyone who I voted for," she said.
The Republicans' pick for state comptroller, Jonathan Trichter, similarly shot down a question about who he voted for in 2016.
"I'm not going on the record and I'm not discussing it," he said. "I'm running for New York state comptroller. It's a professional position and it shouldn't be political. It shouldn't be ideological. I'm focusing on the issues that are specific to the office. Period, full stop."
Trichter had been registered as a Democrat and only changed his party registration to Republican this week. Manhattan lawyer Manny Alicandro, who initially announced a run for attorney general, instead challenged Trichter for the party's nomination at the convention on Thursday. But Alicandro failed to get support from delegates and conceded to Trichter, allowing the Manhattan-based political operative and investment banker to win the Republican ballot line in an uncontested voice vote.
Trichter will run against the Democratic incumbent Thomas DiNapoli. Trichter is running on a platform of professionalizing the office, and has said he would end the comptroller's role as the sole trustee of the state's $209 billion pension fund.
"It is the conventional thinking that New York state's pension system is among the best managed in the country," Trichter said in a short acceptance speech. "The truth is, it is nothing of the kind."
The newly anointed Republican nominee for state attorney general is Manhattan bankruptcy attorney Keith Wofford, who won the party's nomination for AG in a tightly contested vote against Joseph Holland, who once served a commissioner under former Gov. George Pataki and now works as a lawyer and real estate developer. At 49 years old, Wofford is a political newcomer who has never run for office, but he said his experience as a managing partner at the law firm Ropes & Gray made him perfect for the job.
"We need an attorney general who knows the difference between a good lawsuit and a lousy one," Wofford said. "But the only way that happens is if we elect someone who's actually gone to court and won."
The Democratic attorney general nominee, New York City Public Advocate Letitia James, has brought a number of lawsuits against the city and has lost at least one on standing.
Former state Attorney General Eric Schneiderman brought more than 100 legal or administrative actions against Trump or congressional Republicans before Schneiderman resigned earlier this month after he was accused of physically abusing multiple women. Wofford told reporters on Thursday that he voted for Trump, and that if he were elected, he would review the office's actions against the president.
"We have to assess whether any prosecution benefits the taxpayers of the state of New York. Making national political points is not what we should be doing with the taxpayers' money," Wofford said.
Some Republicans argued that anybody asking questions about Trump is playing into the hand of Democrats.
"You guys are very interested in Trump, Trump, Trump," Cox told reporters on Thursday. "So is Cuomo! Because he is running for president. So he's going after Trump!"
Pataki, the last Republican to hold statewide office, said the governor's race has nothing to do with Trump.
"It's about New York. It's not about Washington. People always try to make it about something other than what it is," he said. "This is about the future of 20 million people."
But the president's absence from the convention conversation spoke volumes. Trump was in Manhattan on Wednesday night, but did not attend the New York GOP's gala dinner. Instead, Tennessee Gov. Bill Haslam, a Republican critic of Trump who did not vote for the president, keynoted the gala. Over the two days of the convention, not a one "Make America Great Again" hat was seen in the hall. A single pro-Trump pin was spotted on a lapel.
However, in the first speech of the convention on Wednesday morning, Manhattan Republican Chairwoman Andrea Catsimatidis did shout out the president.
"Our great president Donald J. Trump is an elected Manhattan Republican, and I am proud to support him!" she said.
But over two days and countless speeches, it was the last time the president's name was mentioned on stage.
Correction: The words of Jonathan Trichter's acceptance speech have been corrected.