Andrew Cuomo
It's not just Eric Schneiderman: New York's #MeToo moment
Many local political figures have been recently accused of sexual misconduct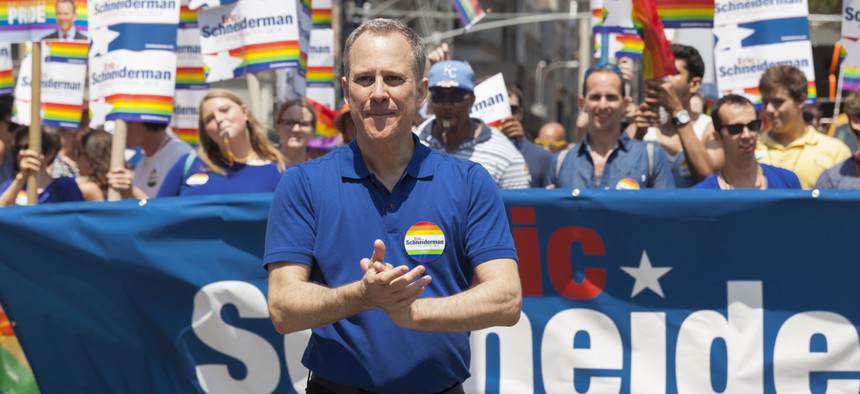 2017 saw a wave of sexual harassment allegations against powerful men across all industries, from entertainment to politics, and the trend has continued into 2018. State Attorney General Eric Schneiderman resigned in disgrace after it was revealed that four women had accused him of physical abuse. The recent downfalls of multiple high-profile men began in April 2017, when Bill O'Reilly lost his job at Fox News in after several allegations of sexual harassment against the top-rated cable TV host were made public. The flow of allegations accelerated after the downfall of producer Harvey Weinstein, who was accused of sexual misconduct in October. Many prominent men have since been implicated in misconduct and harassment scandals, including in Albany. The state capital's culture is notorious for its male privilege – the New York Times once summarized the infamous "Bear Mountain Compact" as "any liaisons with interns or young staff members that occur north of Bear Mountain Bridge, which spans the Hudson River between Orange and Westchester Counties, are not spoken about in the home districts in New York City or elsewhere."
But those days of the may be coming to an end: It took less than three hours from the allegations against Schneiderman emerged for multiple prominent officials such as Gov. Andrew Cuomo to call for his resignation.
With such salacious scandals dominating the headlines, we took a look back at the state lawmakers who have been accused of sexual harassment – and how their cases have played out.
Eric Schneiderman
On the morning of May 7, 2018, Schneiderman was New York's attorney general and a rising political star who had made a name for himself as an anti-Trump crusader and feminist advocate. By that evening, he had resigned, after The New Yorker published a story detailing allegations from four women that he had physically abused them. Schneiderman's swift fall from grace was shocking because of his legacy as a crusader for women's rights. It also opened a free-for-all among Democratic candidates seeking to replace him as attorney general.
Jeff Klein
The powerful leader of the state Senate Independent Democratic Conference tried to preempt sexual misconduct allegations against him by holding a conference call with his longtime girlfriend, state Sen. Diane Savino, denying forthcoming allegations. Shortly after the call concluded on Jan. 10, HuffPost published an article with on-the-record quotes from a former staffer, Erica Vladimer, who claimed that Klein forcibly kissed her in 2015. Klein denies the incident and did not step down from leading the IDC. Now that the group has rejoined the Democratic caucus in the state Senate, Klein is serving as the Democratic deputy leader. Gov. Andrew Cuomo said in a statement at the time that "this disturbing situation should be investigated … immediately and independently."
Steve McLaughlin
Rensselaer County's new county executive was sanctioned last year by Assembly Speaker Carl Heastie while he was still an assemblyman, after an independent investigation into allegations of workplace harassment and recommendations from the Assembly Ethics Committee. McLaughlin was found to have been untruthful to the Assembly's independent counsel investigating the incident, and leaked the name of his accuser. Sanctions against him included forbidding him to employ interns – but the fallout from these allegations won't follow him into his new office.
Sam Hoyt
The assemblyman was sanctioned in 2008 for having an "inappropriate personal relationship" with an intern. In 2011, he joined the Cuomo administration. Hoyt then resigned last year amid a sexual harassment investigation after signing a settlement agreement for $50,000 with a woman with whom he had an affair. The woman who claimed that Hoyt sexually harassed her, Lisa Marie Cater, is suing the state for allegedly ignoring her complaints about Hoyt's behavior. On Jan. 9, state Attorney General Eric Schneiderman filed a motion that Cater's lawsuit should be dismissed, arguing that Cuomo and the state bear no responsibility for the allegations that Hoyt sexually harassed her.
Greg Ball  
A former girlfriend got a restraining order against the assemblyman in 2003. The Assembly Ethics Committee in 2008 cleared him of harassment allegations by a former staffer. In 2010, a waitress reported that he groped her. The claims continued even after he left Albany in 2014 and moved to Texas – the Times Union reported this week that a Texas woman accused him in 2016 of trying to force her to perform oral sex, but she declined to press charges. Ball has denied wrongdoing.
Angela Wozniak
The Buffalo-area assemblywoman was sanctioned by the Assembly after an investigation concluded that she had a sexual relationship with a male staffer, then retaliated against him after the relationship ended. She declined to run for re-election in 2016.
Dennis Gabryszak
The assemblyman resigned in 2014 after sending inappropriate videos to his female staffers. In an ironic twist, he was succeeded by Angela Wozniak, who had a scandal of her own. Last year, he was hit with a $100,000 fine by the state Legislative Ethics Commission.
Vito Lopez
The powerful assemblyman and Brooklyn Democratic Party chairman was brought down by allegations that he groped and harassed young female legislative staffers. He resigned in 2013 and made a failed run for the New York City Council the same year. The state spent hundreds of thousands of dollars on settlements with several young women, although Lopez did not admit guilt. He died in 2015.
Sheldon Silver
The former Assembly speaker came under scrutiny in the Vito Lopez scandal for his decision to authorize secret payments to two women who had accused Lopez of harassment. Silver argued that the settlement prevented him from referring the matter to the Assembly Ethics Committee, but apologized for how things played out.
Micah Kellner
The Manhattan assemblyman was accused of sexual harassment by a female staffer in 2009 and a male staffer in 2011, and the Assembly Ethics Committee concluded in 2013 that the complaints were valid. Kellner, who unsuccessfully challenged the ruling, declined to run for re-election in 2014. The case was another embarrassment for Silver since an Assembly lawyer had failed to investigate the claims.
Hiram Monserrate
Schneiderman was not the first New York politician accused of assaulting a romantic partner. In 2010, the state Senate expelled Sen. Monserrate, a Queens Democrat who had been convicted of a misdemeanor for dragging his girlfriend down the hallway of his apartment building. In 2017, Monserrate attempted a comeback, running unsuccessfully for New York City Council.
Mike Cole
The upstate assemblyman was censured by his colleagues in 2007 after he slept over at the home of a 21-year-old female intern following a night of drinking. He lost his re-election bid the following year.
Michael Boxley
Another sex scandal that plagued Silver was the 2003 conviction of Boxley, the Assembly's counsel, who pleaded guilty to a misdemeanor sexual misconduct charge after being charged with raping a young legislative staffer. He avoided prison, and joined an Albany lobbying firm in 2013.
Ryan Karben
The Rockland County assemblyman resigned in 2006 after allegations that he and three interns watched pornography at his home in Albany.